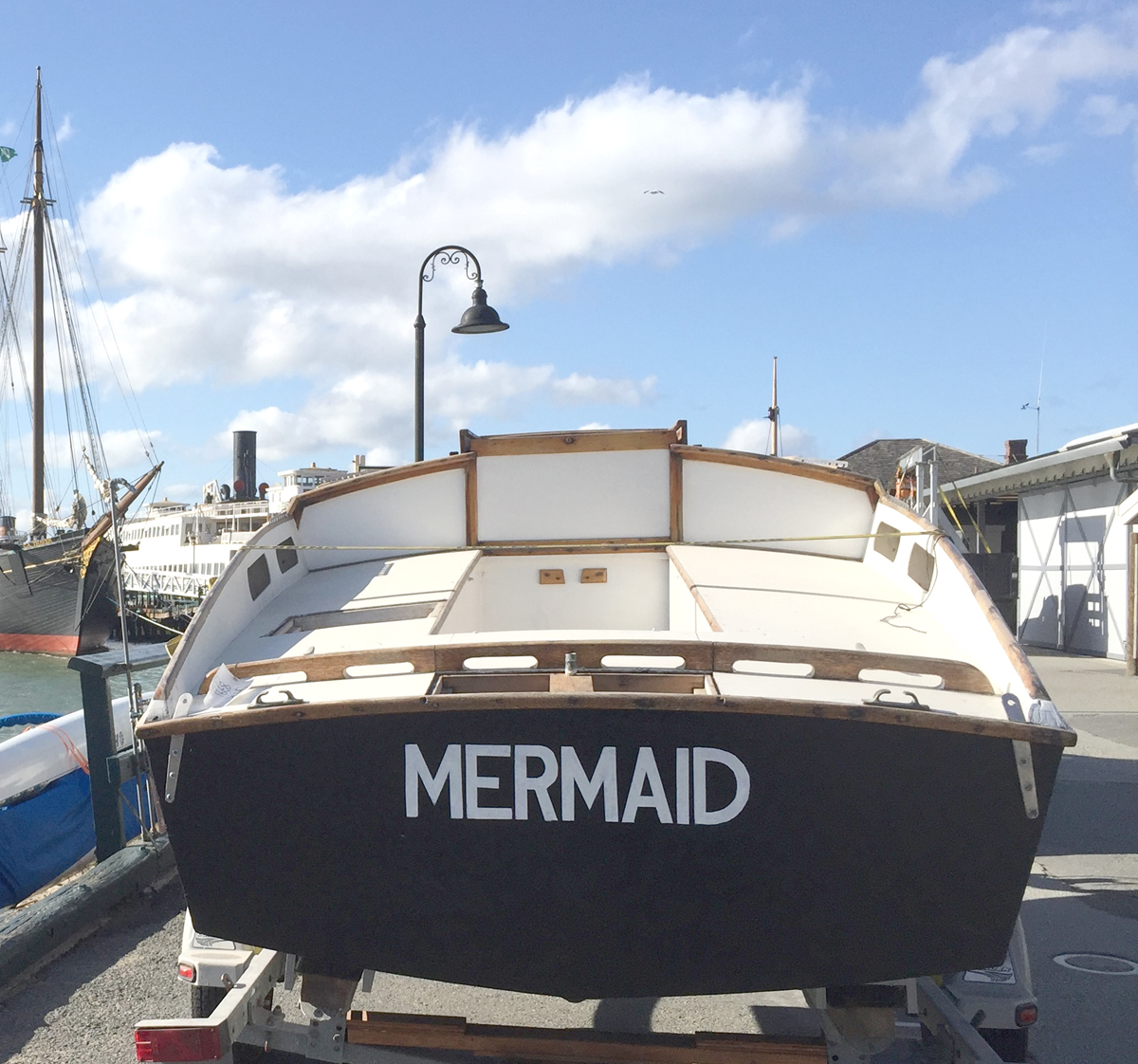 News Release Date:
April 16, 2018
Contact: Lynn Cullivan, 415-561-7006
Join San Francisco Maritime National Historical Park in celebrating Asian/Pacific American History Month with special programs on Saturday, May 12, 2018. Special programs include:
The Mermaid is Back!
Exhibit at the Maritime Museum, 900 Beach Street, San Francisco (Free)
Come welcome the Mermaid back to the Maritime Museum Building as a public exhibit! This small 19-foot black plywood sloop carried Kenichi Horie on history's first recorded solo voyage across the Pacific Ocean, making him a Japanese National Hero. Mr. Horie was an unknown 23-year-old when he sailed his sloop, the Mermaid, through the Golden Gate in 1962. His arrival was entirely unannounced. He had left Japanese waters without any form of official clearance. Ninety-four days later, he arrived in San Francisco with no passport, no money, and little knowledge of English. Horie was briefly arrested, but Mayor George Christopher saw to it that he was released and presented with a visa and the key to the city.
The San Francisco Bay Shrimp Junks: Chinese Americans on the San Francisco Shrimp Grounds, 1880-1989
Saturday, May 12, 11:00-12 pm, Hyde Street Pier.
The Chinese in California often interacted with the environment and resources of San Francisco Bay differently than did European Americans. Frequently the Chinese would position Asian technologies and techniques in business endeavors overlooked or ignored by European Americans. One example is the redwood-built shrimp junks used to harvest bay shrimp in at least twelve Chinese shrimp camps strategically located throughout San Francisco Bay. Come and participate in a ranger-led talk on the Chinese bay shrimp industry and join in the discussion of what this history tells us about the California we live in today.  
Sailing Grace Quan: East Meets West in Aquatic Park Cove
Saturday, May 12, 12-1 pm, Aquatic Park Amphitheater, this event is wind/weather dependent (Free).
Come to the bleachers of Aquatic Park Cove to observe the nimble sailing qualities of a San Francisco Bay shrimp junk.
The Chinese employed a blend of eastern and western techniques, as well as a surprising species of wood to build the San Francisco junks.
Bravery of the Lone Sailor: Kenichi Horie and the First Voyage of The Mermaid
Saturday, May 12, 1pm & 3pm, Maritime Museum, 900 Beach Street, San Francisco (Free)
Join a Park Ranger to discover the story behind a young Japanese sailor who single-handedly sailed from Japan to San Francisco and became a living legend in his home country.
Located at the west end of Fisherman's Wharf, San Francisco Maritime National Historical Park includes a fleet of historic ships, Visitor Center, Maritime Museum, Maritime Research Center, and the Aquatic Park Historic District. For more information, please call 415-447-5000 or visit nps.gov/safr, Twitter @SFMaritimeNPS, and Facebook @SanFranciscoMaritimeNHP. The Park offers assisted listening services on request. Sign Language interpreter services need to be requested at least five days in advance. Contact Accessibility Coordinator/Chief of Interpretation for more information at 415-859-6797, or safr_accessibility@nps.gov.