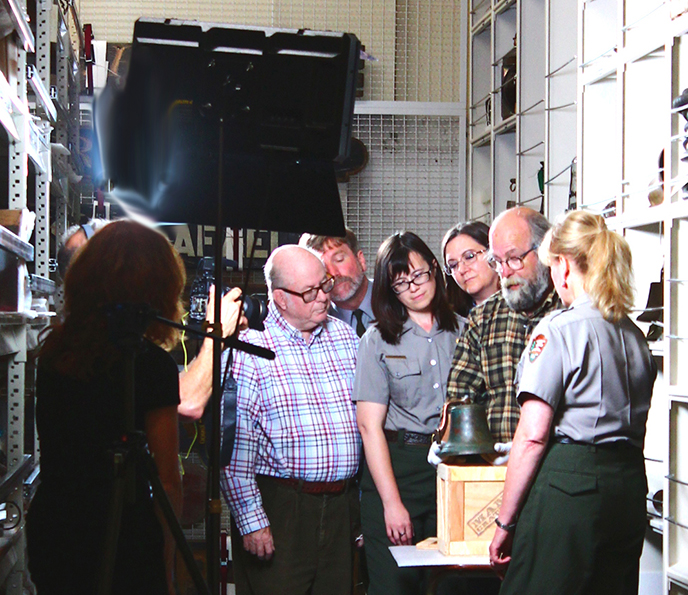 News Release Date:
June 23, 2014
Contact: Lynn Cullivan, 415-561-7006
(San Francisco, CA: Seattle, WA) Representatives of the Seattle area's historic schooner Adventuress, along with experts from the San Francisco Maritime National Historical Park and the San Francisco Bar Pilots today will travel to Belmont, CA to receive a ship's bell that went missing a century ago.
The bronze bell, that reads "Adventuress 1913," has been in the possession of Alfred R. "Nick" Lemos since he received it as a boy in 1936. He has kept the bell ever since, until this spring when Lemos asked his adult children to help him find out the fate of the ship named on his bell. Their internet search quickly found that the ship, which was built in 1913 in Maine for an Arctic mission for the American Museum of Natural History, was not lost or wrecked. In fact, the ship had a decades-long career with the San Francisco Bar Pilots and was still sailing in the Seattle region. It was then that Lemos picked up the phone to call Sound Experience, the nonprofit that sails Adventuress as a youth environmental education ship, to say, "I think I have your bell." Sound Experience's Executive Director, Catherine Collins, was stunned when she received the call. "Not in our wildest imaginations did we think that her original bell still existed," said Collins.
Indeed, such a find is a rare opportunity, according to San Francisco-based National Trust for Historic Preservation Field Director Anthony Veerkamp. "Reuniting an artifact with its original home is always exciting," says Veerkamp. "Together, Adventuress and her bell are greater than the sum of their parts, prompting us to look at the stories that they hold with fresh eyes."
According to Lemos, the bell was given to him when he was ten years old by a police boat captain who patrolled San Francisco's waterfront during Prohibition. The captain was dating Lemos' grandmother. Laughing, Lemos recalls, "I think he gave me the bell to keep me quiet." 
How the police boat captain found the bell remains a mystery. However, it may have been lost in June 1915 when Adventuress caught fire at the dock just a year after entering the service of the San Francisco Bar Pilots. Following extensive repairs, the ship went back into service in October 1915. Adventuress' current ship's bell reads "Bar Pilots 1915," likely commemorating her return to service following the fire.
"The San Francisco Bar Pilots Association used sailing schooners such as Adventuress from the Gold Rush up until the early 1970s to board ships and navigate them safely into San Francisco Bay," says Captain Dan Larwood of the San Francisco Bar Pilots. "The Bar Pilots have been keeping station 10 miles west of the Golden Gate to serve inbound and outbound ships since the California State Legislature first created the Association in 1850. Adventuress served the San Francisco Bar Pilots faithfully day and night, in good and bad weather, for 35 years." 
As much as the bell means to him, Lemos wants to restore the bronze artifact to where it belongs, aboard Adventuress. For their part, the San Francisco Bar Pilots are pleased that their former schooner has found a new life in Puget Sound. Says Captain Larwood, "We are especially glad that her original bell – without which no pilot boat is complete – is being returned to her."
Collins, and documentary film maker John Leben, will sit down with Lemos at his Belmont home today to hear his story about the bell. Once their interviews are complete, the bell will be taken to the National Park Service's San Francisco Maritime National Historical Park where curators will inspect the bell to verify its identity as the bell that was aboard Adventuress when she was launched 101 years ago in East Boothbay, Maine.
"This is an exciting discovery," says Stephen Canright, Curator of Maritime History at the San Francisco Maritime National Historical Park. "Bells were an important part of traditional sailing vessels' outfit. They would be rung in fog or reduced visibility situations, and were used to keep time, marking the passage of the four-hour watches, or duty periods. But as an artifact, Adventuress' bell is important for another reason," Canright emphasizes, "It clearly marks, for future generations, the fact that pilot schooners served on the San Francisco Bar every day, 24/7, for over 120 years."
The timing of this find is extraordinary, coming just after the completion of a successful multi-year, $1.2 million hull restoration for the historic ship. As all work was done to the 50-year standard set by the Secretary of the Interior for historic vessel preservation, Adventuress will literally sail for generations to come. Adventuress is one of only two National Historic Landmark sailing ships, along with the 1891 scow schooner Alma, that are still in active service on the West Coast. Remarks Collins, "Finding the bell is the icing on the cake."
When all of the documentary interviews are done, Collins and Leben will return to Washington State with the bell to complete the film and plan for the best way to return it to where it belongs, on board Adventuress. For more information about the vessel, visit www.soundexp.org. For more information about the San Francisco Maritime National Historical Park, visit https://www.nps.gov/safr/index.htm. For more information about the San Francisco Bar Pilots, visit http://sfbarpilots.com/.
About Sound Experience aboard the Schooner Adventuress
For the past 25 years, nonprofit Sound Experience has been connecting youth in grades 3 through 12 with the natural wonders of the Puget Sound marine environment. The inspiring platform for these programs is the historic sailing vessel Adventuress. The 101-year-old, 133' schooner was named a National Historic Landmark in 1989. Each year, more than 3,000 young people climb aboard for day and overnight hands-on sailing programs that focus on environmental awareness and stewardship.
About San Francisco Maritime National Historical Park 
San Francisco Maritime National Historical Park is located at the west end of Fisherman's Wharf, in San Francisco. The park includes a magnificent fleet of historic ships, Visitor Center, Museum, Research Center and the Aquatic Park Historic District. For more information about the park, or its public programs and exhibits, please call 415-447-5000 or visit the park's website at https://www.nps.gov/safr/ and its Facebook page at https://www.facebook.com/SanFranciscoMaritimeNHP.
Note to editors: For more information about what Sound Experience aboard the Schooner Adventuress is up to visit http://www.soundexp.org.  For additional assistance, and information contact Catherine Collins, Executive Director, Sound Experience Telephone: 206-353-6119, Email: catherine@soundexp.org.
  # # # 6/20/14