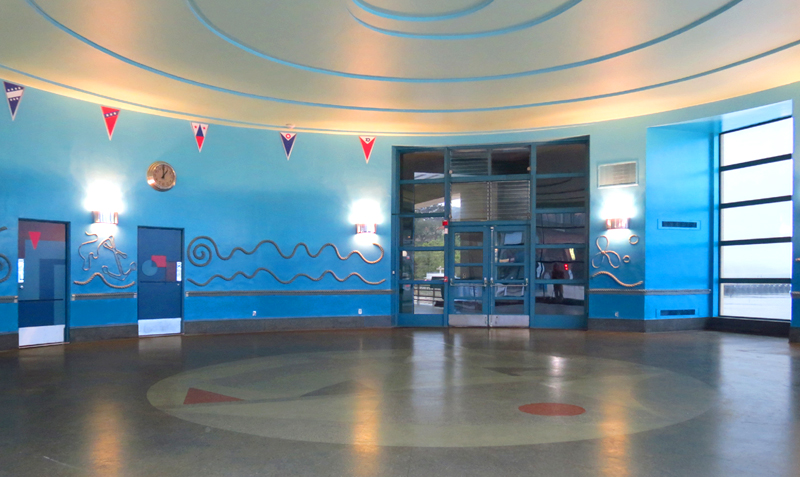 News Release Date:
January 4, 2017
Contact: Lynn Cullivan, 415-561-700
2017 Blue Room Lecture Series Launched: Public Talks on History, Art,
Literature, and Conservation of the Sea
A Slate of Free Programs Hosted by San Francisco Maritime National Historical Park
In Partnership with The California State University Maritime Academy
The National Park Service and the California State University Maritime Academy are excited to partner on a series of free public lectures in 2017. These "Blue Room Lectures," presented by Cal Maritime professors, will take place in a recently restored space at the Maritime Museum in San Francisco Maritime National Historical Park (900 Beach Street, San Francisco). Mark your calendars and join us for five free talks all curated to correspond with the park's interpretative themes (as outlined in the recently completed
Foundation Document
, now available for download on the park's website).  
Our City is Full of Strangers: Tales from the Seedy Port
Saturday January 28, 2017, 1:00 PM
This lecture, presented by Assistant Professor Amy Parsons, discusses the cultural anxiety that surrounded sailors and ports in the mid-nineteenth century. Readers loved stories of adventure on the high seas; reformers worried that sailors would ruin the moral character of American coastal cities.  
Onshore Winds and Offshore Accounts
Saturday, March 25, 2017, 1:00 PM
This conversation between artists Lauren Hartman and Martin Machado will focus on capturing the sights and subjects at ports of call all over the world in paintings, drawings, and photographs.  
Urban Oceans: The Remarkable Changing Ecology of the San Francisco Estuary
Saturday, May 20, 2017, 1:00 PM
Presented by Assistant Professor of Oceanography, Alex Parker.  
Measurement and Meaning: Rising Sea Levels and Sinking Elevations
Saturday, July 29, 1:00 PM
From our local SF tide gauge, "the nation's oldest continually operating tidal observation station," to the concept of global mean sea level, this lecture, presented by Assistant Professor Kate Sammler, will discuss the historical development of sea level as a vertical datum, and the geopolitical and geophysical implications of rising seas.  
The Schooner Fayaway and Herman Melville's Persistent Connections with San Francisco Bay
Saturday, September 23, 2017, 1:00 PM
Presented by Colin Dewey, Assistant Professor of English.  
Free admission to lectures in the Maritime Museum (Blue Room), 900 Beach Street, San Francisco, CA 94109. Admission for the historic ships at Hyde Street Pier: adults $10, ages 15 and under free (with adult supervision).  
San Francisco Maritime NHP, located at the west end of Fisherman's Wharf in San Francisco, includes a magnificent fleet of historic ships, Visit10or Center, Maritime Museum, Maritime Research Center, and Aquatic Park Historic District. For more information, please call 415-447-5000 or visit https://www.nps.gov/safr. Follow us on Twitter @SFMaritimeNPS and Instagram sfmaritimenps and join us on FB @SanFranciscoMaritimeNHP.