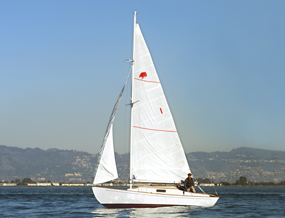 This is the Merry Bear, part of the park's small craft collection. She was built at the Nunes Boatyard in Sausalito in 1931, and is the first Bear Boat. Bear Boats are the first class of sloop* yachts designed and built to sail on San Francisco Bay.

The Nunes brothers came up with a winning design. The Bear Boat was small enough to be affordable in the depression-era 1930s, yet large and strong enough to sail well in the brisk winds and challenging currents of the Bay, and they quickly became a popular choice for sailors. Almost 80 years later a small but dedicated group of Bear Boat sailors still lovingly maintain their yachts and can be seen racing their craft on the Bay.

Length: 22 feet, 9 inches
Beam: 7 feet
Draft: 4 feet
The keel is made of iron. The planking is Douglas fir and the ribs oak.
Sloop rig.

A sloop* is a boat with a single mast and a fore-and-aft-rig (not a square rig).