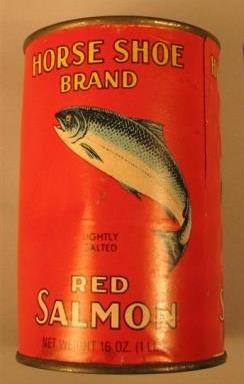 (by Diane Cooper, Museum Technician)

What is canned salmon and why should I care?
How does one eat canned salmon? Some people I know think a better question is not "how" but "why?" One friend of mine who grew up in the 1950s hated the canned salmon her mother used because it had bits of fish skin and crunchy little bones in it. Another friend of a similar vintage loved that extra crunch those tiny cooked bones gave the salmon dishes her mother made. Personally, I find canned salmon to be delicious--once I've extracted the bits of skin and most of the bones. That, in and of itself, is a tedious and time-consuming job. So, perhaps the real question is, "Why would anyone want to eat canned salmon?" And, perhaps more importantly, "Why do I even ask these questions?"
Of course, the reason I bring up the subject of canned salmon relates to artifacts we have in our collection here at San Francisco Maritime National Historical Park. The history of the canned salmon industry is deeply rooted in the San Francisco Bay and its tributaries. The first salmon cannery on the Pacific Coast was founded on the Sacramento River in 1851 by the Hume brothers. In less than 25 years hundreds of small and large canneries dotted the rivers and coastlines of California, Oregon, Washington, British Columbia, and Alaska. These independent canneries eventually incorporated into various larger companies giving them more financial strength and power in the marketplace. The largest and most powerful of those companies was the Alaska Packers Association (APA).
Originally formed by 31 canneries that banded together in 1891 to sell off surplus canned salmon, the venture proved extremely successful and beneficial for all the canneries that two years later they incorporated as the Alaska Packers Association. With tens of thousands of cases of canned salmon packed every season, it seems the most compelling question facing the canneries in the newly incorporated Alaska Packers Association should have been something along the lines of, "How do we find more consumers who know what canned salmon is, what to do with it, and want to buy it?"