Did you know that the humble face mask, that uncomfortable bit of cloth that we love to hate, was invented in its current form and tested back in 1918?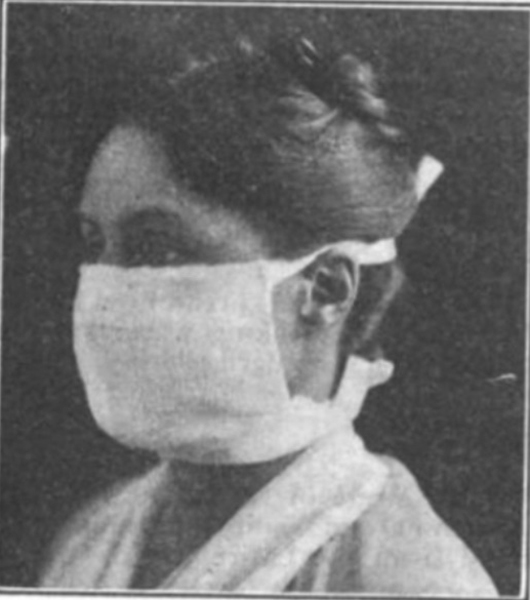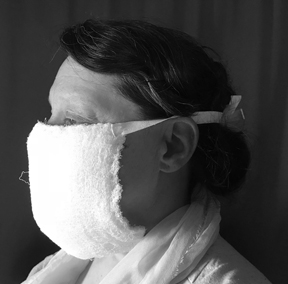 (Left: Face Mask worn in 1918, Right: Face mask worn in 2020)
The first large outbreaks of the disease were in military camps in the spring of 1918 where the crowded conditions were perfect for the rise of a then unrecognized disease, and the movements of soldiers as they mobilized for war that brought it far and wide. By the next autumn, the second wave swept through America and Europe. At Camp Grant, Illinois, a medical officer named Joe Capps began experimenting with gauze masks, putting them on patients with respiratory disease. After less than three weeks he stopped the experiment and started using them as a routine measure. That simple tool, coupled with what we now call social distancing—adding space between beds, having the patients placed head to toe, and curtaining off beds—Capps was able to get the infection under control in that one hospital. His article appeared in the Journal of the American Medical Association in October of 1918.
Then, as now, masks were viewed as unpleasant, and an assault on individual liberty. Yet in areas where they were mandated, infection and death rates were lower. No specific studies were done in those times, but by looking at the data left to us, it is possible to see what we now call super-spreader events, such as the Liberty Loan Parade of September 28, 1918 in Philadelphia. San Francisco, then as now, had a mask mandate which was enforced, even on the mayor of the city at the time. In an eerie echo of today, the mask mandate ended near the end of November, but had to be reinstated in January of 1919.
In the beginning, masks were difficult to find. The Red Cross sold them for ten cents at the Ferry Building in San Francisco but was soon overwhelmed with the demand as they were required even to walk the streets. They organized mask drives and made posters with instructions on materials and construction, exhorting women to provide their households with them.
We, too, were undersupplied with masks when this pandemic began. Groups quickly formed on social media to create modern mask drives, and many patterns were made available online. The most common, published by the Deaconess Health System in Illinois bears a striking resemblance to the gauze masks of 1918, though now close woven cotton layers and striking patterns have replaced the loose cotton of yesteryear.
Masks, then as now, are the easiest way to protect ourselves and others until the day when we can put them aside. Maybe it makes it a little easier to spend another uncomfortable day in a mask to know that a century ago our ancestors were sharing the same experience and that they too were looking forward to the day that we can all take our masks off for good.