Ah summer, the perfect time to put on a sweater, grab a blanket and go embrace the cold. Not the image that comes to mind for August? We do things a little differently here in San Francisco. For those of us here on the bay, it's a time for gusting winds and foggy days; the fog is such a regular part of summer that someone named him Karl and gave him his own Twitter account. And of course one of my favorite quotes attributed to Mark Twain: "The coldest winter I ever spent, was a summer in San Francisco." Our park fits right in with the idea of doing things a little differently. For many people, the image of a national park might be a rugged natural landscape, perhaps hiking by an alpine lake or through the desert southwest, for us here at San Francisco Maritime National Historical Park, we think ships!
     
     
That's what we preserve here, ships and all things related. Half hull models, captains' journals, photographs, big ships, little ships, ropes, wire and the knowledge to keep all that stuff around for more than 100 years; these are just some of the things the National Park 
Service (NPS) is preserving for you, but of course that's just one park. The National Park Service is preserving something for all our families, whether it's the family we see every day, or the collective family of us all who love parks. From the adventure seeker wanting to scale the highest peak in North America (

https://www.nps.gov/dena/index.htm

)

to the historian combing through the archives at Ellis Island (

https://www.nps.gov/elis/index.htm

)

or the activist retracing the walk across the Edmund Pettus Bridge (

https://www.nps.gov/semo/index.htm

)

, the NPS protects something for everyone. They are places families can share their passions with each other and with their fellow park visitors. A place where we can define family as everyone experiencing these amazing places with us. No walls to separate us, just an inviting campfire to come join and share stories around.
     If you prefer to share your stories through the power of song, San Francisco Maritime National Historical Park is the place for you. We preserve the oral histories of sailors through traditional chanties, work songs that were used to help coordinate effort for a difficult task, like raising a sail, or to relieve the monotony of walking around a capstan. You can come share your song with us every first Saturday of the month, the next one is August 4 from 8pm-11pm.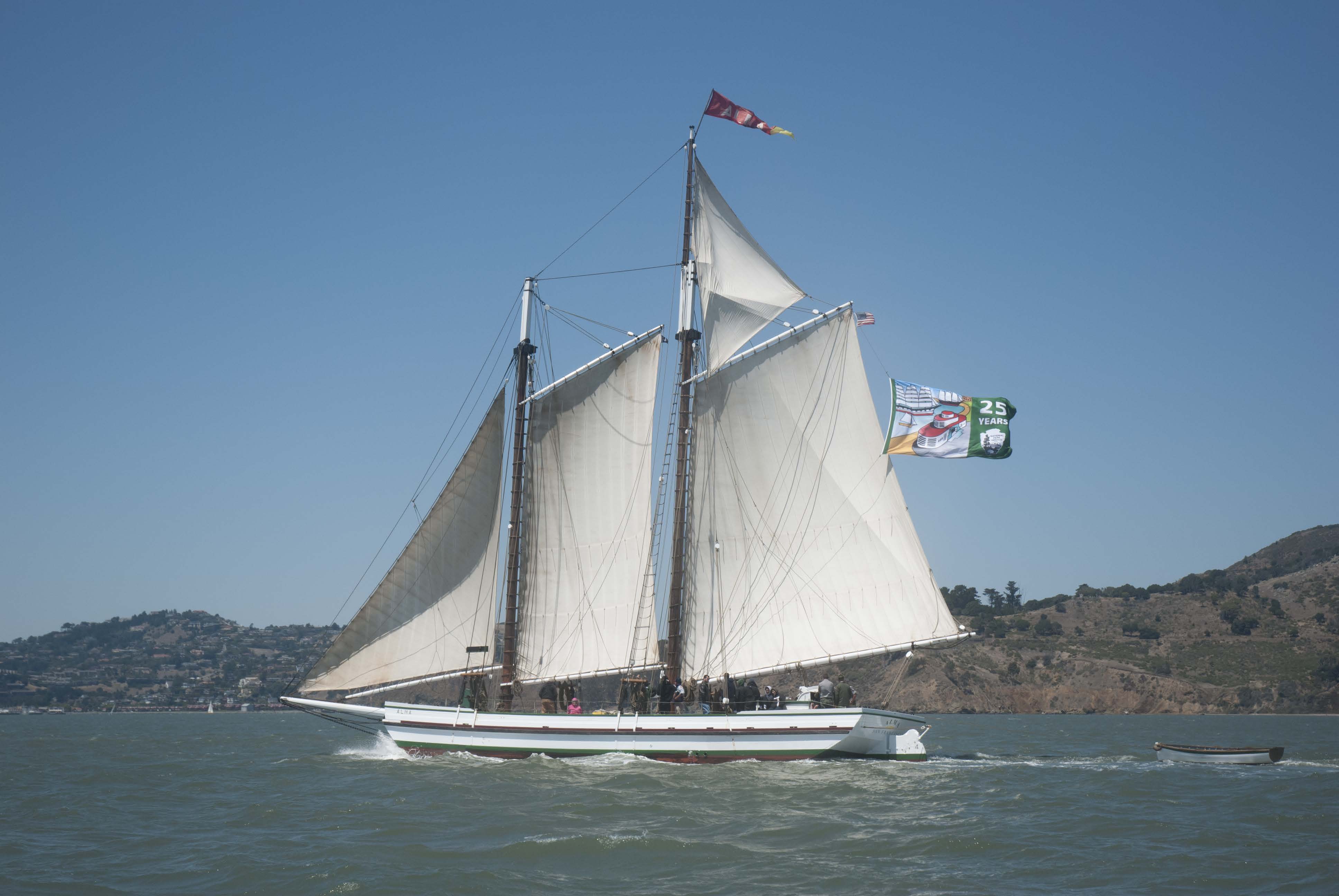 Another great way to share your park experience and the lives of sailors is to come sailing with us. The Scow Schooner Alma (we like to think of her as the people's boat) was built here in San Francisco in 1891. Many of the scows were family run operations, and Alma was no different, she was actually named after the builder's granddaughter. These scows were the flatbed trucks of their day, using the rivers as highways to transport general goods, especially hay. Sometimes known as hay-scows, these work-boats could be seen all over the bay and rivers. Of course, every hard worker needs a break now and then, and on those days family and friends would gather aboard and find a sunny spot in the bay, likely Paradise Cove, to enjoy a day together. We continue to sail Alma on these bay waters and we welcome you to come with us. If you want to come sailing this month bring your family on August 3, 10, 11, 24, or 31. Reservations are available here: https://go.usa.gov/x5k7m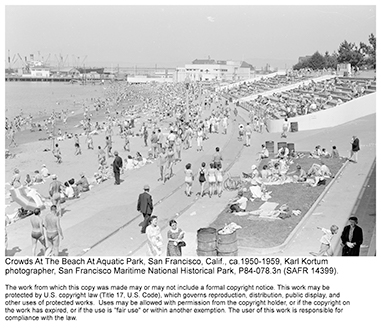 Or maybe you prefer to have a quiet place to think amongst the chaos of San Francisco and the wharf? The beach at Aquatic Park has always been a place to think and relax with friends. It's a beach that gathers crowds during the warm sunny days, a place to soak up the sun, or play in the waves. Although with our foggy August weather you may have to huddle together under a blanket and a few jackets. If you do catch us on a cold windy day when Karl the Fog is out and about, come visit the rest of the park and see what we have to offer indoors. In our Maritime Museum we have art from the Works Progress Administration and a collection of photographs from the late 1800s. We also have the Mermaid, a 19 foot sailboat that was sailed across the Pacific by a lone sailor. If you're more interested in the history of the city, then bring the family to the Visitor Center and explore the exhibit Along the Waterfront.
           
     However you want to enjoy the summer, whether freezing on a beach, combing the archives or sailing a ship, we'll be here for you. On August 25, the NPS will be celebrating our 102 birthday. One hundred two years of protecting our heritage. One hundred two years of families coming together. One hundred two years of making memories. Share with us in the comments below some of your favorite park memories from the last 102 years and come make new memories with us this August.