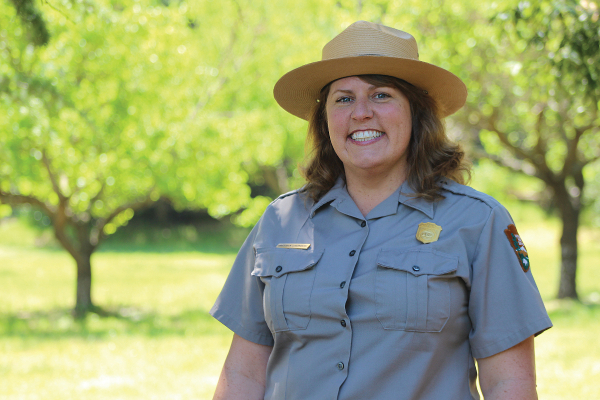 To mark the Park's 30th anniversary, we asked two staff members – one of our more senior crew, and one who just recently came aboard - to talk about how they came to work at San Francisco Maritime National Historical Park. Today's post tells Chief of Cultural Resources Gretchen Stromberg's story.
I joined the crew in May, 2017 for a four month, temporary tour, but I didn't start as an official, permanent member of the staff until November, 2017 when Robbyn Jackson, my predecessor—who spent many years leading the Cultural Resources program at San Francisco Maritime— retired. Thankfully I had a week-long overlap with her before she "sailed off" onto her next adventure, but it was not enough time to learn the ropes!
My first impression is that San Francisco Maritime NHP is like no other park in our National Park System. Of course it has the NHL vessels, the Aquatic Park Historic District, and a vast museum collection (including the largest archival collection of any National Park). But the history and culture of the Park itself is palpable and distinct

—

especially the people who still work in the Park, and who have served throughout its several iterations as a private museum, State Park, a component of Golden Gate National Recreation Area, and now its own national park. We're a passionate group of preservationists, and I feel lucky to be given a spot at the table!
I was also lucky enough to have grown up across the Bay in Berkeley, and my true first impression of the Park was as a young child. As a family we would (very) occasionally get dressed up, come to the City and experience its museums and tourist attractions. (Do people get dressed up to come to the City anymore?) We came to the Park, in the late 70s or early 80s, and explored. I especially remember loving the ships models on display in the Maritime Museum. Of course, being further rewarded with ice cream at Ghirardelli Square was an added treat.
So far, my top experiences include visiting the Balclutha at drydock in Alameda, sailing on the Alma around Angel Island, and boating down to San Francisco Boatworks on the Telco. Any day out on Hyde Street Pier is a good day. My best evening in the Park was an evening lecture where a panel of longshoremen presented their poems, photographs, and film on the changing nature of work on the waterfront and the social implications for that change. It was a wonderful evening that melded the importance of creating space for community, art, and discussion within our Park and amidst our collections. My worst day was sometime in November, soon after I started. I attended meetings—all indoors—from about 8am until 5pm. I quickly realized that I needed to manage my time and obligations better!
I am looking forward to helping solve some of our Park's long term preservation needs/problems. Many of our historic properties are in need of large scale rehabilitation or restoration. Projects such as the Muni Pier (Aquatic Park Pier) rehabilitation and Hyde Street Pier repair are looming, and present interesting opportunities for partnering with the community, the City, and our Friends groups to find long term solutions. And while I know that funding is, and will continue to be, a challenge, I think that providing consistency in the park while we lose some of our most knowledgeable staff to retirement is critical. We need to make certain that all of that information and expertise—that history—is saved and passed on.