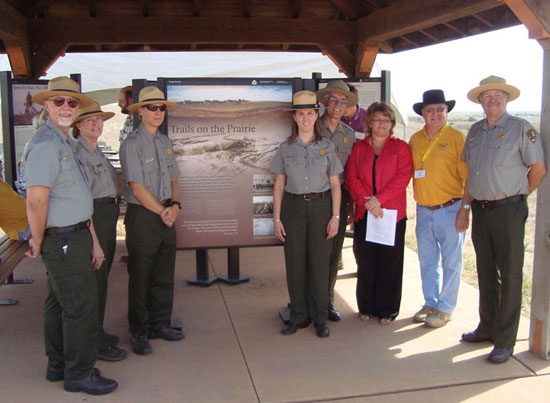 News Release Date:
October 4, 2011
Contact: Carol S. Clark
Unveiling at Dodge City Ruts: Signage and Kiosk Enhancement along the Santa Fe Trail  
Hitch your wagon and head out to Dodge City Ruts! Some of the best examples of Santa Fe Trail ruts along the historic trail are "visible trails on the prairie." An unveiling and rededication event was held at this National Historic Landmark on September 24, 2011 in Dodge City, Kansas.
National Trails Intermountain Region (NTIR) staff representing the Santa Fe National Historic Trail worked with partners to rehabilitate the site by repairing the boardwalk, the destination sign, and existing exhibits. Staff also designed new exhibits that highlight special features at the site and identify more trail sites to visit to the east and to the west. The Challenge Cost Share program funded the work and NTIR collaborated with the Santa Fe Trail Association and the Boot Hill Museum, the site's owner.
The project included three parts: rehabilitation of a boardwalk, redesign of existing exhibits, and design of new exhibits. The rehabilitation at the site was necessary after a prescribed burn jumped a fire line and burned the boardwalk used by visitors to view the ruts. Exhibits produced in 1997 were redesigned because they had become faded and damaged in the prairie environment. The new exhibits focus on placing Dodge City Ruts within a greater trailwide context: providing interpretation specific to the site while orienting visitors to more Santa Fe Trail sites to the east and west. This design blends interpretation and orientation and is being used along the length of the trail, promoting interpretive continuity and clear direction for where to go next to learn and explore more. 
Between 1821 and 1880, the Santa Fe Trail was primarily a commercial highway connecting Missouri and Santa Fe, New Mexico. From 1821 until 1846, it was an international commercial highway used by Mexican and American traders. After 1848 and the end of the Mexican-American War (1846-1848), the trail became a domestic commercial trade route that was used until 1880 when the railroad arrived in Santa Fe. 
The unveiling occurred during the Santa Fe Trail Association Symposium, which is held bi-annually and planned by theme. This year's conference focused on the Dodge City area, situated halfway along the Santa Fe Trail.  
NTIR administers the Santa Fe National Historic Trail as well as eight other national historic trails and the Route 66 Corridor Preservation Program. The exhibits are posted online; click here to view them.