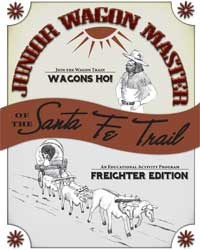 The Freighter Edition booklet is for ages 9-11.
You can earn four patches through the Junior Wagon Master program - one for each section of the Santa Fe National Historic Trail.

You have two options.
You can print the sections that fit your travel plans and you do not need a color printer. Look for the PDF file under each section heading below.
You can use the Story Maps below on your phone or tablet. There are links to the activity pages within each stop's content. We recommend the full screen link under each Story Map - it will open a new tab.
For either option, please also take a look at the introduction, glossary, and site list:
When you finish the activities for a section patch, follow the directions on the previous page.

If you have questions, email the Santa Fe Trail Association's Junior Wagon Master program manager.