News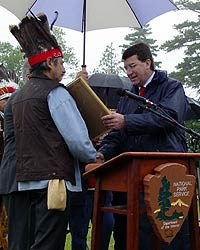 400th Anniversary of French Settlement on Saint Croix Island
On June 26, 2004, French, Canadian, Passamaquoddy, and American officials participated in a solemn ceremony commemorating the 400th anniversary of French settlement on Saint Croix Island. Officials were transported to the island for the hour-long ceremony on boats piloted by local volunteers.
The ceremony highlighted the cooperation between the French settlers and the Passamaquoddy during the 1604-1605 settlement, and officials expressed their hopes for continuation of good relations between the four nations present. The Passamaquoddy Nation was presented with the French Medal of the Legion of Honor, Commander Rank, and two ceremonial swords. Handmade Passamaquoddy baskets, a reproduction of a 17th-century petroglyph, and a letter to President Jacques Chirac to begin the process of renewing a centuries-old concord of peace and friendship were presented to the French delegation.
Participants included:
Mark Altvater - Lieutenant Governor, Pleasant Point (Siyaki) Passamaquoddy
Robert Newell - Governor, Indian Township (Me-doc-me-duc) Passamaquoddy
Hugh Akagi - Chief, St. Andrews (Qonasqamkuk) Passamaquoddy
Honorable Xavier Darcos - Minister Delegate of Cooperation, Development, and Francophony
Honorable Viola Léger - Senator, New Brunswick
Honorable Michael Michaud - U.S. Congressman, Maine
Gail Kelly - for U.S. Senator Olympia Snowe, Maine
Marie Rust - Director, Northeast Region, National Park Service
Also present were New Brunswick Premier Bernard Lord, French Ambassador to Canada Philippe Guelluy, American Ambassador to Canada Paul Cellucci, Director of Atlantic Parks for Parks Canada Carol Sheedy, and Acadian and Huguenot leaders. Passamaquoddy elders Joan Dana and Blanche Sockabasin provided a welcome and closing for the ceremony. The Blue Hill Brass Band played the Marseillaise, O Canada, and Star-Spangled Banner.

Last updated: May 8, 2015