Kayak or Canoe the St. Croix National Scenic Riverway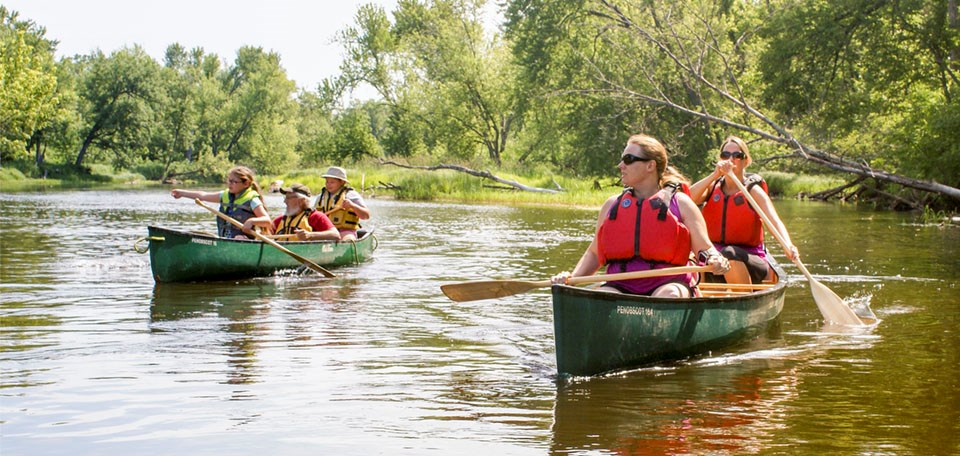 The St. Croix and Namekagon rivers offer many paddling options. Choose an easy stretch or one with challenges. Plan a day trip or a multi-day excursion. Find solitude or paddle in a more social setting. Whatever you choose, there are important steps to consider when planning a paddle.
Step 1: Choose a River Stretch
River descriptions and distance charts help narrow the choices.

Detailed river maps show campsites, rapids, landings, and other facilities.
Rangers recommend river stretches for different paddling skills.
Talk to a ranger!
St. Croix River Visitor Center: (715) 483-2274
Namekagon River Visitor Center: (715) 635-8346
Step 2: Secure Paddle Equipment and Shuttles
Oufitters provide equipment and shuttle services throughout the Riverway. Many also provide shuttle services for paddlers with their own equipment.
Vehicles can be left in Riverway parking lots overnight, but keep valuables out of sight and remember to bring your keys with you!
Step 3: Get Permits & Find Out About Fees
If you are using a landing in a state park, you need a state park entrance sticker unless you are using an outfitter.

You will need a

camping permit

if you plan an overnight stay between Highway 8 and the High Bridge.
Step 4: Pack Your Gear
Make sure you have a life jacket for each person. Children under 13 are required to wear one.
A suggested packing list is on the

safety information sheet

.

Bring drinking water and suntan lotion.
Water shoes keep your feet safe from fish hooks, glass, and sharp rocks.
Step 6: Take River Safety Seriously
A life jacket only works if you are wearing it.

Make a trip plan and leave it with someone.
Call 911 for emergencies. Cell phone service is spotty on some stretches.
If you drink alcoholic beverages, do so responsibly.
Step 7: Stay Healthy
Learn about tick borne illnesses and blastomycosis.
Poison ivy grows along the Riverway.
Don't drink the river water without filtering it first.
Last updated: September 5, 2021