St. Croix Marshland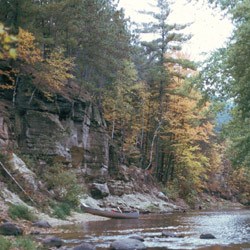 The Marshland area of the St Croix between Riverside Landing and Highway 70 is a beautiful stretch of river. In this area, the river changes fairly dramatically from its origins near Gordon Wisconsin. The river gets substantially wider and for the most part, the banks are lower. This stretch of river is one of the best small mouth bass fisheries around and people come from all over the world to try their hand at catching these beautiful fish. There are a number of points of interest in this stretch as well. One of two areas where traffic crosses the river is the Gandy Dancer trail in Danbury on which ATV's can get a glimpse of the river. The other area where traffic crosses the river is Hwy 70 which is near the bottom of the Marshland district.
The Marshland district has the highest gradient of any part of the Riverway and thus has the fastest moving water.

This can provide a great opportunity for those seeking some rapids but caution is encouraged when the water becomes high, as the rapids can prove to be somewhat tricky for the inexperienced river goer.

The sandrock cliff area is a unique and beautiful geological rock face off a side channel. Note that In low water, this channel may be difficult navigate.This area has a wonderful campground at the top of the cliffs where one can camp among mature cathedral like red pine trees.This area is popular for the car campers as well, as it is one of few places that campers can drive to.

The Kettle River Slough is a great "secret spot" for fishing; however, this area is extremely vulnerable to low water and is difficult to navigate when flow is insufficient. There is a small ledge at the confluence with the St Croix that can prove to be troublesome if conditions aren't right. Contact one of our visitor centers or check out our river levels for the most up to date information.
Ranger Recommended Paddles in the Marshland
Nelsons Landing to Soderbeck Landing (Near Grantsburg)
Section Maps of the Marshland
Map 5 - Riverside Landing (near Danbury) to Sandcreek Landing
Map 6 - Sand Creek Landing to Highway 70 (near Grantsburg)
Paddling Guides - detailing water features by rivermile
Return to Trip Itineraries
Last updated: July 6, 2020