The Lower St. Croix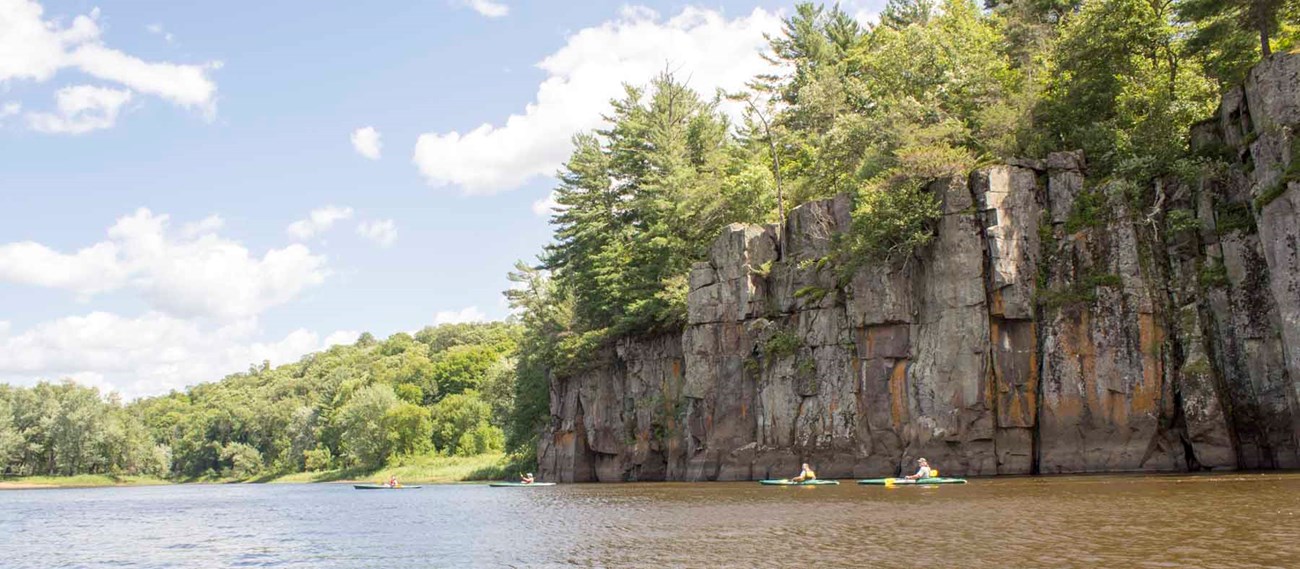 Below Highway 70, the St. Croix becomes much broader than its upper stretches, making for a much more forgiving paddle for newcomers. Along the way there are many islands, back channels and sloughs to explore when the water is high. With such a large viewshed, the abundant wildlife can be seen on land or in the sky. As the river gets closer to its mouth at the Mississippi, the banks rise into bluffs and there are gradually more signs of development. This lowest section of river is just a quick hour drive from the Twin Cities and can make for a wonderful day trip with relatively little planning.
The St. Croix Falls hydroelectric dam creates a ten-mile reservoir beginning at Nevers Dam landing, making the river much slower and broader. This depth of water invites more motorboat traffic in this area. To continue downriver requires a strenuous 3.1 mile portage around the hydroelectric dam.
Portage right above the dam at Taylors Falls Lion's Park (S54.5) and take Chisago Street / Highway 16 to Highway 95 south through town to Highway 8 south. Take the next second entrance to Minnesota Interstate State Park for the river access. A Minnesota state park vehicle permit is required to enter this park.
The St. Croix Dalles, just below Highway 8, is one of the Riverway's greatest treasures and not to be missed. The Dalles is a deep gorge of basaltic rock that formed thousands of years ago and features vertical cliffs and spectacular potholes. It can be explored by foot in the Minnesota or Wisconsin Interstate Park or by float.
For 10 miles below Highway 70, the sand and gravel river bottom creates excellent small-mouth bass fishing. There are also many landings in this section to gain easy access for an evening of angling.
The Stillwater Islands area, between the Soo Line High Bridge and Stillwater, is popular with houseboats, cabin cruisers, pontoons, and fishing boats. The islands are favorite places to spend summer weekends.
Paddle boats offer another way to see the St. Croix. Scenic Tours are available through the Dalles and in Stillwater. Check the list of outfitters to find paddle boat tours.
Be sure to check river levels before you go.
A print version of the Paddling Guide to the Lower St. Croix River includes spedific river-mile descriptions and is best used with these maps:

Map 7 - Highway 70 to Highway 8
Map 8 - Highway 8 to Osceola Landing
Map 9 - Osceola Landing to the High Bridge
Map 10 - High Bridge to Boom Site Landing
See Pictures of the Lower St. Croix River.
More information for this stretch of the St. Croix, visit the St. Croix River State Water Trail.

Ranger Recommended Paddles on the Lower St. Croix
Minnesota or Wisconsin Interstate Park to Osceola (Near St. Croix Falls / Taylors Falls)
Return to Trip Itineraries
Last updated: June 18, 2023