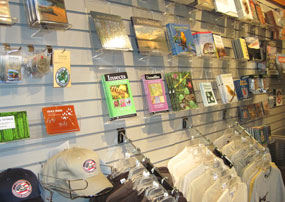 Looking for a guide to the Riverway's plants and animals? Searching for that perfect book about the history of the area? Start your search at one of the bookstores in the park.
St. Croix River Visitor Center in St. Croix Falls, Wisconsin
Namekagon River Visitor Center in Trego, Wisconsin
You can also purchase park materials on the Eastern National website.
Eastern National, the park's cooperating association, operates the bookstores.Eastern National provides quality educational products and services to the visitors to America's national parks and other public trusts. The association's contributions have benefited parks and visitors by supporting research, educational, and interpretive projects and by funding publications.
Joining Eastern National supports your parks and gives you a 15% discount on merchandise in any Eastern National store.
To join, pick up an application at a park bookstore or visit the Eastern National website.