Support Your Park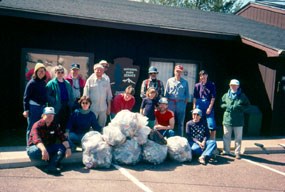 After experiencing the natural beauty and learning about the cultural history of the St. Croix National Scenic Riverway, many people want to learn more and find ways to get involved in supporting the park.
Shop at a Park Bookstore
Stop by a visitor center to browse the books and merchandise that will help you learn more about the natural and cultural heritage of the area. Your purchase will help benefit the Riverway.
Become a Volunteer
Check into our Volunteers-In-Parks (VIP) program to put your skills to work directly in the Riverway. There is a wide array of opportunities that range from a few hours to a regular commitment.
Support the Riverway with a Donation
The generosity of our citizens through their tax dollars and donations helps to sustain America's national parks.


Last updated: April 30, 2019