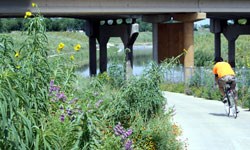 Click here for possible closure/alternate route information and map.
Updated: 11/8/2013
Mission Portals connect San Antonio's four historic missions – Mission Concepción, Mission San Jose, Mission San Juan and Mission Espada – to the San Antonio River. These connections feature historic and artistic interpretations of the story of the missions and highlight their social and cultural importance to the area. This reinforces the importance of the river to the missions and encourages visitors to circulate between the Mission Riverwalk and the river. Project planners worked closely with the National Park Service to ensure that there would be a seamless transition between the Mission Riverwalk and the historic missions.
Ask a Ranger or Docent at one of the missions for additional information.
Transportation map