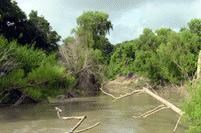 San Antonio Missions National Historical Park was established to preserve and interpret the chain of Spanish missions that were built along the San Antonio River in the 18th century. This river contains a vital natural resource element - water. The existence of water dictated where a mission was established. Water from the river was diverted into eighteenth century acequias (irrigation ditches, still in operation) to serve the mission communities.
Today, just south of downtown San Antonio (where most of the park is located), is a wide, straight river channel built where the once serpentine, flood-prone waters of the San Antonio River had run. A comprehensive, multi-year project by the City of San Antonio, Bexar County, San Antonio River Authority (SARA), the U.S. Army Corps of Engineers (USACE) and the San Antonio River Foundation was completed in 2013 that restored and enhanced 10 miles of the San Antonio River south of in flood control, amenities, ecosystem restoration and recreational improvements. Remnants of the old river channel still remain.
Now, as then, water plays an important role in the park and community. It flows in the acequias and is used in a historic grist mill at Mission San José to grind grain and to water croplands at the San Juan Demonstration Farm. It is also vital to park natural resources. The park is partnering with local agencies that manage water in the San Antonio River in an effort to improve water quality.
Streamside (riparian) areas along the San Antonio River and the acequias are oases of unique vegetation that provide excellent wildlife habitat. Fish, amphibians, and many species of birds depend of these habitats. Other vegetation communities in the park besides riparian include scrubland, upland woodland, and old fields (grasslands in various stages of succession).