Directions & Transportation
Getting Around: Quick Facts!
Four Missions.
There are four missions in the National Park. From north to south: Mission Concepcion, Mission San José, Mission San Juan Capistrano, and Mission Espada. Each mission is about 2.5 miles from the next mission. It is very easy to drive from mission to mission, and parking is available at each mission site.
Along the River.
From the northernmost mission (Mission Concepcion) to the southernmost (Mission Espada) is about 6.5 miles. On an average day, it takes about 15 minutes to drive from the northernmost mission in the National Park to the southernmost. Each mission is situated near the San Antonio River, and are connected by Mission Rd.
Trails for Miles.
Approximately 10 miles of trail connects all four missions and extends north to The Alamo. The Hike & Bike Trail is a pedestrian only path that follows the San Antonio River. Pedestrians walk and bike on the trail. B-Cycle stations are located at each mission site, and you may rent a bike for a 24 hour period for $12. Remember to dock your bike every 60 minutes when renting a B cycle. If you are planning on hitting the trail, always bring adequate supplies and water. Summer months can be extremely hot in San Antonio and not much of the Hike & Bike Trail is shaded, so you should always carry water.
Bus Accessible.
The missions are accessible by
VIA
bus line 42 and
VIVA
bus line 40. Visit the linked webpages for more information.
Free Admission.
Admission at all four missions in San Antonio Missions NHP is free.
Operating Hours.
Park hours are sunrise to sunset every day. Park is closed on Thanksgiving, Christmas, and New Years Day. Facilities at each mission have different operating hours, so be sure to read our operating hours before making your trip plans.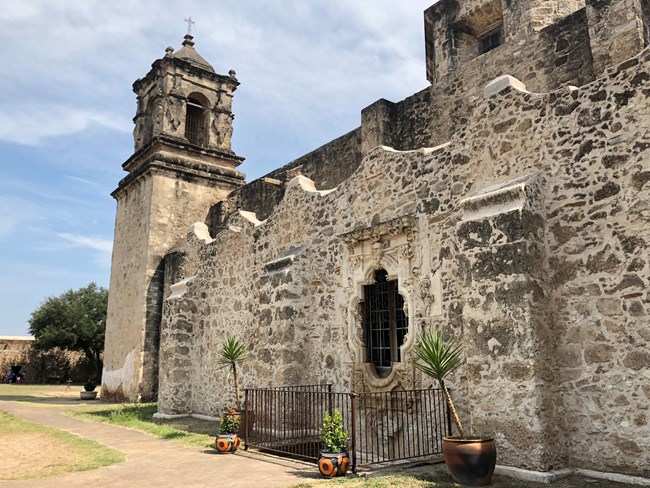 Maps
This brochure is provided by San Antonio River Authority (SARA) that oversees the river and the trail project. The Mission Riverwalk Hike and Bike Trail may temporarily close due to high water.
Para un mapa del parque en español, haz click aquí.
Map of Mission San Jose (English & Español)
Find your way around our largest mission site, Mission San Jose! This is also the site of our park Visitor Center.
Do you plan to travel to the park in an alternative fuel vehicle? If so, good for you! Your actions help us reduce greenhouse gas emissions and reduce petroleum use. There is an electric vehicle charging station at Mission San José. Locate alternative fuel charging stations in San Antonio with this link.
Mission Addresses
Mission Concepción
807 Mission Road
San Antonio, Texas 78210
Mission San José
6701 San Jose Drive
San Antonio, TX 78214

Mission San Juan
9101 Graf Road
San Antonio, Texas 78214

Mission Espada
10040 Espada Road
San Antonio, Texas 78214
Administrative Headquarters
2202 Roosevelt Avenue
San Antonio, Texas 78210


Last updated: September 27, 2021