Directions & Transportation / Direcciones y transporte
How to Get Around / Cómo viajar
Two to Three Miles Apart.
There are four missions in the National Park. From north to south: Mission Concepción, Mission San José, Mission San Juan, and Mission Espada. Each mission is about 2.5 miles from the next mission. It is very easy to drive from mission to mission, and free parking is available at each mission site.
5 kilómetros de distancia. Hay cuatro misiones en el Parque Nacional. Del norte al sur: Misión Concepción, Misión San José, Misión San Juan y Misión Espada. Cada misión está a unos 5 kilómetros de la siguiente misión. Es muy fácil conducir de misión a misión, y estacionamiento gratuito está disponible en cada sitio de misión.
Along the River.
From the northernmost mission (Mission Concepción) to the southernmost (Mission Espada) is about 6.5 miles. On an average day, it takes about 15 minutes to drive from the northernmost mission in the National Park to the southernmost. Each mission is situated near the San Antonio River, and are connected by Mission Rd and Riverfront Parkway.
A lo largo del río. Desde la misión más al norte (Misión Concepción) hasta la más al sur (Misión Espada) es de unos 11 kilómetros. En un día promedio, se tarda unos 15 minutos en conducir desde la misión más al norte del Parque Nacional hasta la más al sur. Cada misión está situada cerca del río San Antonio, y están conectadas por Mission Rd y Riverfront Parkway.
Trails for Miles.
Approximately 10 miles of trail connects all four missions and extends north to The Alamo and south to Medina Lake. The Hike & Bike Trail, and called Mission Reach is a pedestrian only path that follows the San Antonio River. Pedestrians walk and bike on the trail. B-Cycle stations are located at each mission site, and you may rent a bike for a 24 hour period. Remember to dock your bike every 60 minutes when renting a B-cycle to not be charged extra. If you are planning on hitting the trail, always bring adequate supplies and water. Summer months can be extremely hot in San Antonio and not much of the Hike & Bike Trail is shaded, so you should always carry water.
Senderos para kilómetros. Aproximadamente 16 kilómetros de sendero conecta las cuatro misiones y se extiende hacia el norte hasta El Álamo y hacia el sur hasta el lago Medina. El sendero de caminata y bicicleta, llamado Mission Reach es un sendero peatonal que sigue el río San Antonio. Los peatones caminan y andan en bicicleta por el sendero. Las estaciones de B-Cycle se encuentran en cada sitio de la misión, y puede alquilar una bicicleta por un período de 24 horas. Recuerda acoplar tu bicicleta cada 60 minutos al alquilar un B-cycle para no cobrarte extra.Si está planeando usar el sendero, lleve siempre suministros y agua. Los meses de verano pueden ser extremadamente calurosos en San Antonio y no gran parte del sendero está sombreado, por lo que siempre se debe llevar agua.
Free Admission.
Admission at all four missions within San Antonio Missions National Historical Park is free.
Entrada gratuita. La admisión en las cuatro misiones dentro del Parque Histórico Nacional Misiones de San Antonio es gratuita.
Operating Hours.
Park hours are 9 a.m. - 5 p.m. every day. Park is closed on Thanksgiving, Christmas Day, and New Years Day (not the Eve's). Facilities at each mission have different operating hours, so be sure to read our operating hours before making your trip plans.
Horas. El horario del parque es de 9 a.m. a 5 p.m. todos los días. El parque está cerrado el Día de Acción de Gracias, el Día de Navidad y el Día de Año Nuevo (no la víspera).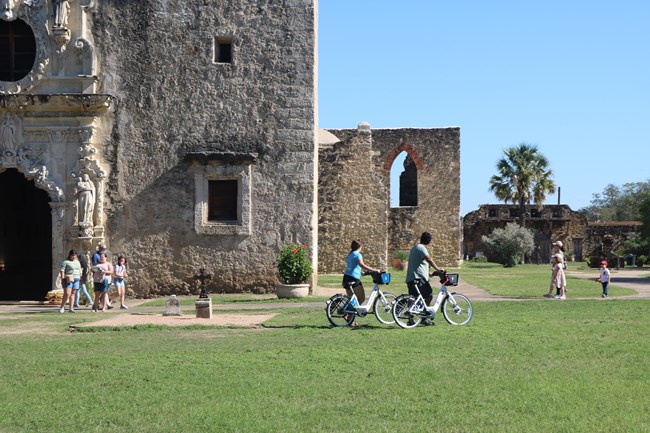 Maps
This brochure is provided by San Antonio River Authority (SARA) that oversees the river and the trail project. The Mission Riverwalk Hike and Bike Trail, also called Mission Reach may temporarily close due to high water.
Para un mapa del parque en español, haz click aquí.
Map of Mission San Jose (English & Español)
Find your way around our largest mission site, Mission San Jose! This is also the site of our park Visitor Center.
Mission Addresses
Mission Concepción
807 Mission Road
San Antonio, Texas 78210
Mission San José
6701 San Jose Drive
San Antonio, TX 78214

Mission San Juan
9101 Graf Road
San Antonio, Texas 78214

Mission Espada
10040 Espada Road
San Antonio, Texas 78214
Administrative Headquarters
2202 Roosevelt Avenue
San Antonio, Texas 78210


Last updated: September 26, 2022