Accessibility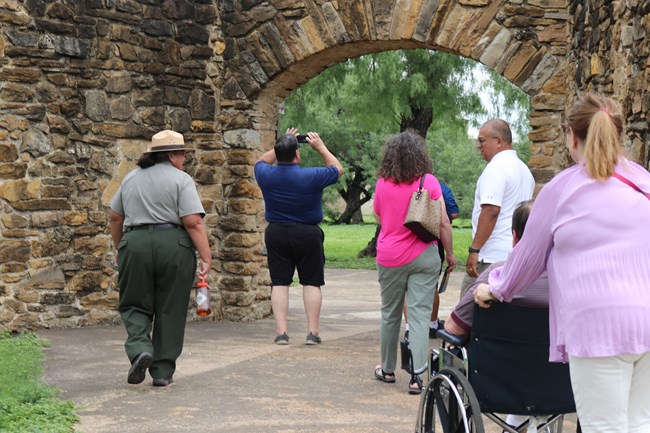 Wheelchair Accessibility
Each of the major sites in the park is partially wheelchair accessible and a wheelchair is available for loan at each site. Restrooms are wheelchair accessible. Assistance is available in the park Gift Shop for items that may be out of reach for some visitors. Ranger-led tours at Mission San José are on the paved paths of the mission. Check with Park Rangers about the accessibility of other programs, as there may be rough terrain, steep grades, or stairs at other sites.
Please keep in mind that the San Juan Farm area of Mission San Juan Capistrano is composed of packed dirt paths. At Espada Dam, the dam is visible from the parking lot. The paved trail leading to the structure itself is steep and there are no safety barriers.
To make your visit more enjoyable, San Antonio Missions National Park is continually upgrading facilities for greater accessibility. If you have questions or suggestions about facilities not covered in this section, contact: Accessibility Coordinator at San Antonio Missions National Historical Park, 2202 Roosevelt Ave. San Antonio, TX 78210, or
email us
.
The designation accessible indicates access for wheelchair users in compliance with Uniform Federal Accessibility Standards (UFAS). Information in this section describes only the accessibility of facilities at San Antonio Missions; it is not a complete description of activities and services.
Getting here!
Designated spaces are marked with the international access symbol. These are reserved for physically disabled visitors whose vehicles display an access placard or license plate.

VIA, the San Antonio Transit Authority, provides accessible transportation throughout the city. Busses are wheelchair accessible. Bus #42 will bring you to within one block of Mission San José and Mission Concepción. Accessible sidewalks link the bus stops to the park Visitor Center. VIATrans service may be able to transport you to these sites. Call VIA at 227-2020.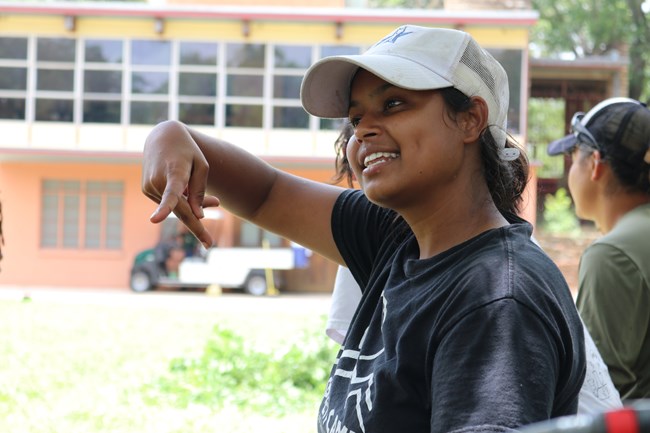 Accessibility for Deaf and Hard of Hearing
In need of ASL interpretation? Email our staff to notify us of your visit ahead of time!
Gente de Razón, the park's 23-minute video, is captioned and shown at the park's Visitor Center daily. Captions are available in English and Spanish.
Accessibility for Blind or Sight Impaired Visitors
Ask the staff at the San José Visitor Center for a copy of our park brochure in braille or large print. The Visitor Center museum also has tactile exhibits of each mission church facade. Each mission site has a bronze relief map of its historic buildings and grounds.
Audio recorded information is available through visitors' personal cell phones anywhere and anytime. The World Heritage Audio tour includes information about Mission Concepción, Mission San José, Mission San Juan, the Espada Aqueduct, and Mission Espada.
Please visit
World Heritage > Home (worldheritagesa.com)
for this audio tour.
Service Animals
Service animals, dogs trained to provide a task in assistance of a person with a disability, are welcome into National Park Service buildings and grounds. Please be aware that pets that do not fit the criteria of a service animal are prohibited from National Park Service buildings by regulation.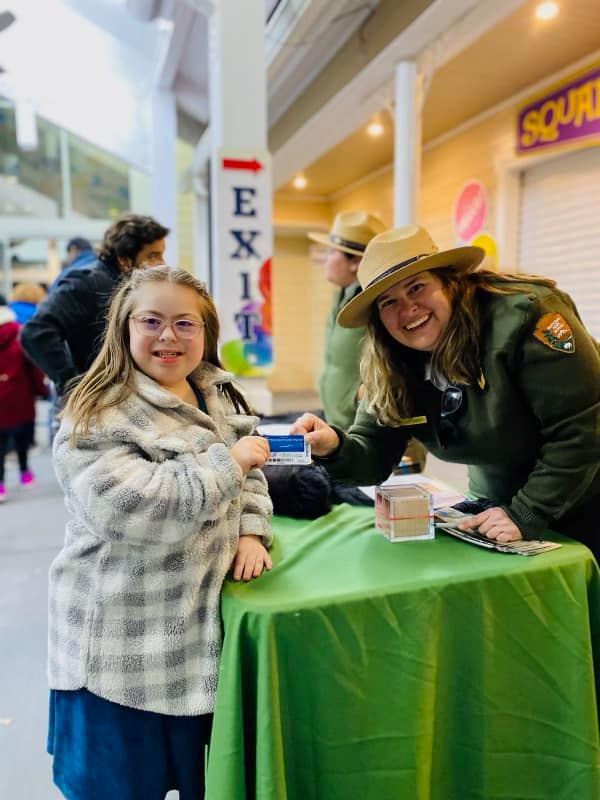 San Antonio Missions National Historical Park does not charge admission. We do, however, administer America the Beautiful Interagency Passes for visitors to enjoy other public federal sites free of charge. This pass is available to US Citizens or permanent residents with a permanent disability. Visitors looking to obtain a pass must either provide adequate documentation or sign an affidavit at the park in order to obtain the pass. If you are looking for the Senior Pass for 62+, the following nearby parks may sell the Senior Pass to you:
Padre Island National Seashore


Last updated: December 19, 2022