Mexican Folk Art Show and Sale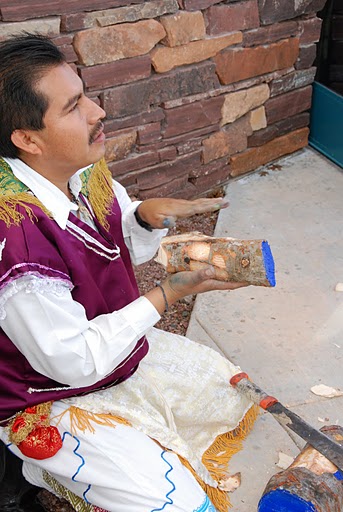 News Release Date:
April 15, 2011
Contact: Lee Wilder, (210) 932-0650x14
Contact: Scott Aldridge, (520) 622-1999
Finely crafted Mata Ortiz pottery, colorful Oaxacan wood carvings, and richly textured Zapotec rugs will brighten the venerable Mission San José at San Antonio Missions National Historical Park the last weekend in April, 2011. This free event includes demonstrations of pottery forming, firing, and painting, and woodcarving Saturday and Sunday, April 30 and May 1. Show hours are from 9:00 a.m. to 5:00 p.m. with special pottery firings at 11 a.m. and 2 p.m. each day (weather permitting). Pottery, carvings, and rugs will be available for sale. Join us at the visitor center at Mission San José, 6701 San José Drive, San Antonio, Texas, 78214. For more information see www.wnpa.org or call: (210) 932-1001
Mata Ortiz ceramics were first crafted in the mid-1970s and attracted collectors in the 1980s after Juan Quezada, one of the style's originators, began displaying his work in prestigious galleries across the Southwest. The people of the Valley of Oaxaca have created brightly painted wood carvings for centuries, discovering figures, animals, and mythical creatures in the fragrant copal wood of the region. This is folk art at its most authentic. Zapotec weavers also use color to build their geometric designs, which are based on the ancient architecture of the Oaxacan region. Their smooth, lush, sheep's wool textures are a joy to hold in the hand.
San Antonio Missions National Historical Park was established in 1978 to preserve, restore, and interpret the Spanish colonial missions of San Antonio, which represent the largest concentration of cultural resources from the Spanish colonial period in the United States. For more information about the National Park Service and San Antonio Missions National Historical Park please visit our web site at www.nps.gov/saan and the park's Facebook page.
Western National Parks Association (WNPA) is a nonprofit partner of the National Park Service and is affiliated with 66 national parks in 12 states. WNPA is a proud partner of San Antonio Missions NHP and has organized this special show and sale. WNPA directly supports education and research in the parks it serves through the operation of national park stores in park visitor centers, by producing publications and products (free and for sale) for park visitors, and by financially supporting research and educational activities that enhance public understanding and appreciation of national parks. For more information on WNPA visit www.wnpa.org. 
-NPS-
Last updated: February 24, 2015