More than 500 San Antonio Area High School Students Benefit from an "America's Best Idea" Grant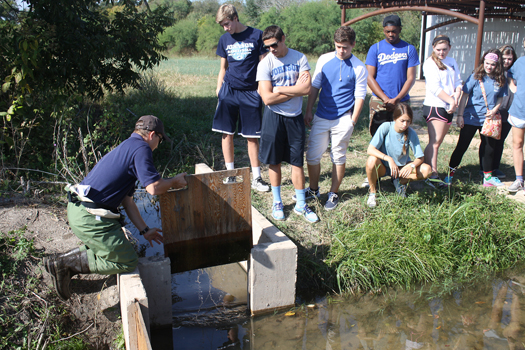 News Release Date:
November 19, 2013
Contact: Krista Sherwood, (210) 627-1203
Contact: (202) 354-6486
(San Antonio, TX) November 18, 2013 – Students from McCollum, East Central, McArthur, and Johnson High Schools have participated in the inaugural educational program at the newly restored Spanish colonial farm at Mission San Juan which is part of San Antonio Missions National Historical Park. The program was funded through a 2013 America's Best Idea grant from the National Park Foundation, the official charity of America's national parks.
Grant funds were used to support the education program, aptly named Mission R.E.A.C.H. (Recreation, Education, and Celebrating History). The program aimed to engage area high school seniors in a half-day activity-filled program bringing them to their local national park to help instill life-long stewardship of park resources.
Conducted through partnerships with the San Antonio River Authority, Los Compadres de San Antonio Missions, the San Antonio Bike Share organization, and the Alamo Area Master Naturalists, the education program consisted of four interactive activities illustrating the natural, historical, and recreational connections between the Spanish colonial historical resources and the river, once the lifeblood of the missions.
Over a total of six days, more than 500 students visited Mission San Juan and the newly restored Spanish colonial farm. Activities included learning about the Spanish colonial farming practices, identifying native vegetation, utilizing GPS technology, and participating in a B-cycle bike share activity.
"We are thrilled to have been chosen to receive this grant. The funding has supported an exciting collaborative effort with our community partners to share core National Park Service values of preservation, education, and community involvement. The program has brought local youth from area schools and provided for a fun educational experience with healthy outdoor activities to further promote historical and natural resource stewardship", said Mardi Arce, Park Superintendent. "Thanks to our partners this program was a true success."
The America's Best Idea program funds park activities designed to connect diverse, underserved and under-engaged populations throughout the United States with their national parks in innovative and meaningful ways.
"One of the great things about our national parks is that every American can relate to these treasured places if given the chance to experience them," said Jonathan B. Jarvis, Director of the National Park Service. "It's our mission to engage visitors from all backgrounds in the diverse stories that we tell in our national parks. Thanks to the support of the National Park Foundation, we can propel that outreach, and engage new audiences that would otherwise never have the opportunity to experience a national park."
"The America's Best Idea program gives people – particularly youth – incredible opportunities to connect to our national parks through unique and innovative ways," said Neil Mulholland, President and CEO of the National Park Foundation. "From experiences that center on history, the environment and even adventure, we are able to capture the imagination of a new generation of park-goers in ways that benefit their lives and the future of the parks."
San Antonio Missions National Historical Park was one of 34 national parks across the country selected to receive an America's Best Idea Grant.For a full listing of participating parks and program descriptions, visit theNational Park Foundation website.
ABOUT THE NATIONAL PARK SERVICE
More than 20,000 National Park Service employees care for America's 401 national parks and work with communities across the nation to help preserve local history and create close-to-home recreational opportunities. Learn more on-line at www.nps.gov, San Antonio Missions National Historical Park, and on Facebook
ABOUT THE NATIONAL PARK FOUNDATION
The National Park Foundation, the official charity of America's national parks, raises private funds that directly aid, support and enrich America's more than 400 national parks and their programs. Chartered by Congress as the nonprofit partner of the National Park Service, the National Park Foundation plays a critical role in conservation and preservation efforts, establishing national parks as powerful learning environments, and giving all audiences an equal and abundant opportunity to experience, enjoy and support America's treasured places. www.nationalparks.org.
JOIN US – This is Your Land. www.nationalparks.org
FACEBOOK https://www.facebook.com/nationalpark
TWITTER https://twitter.com/goparks
Last updated: February 24, 2015