Fleet Management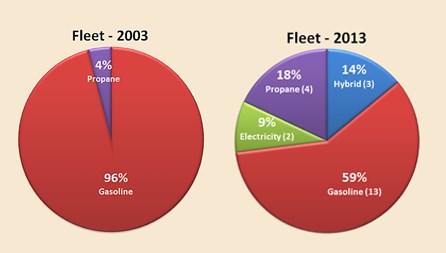 San Antonio Missions Park Fleet Management
Helping to Keep Our City Clean

Efforts to lessen the park's carbon footprint started in the early 1990s with the purchase of a compressed natural gas truck. Ten years later, we still had the majority of our fleet burning gasoline (23 out of 24 vehicles; see chart below). Through park initiatives, like right-sizing the fleet and supporting alternative fuels with Clean Cities, we will have 9 alternative fuel powered vehicles out of 22 total by the end of the year.

We estimate the changes to the park fleet will reduce our annual environmental footprint as follows:
· 2,737 gallons less petroleum consumed 3.359x= 9194;

· 24,612 lbs. (11.16 metric tons) less carbon dioxide produced;

· Equivalent of taking 2.3 passenger cars off the road; and

· 26 less barrels of oil consumed every year.
The DOE Clean Cities grant alone (funding to replace two gasoline vehicles with one all-electric and one propane vehicle) will save us 564 gallons of gasoline every year and reduce our greenhouse gas emissions 3,219 lbs. (1.46 metric tons) of carbon every year.
Last updated: March 22, 2016