The Final Years (1678 - 1683)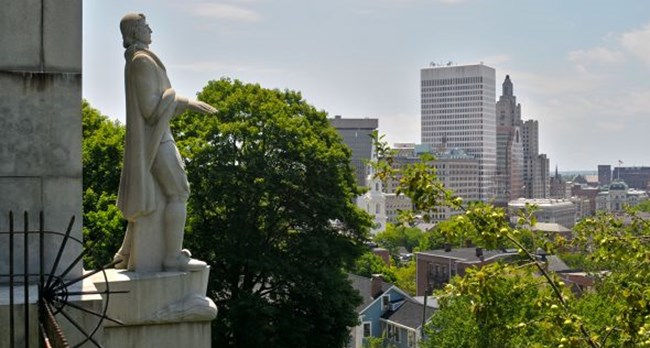 Although most of Providence was burned during the King Philip's War, Roger Williams lived to see the town begin to rebuild. Shortly after the war ended, his wife, Mary, died. Roger and Mary had six children, three boys and three girls. Of these children, Mary, Daniel and Joseph each had six children of their own. Daughters Freeborn and Mercy had four and eight children respectively. Providence was the only one of the Williams children not to have children of his own.
Rhode Island had been created as a 'lively experiment' with a mix of various religious beliefs. This, of course, led to religious differences. When Roger was around 70 years old, he rowed the 25 miles to Newport to have a three-day long debate with a group of Quakers. After the debate, he returned to Providence and wrote a book detailing why he disagreed with Quaker beliefs. It's important to note, that although he disagreed with the Quaker beliefs, he still maintained that they could freely express their opinions and ideas, with no repercussions.
On May 6, 1682, Roger wrote to Governor Bradstreet saying he was
"old and weak and bruised (with rupture and colic) and lameness on both my feet"
Less than a year after that letter, Roger died. Exactly when was never recorded, but it was sometime between January and March, 1683. A small ceremony was held graveside.
The freedom to believe as you wish (Liberty of Conscience), is at the heart of Roger's legacy. Rhode Island was a refuge for people who were persecuted because of their religious beliefs. The colony later became host to the first Baptist Church, the first Synagogue, and the first Quaker Meeting House in America.
Last updated: January 6, 2023