Roger Williams Bibliography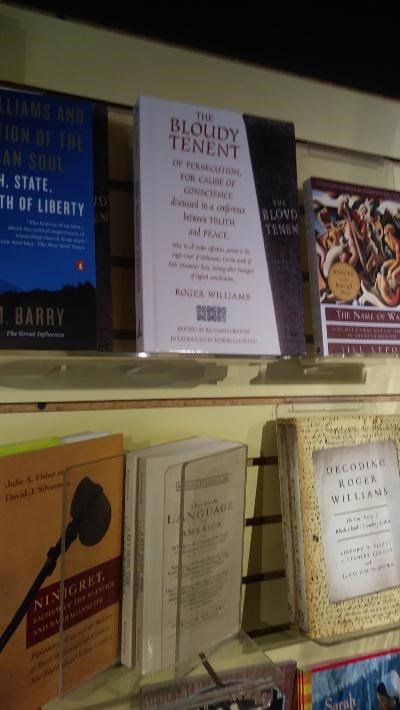 By Roger Williams:
Williams, R. (1997).

A Key Into the Language of America

. Applewood Books.
Williams, R. (2001). Bloudy Tenent of Persecution for cause of conscience discussed in a conference between truth and peace, who, in all tender affection, present to the High Court of Parliament, (as the result of their discourse) these, (among other passages) of highest consideration. Mercer University Press.
About Roger Williams:
Barry, J (2012). Roger Williams and the Creation of the American Soul: Church, State, and the Birth of Liberty. Viking Press
Davis, J. C. (2008). On Religious Liberty: Selections from the Works of Roger Williams (The John Harvard Library). Belknap Press
Fisher, L (2014). Decoding Roger Williams: The Lost Essay of Rhode Island's Founding Father. Baylor University Press
Gaustad, E. S. (1999). Liberty of conscience: Roger Williams in America. Judson Press
Hall, T (1998) Separating Church and State: Roger Williams and Religious Liberty. University of Illinois Press
About the Time Period:
Cronon, W (2003) Changes in the Land: Indians, Colonists and the Ecology of New England. Hill and Wang
Deetz, P (2001) The Times of Their Lives: Life, Love, and Death in Plymouth Colony. Anchor
Fisher, J (2014) Ninigret, Sachem of the Niantics and Narragansetts: Diplomacy, War, and the Balance of Power in Seventeenth-Century New England and Indian Country. Cornell University Press
Lepore, J (1999) The Name of War: King Philip's War and the Origins of American Identity. Vintage
Philbrick, N. (2007). Mayflower: A Story of Courage, Community, and War. Penguin (Non-Classics).
Simmons, W. (1989). The Narragansett (Indians of North America). Chelsea House Publishers
Vowell, S. (2009).

The Wordy Shipmates

. Thorndike Press
Last updated: October 4, 2020