Weddings & Other Ceremonies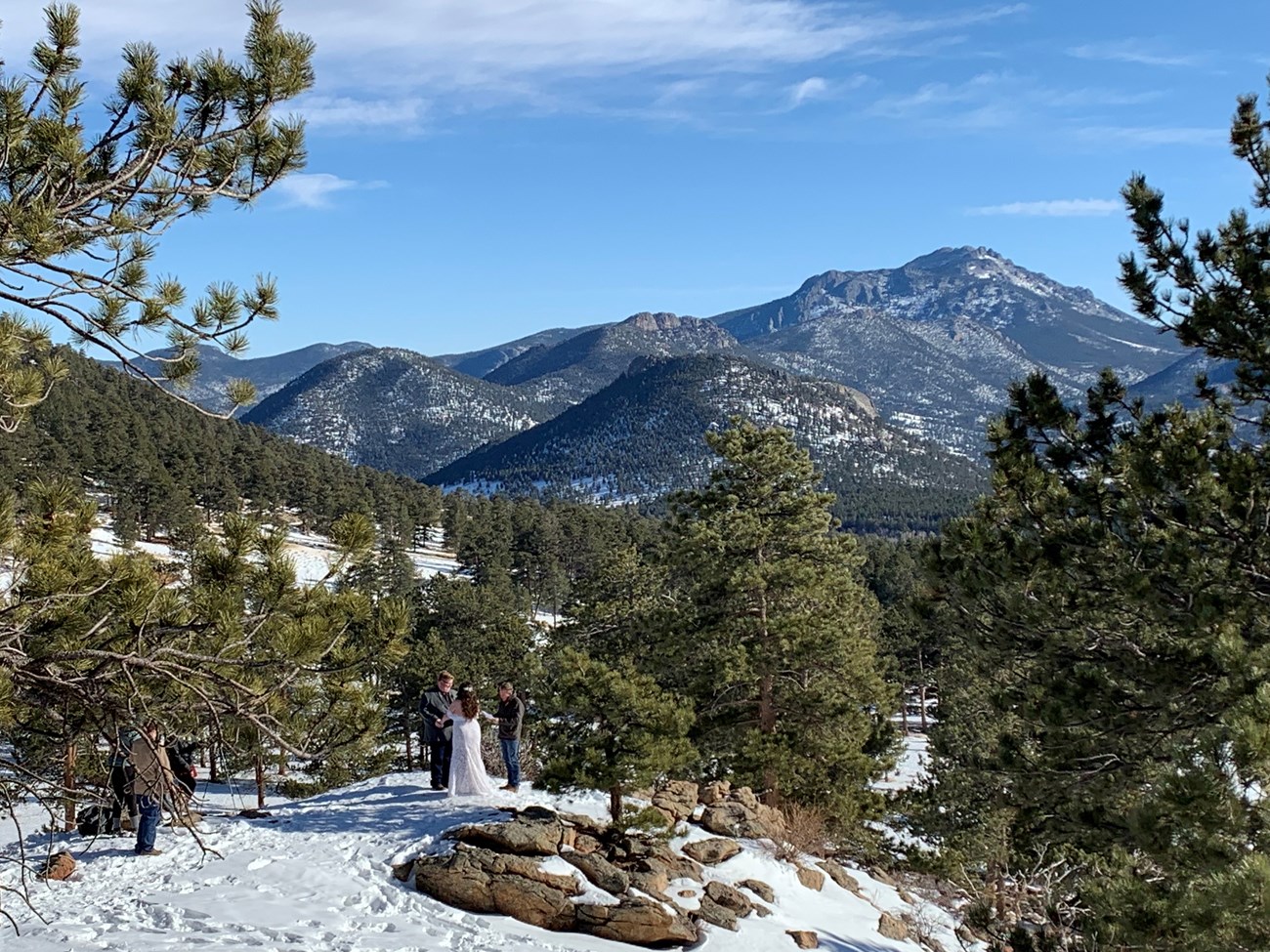 Wedding Permit Basic Information
When Can I Apply for a Wedding Permit?
If you are interested in getting married in Rocky Mountain National Park, please remember to plan well in advance of your desired wedding date.

RMNP accepts applications the year in advance of desired wedding month. Review of applications begin the first of the month, and applications are revewied on a rolling basis.

For example: Beginning on April 1, 2023, Rocky Mountain National Park will start accepting applications for all days in April of 2024, etc.
Maximum Permit Limits
May- October: 60 per month for all issued permits on a first come – first served basis
November - April: 40 per month for all issued permits on a first come – first served basis
What is the Maximum Wedding Ceremony Size?
The maximum wedding ceremony size is 30 people, unless the normal site limit is less.
Total group size cannot exceed 30 people or the normal site limit, including the wedding couple, all guests (including infants and young children), officants, and photographers.
We appreciate your understanding in our efforts to keep visitors and staff safe as well as protect the park's resources.
2023 Calendar Year Updates
If you are interested in getting married in Rocky Mountain National Park during the 2023 calendar year, please be aware that several months have already reached the maximum permit limits and are fully booked. May-October 2023 is fully booked and no more applications will be accepted for ceremonies in those months.
Location Closure:
Please be aware that the Moraine Park Discovery Center Amphitheater will not be available as a wedding location during 2023.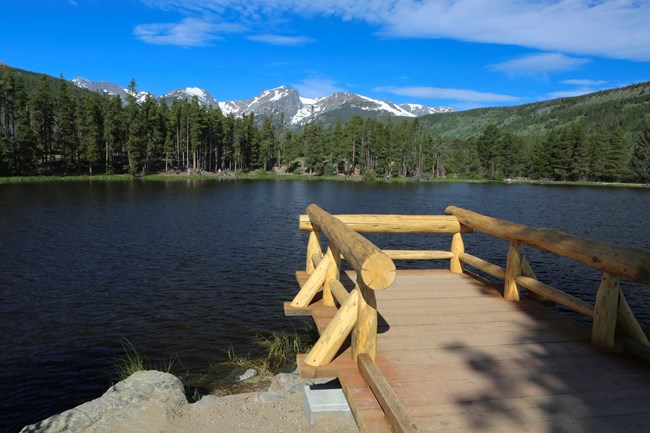 Thank you for your interest in conducting your wedding or other ceremony in Rocky Mountain National Park.

If you are looking for a simple, rustic, no-frills ceremony in an outdoor setting, the park might work for you.

If you're looking for a place that allows chairs, music, decorations, runners, arches, tents, or other extras, (as we do not allow those things here), Rocky Mountain National Park will not be your best option.
Ceremony Locations
Ceremony sites in Rocky Mountain National Park are located in areas that are open to the public. All locations are outdoors and rustic in nature without protection from the weather.
Ceremonies are limited to two hours maximum at all locations.
Weddings are not permitted in public facilities such as visitor centers, roadside turnouts, parking areas, overlooks, or in special wildlife viewing areas.
No sites can be reserved for the exclusive use of your event. Other visitors, scheduled park programs or activities may be taking place at the same time and in the same general area.
Most designated sites can only accommodate small groups. For wedding ceremonies, the overall number includes the wedding party, children, officiant, and photographer(s).
There are limited sites that will accommodate these larger ceremonies, and these should be scheduled as soon as possible through the application process with the Concessions Office. Not all party sizes will be permitted in all areas.
Construction may take place unexpectedly at any time or location throughout the park. Construction is considered a critical need and may impact areas within the ceremony site locations. However, we cannot offer refunds for locations that are impacted by this. If there is construction at the location of your ceremony, contact the Concessions Office to discuss the option of changing the site location.
Read detailed information about designated ceremony sites and site restrictions.
Read Prior to Submitting Application
Applications are reviewed on a first-come, first-served basis based on the date applications are received by our office.
The Special Use Permit requires a non-refundable administrative fee of $300 for each wedding application. Do not send in fee at the time of application. You'll receive an email with payment instructions once your application has been accepted.

A ceremony permit is needed when there are 2 or more people engaging in the activity.
No more than two weddings per day will be booked at any designated wedding location, regardless of availability.
No more than six total ceremonies will be scheduled per day, year-round.
Weddings can ONLY take place in designated site locations, regardless of the size of the wedding group. Any indication of a ceremony taking place outside of these designated sites is considered a violation and is subject to citation of the wedding party, photographer, and/or officiant.
Drones are prohibited in the park for all uses, including weddings, even if the user/photographer is FFA licensed. No exceptions will be made.
Rocky Mountain National Park is a resource protected area and a busy national park with high visitation. All ceremonies in the park are managed and require a Special Use Permit, regardless of size.
Weddings or ceremonies may be scheduled up to one year in advance and no later than seven days prior to your event.
As parking spaces are limited in the park, carpooling or shuttling is strongly encouraged and may be required.
Normal entrance fees apply to all vehicles associated with the ceremony.
Since Rocky Mountain National Park is an outdoor, rustic, natural environment, the permit includes specific conditions that protect the park's resources and allow all visitors to enjoy the par. Read carefully to determine whether your ceremony will be possible. You'll be required to read and sign the permit prior to it being finalized.
Ceremonies conducted in Rocky require written approval from the Chief Ranger's Office or Concessions Management Office. Your finalized, signed permit is considered written approval.
To Submit a Wedding Permit Request:
Next, you must email your special use application to the following address: romo_fees_permits@nps.gov. Mailed in/faxed application forms or requests via phone are not accepted.
After favorable review of your application, a Special Use Permit will be prepared and sent to you for signature via email. Upon receipt, review, sign, and return the permit via email for final approval. If your ceremony plans change, notify our office immediately. After the permit is finalized, we'll send you an authorized copy via email. The approved permit must be in your possession at the time of the ceremony.
---
Frequently Asked Questions
Do we need a marriage license?
Yes. Learn more.
Can you obtain a permit on the weekend?
No, there is no one to process the application on the weekends.
Can you obtain a permit at the last minute?
Ceremonies can be scheduled up to a year in advance and up to 7 days prior to the ceremony. A last minute request might be accommodated, but there are no guarantees.
Do I need a separate permit for my photography or officiant?
No, the photographer and officiant are covered under the wedding permit.
Can I go to other places in the park to take pictures after my ceremony?
Yes. Indicate this on the request on your application to be approved on your permit.
Can I have my dog in the wedding ceremony?
Dogs are only allowed at Moraine Park Discovery Center Amphitheater and Timber Creek Campground Amphitheater. Indicate on your application if you would like your dog in the ceremony.
Can I have an arch?
Only at Moraine Park Discovery Center Amphitheater.
Can I have a band at my wedding?
Amplified music is not permitted. Music must at 60 decibels or less.
Does the park provide an officiant?
No.
Does the park provide wedding packages?
No.
Do the wedding party and guests need to pay entrance fees?
Yes.
Can the wedding party use the park shuttles?
Yes.
Does the park provide private transportation?
No. However, during summer months there are free park shuttles.
Is there a different cost for different sites and group sizes?
No. The same fee applies for all sites and ceremony sizes.
Can I have a drone take pictures at my ceremony?
No. Drones are prohibited in all national park service areas.
Can we hold a reception at the park?
Lily Lake Southside Picnic is the only site that can accommodate a picnic or simple food reception. Holding a simple reception at that location requires an additional special use permit.
Can we have boutonnieres and bouquets?
Yes. Items like flower petals, birdseed, rice, or similar material or items cannot be used, thrown, or scattered.
Last updated: April 7, 2023