Tips for Dealing with Crowds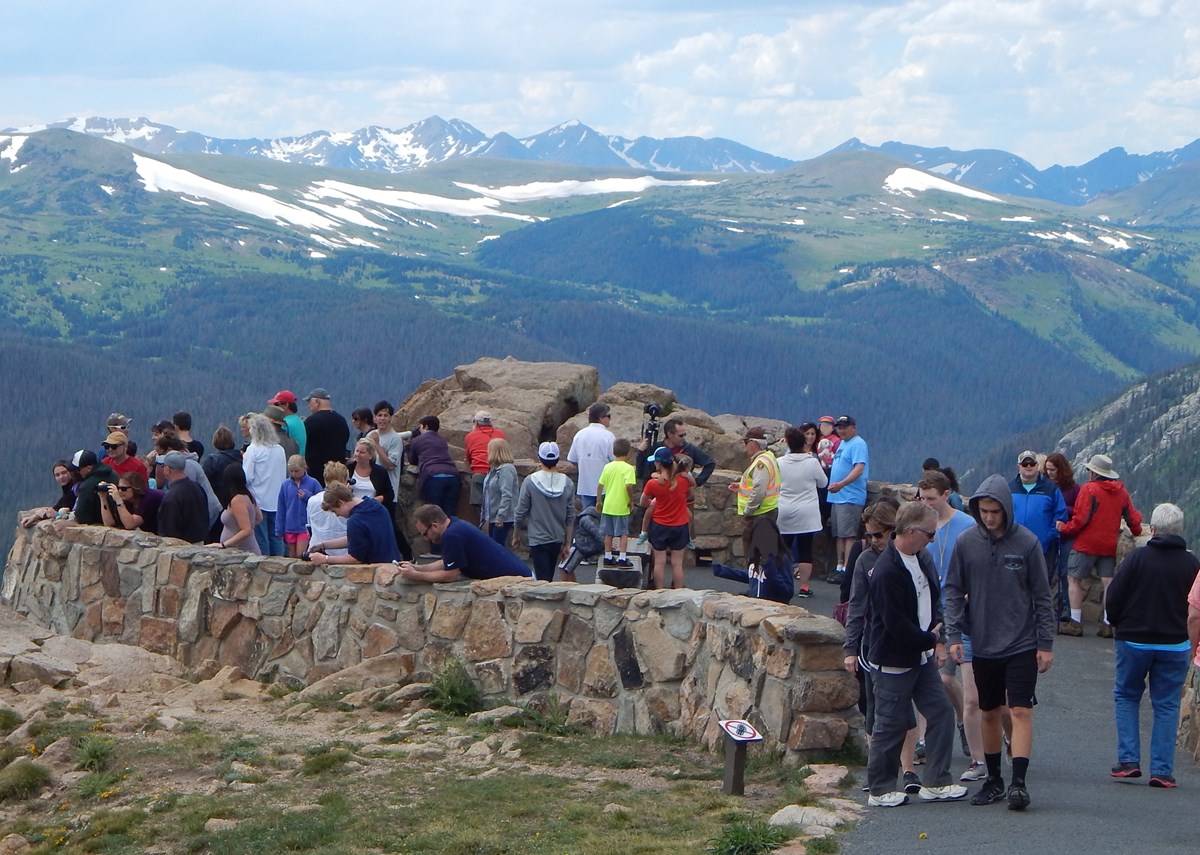 Rocky's natural and scenic beauty, along with being one of the oldest national parks in our country, make it extremely popular. This also means that visitors to the park should be prepared for crowds, especially during the busy summer season.

In 2019, Rocky Mountain National Park was the third most visited national park with over 4.6 million visitors and in 2021, over 4.4 million people visited the park with a pilot Timed Entry Permit system in place. So far this year, Rocky is experiencing a twelve percent increase in visitation over 2021.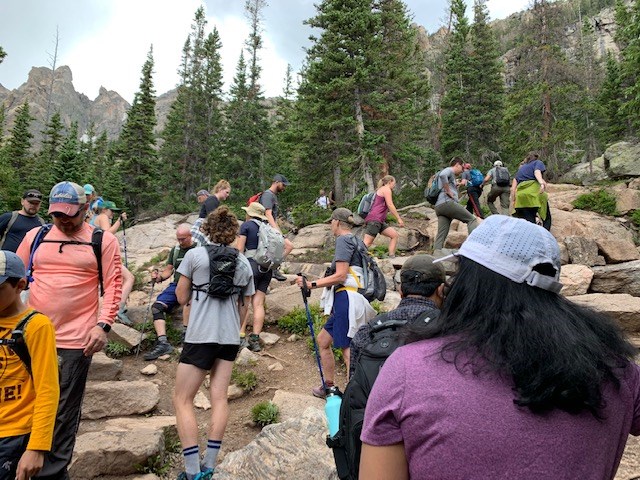 What is the Best Way to Prepare for Crowds in the Park?
Tips to help you prepare for your next trip to Rocky:
Set Realistic Expectations for your Visit: Be aware in advance of your arrival that Rocky is a busy park, especially during the summer season. Remember that you will not be the only person or party at a given overlook, trailhead, or scenic vista. Learn about the park's Timed Entry Permit Reservation system.

Make a Plan in Advance: Take time to plan out the activities that you and your party most would like to do while visiting Rocky Mountain National Park. Have a few trails and desired destinations on your list. If one place is very busy, move onto one of your favorite alternatives and come back another time.
Pack Your Patience: There is something for everyone to enjoy at Rocky Mountain National Park. Please be patient, considerate and respectful of others in the parking lots, on shuttle buses, at park visitor centers, and on trails. Respect other visitors, give yourself plenty of time to finish your hike or planned adventures, and strive to protect the quality of everyone's experience.
Practice Trail Etiquette: With over 350 miles of hiking trails to enjoy, some trails are more popular than others. When hiking, please yield to other hikers on the trail. Downhill hikers should yield to uphill hikers if on a steep portion of a trail. If you listen to music or podcasts while hiking, wear earbuds and help protect the natural soundscape for other visitors.
Drive with Courtesy and Respect: The roads in Rocky are mountain roads; you will be driving around sharp curves and on sections of roadway with steep dropoffs. You will also be driving on roads with hundreds of other cars and bicycles. Be prepared to see wildlife near roads and for wildlife to cross roads at any time.
Follow the Speed Limit: For your safety, the safety of other drivers, and the safety of wildlife, please follow the speed limit and only pass in legal, designated passing zones. Please be patient. Everyone is here to enjoy the park.
Stop and Park in Designated Pullouts and Parking Areas: Rocky has some incredible views. If you want to stop to enjoy the scenery or to view wildlife, use designated pullouts and parking areas. Never drive or park off-road. Your actions can help protect the fragile tundra and all park resources.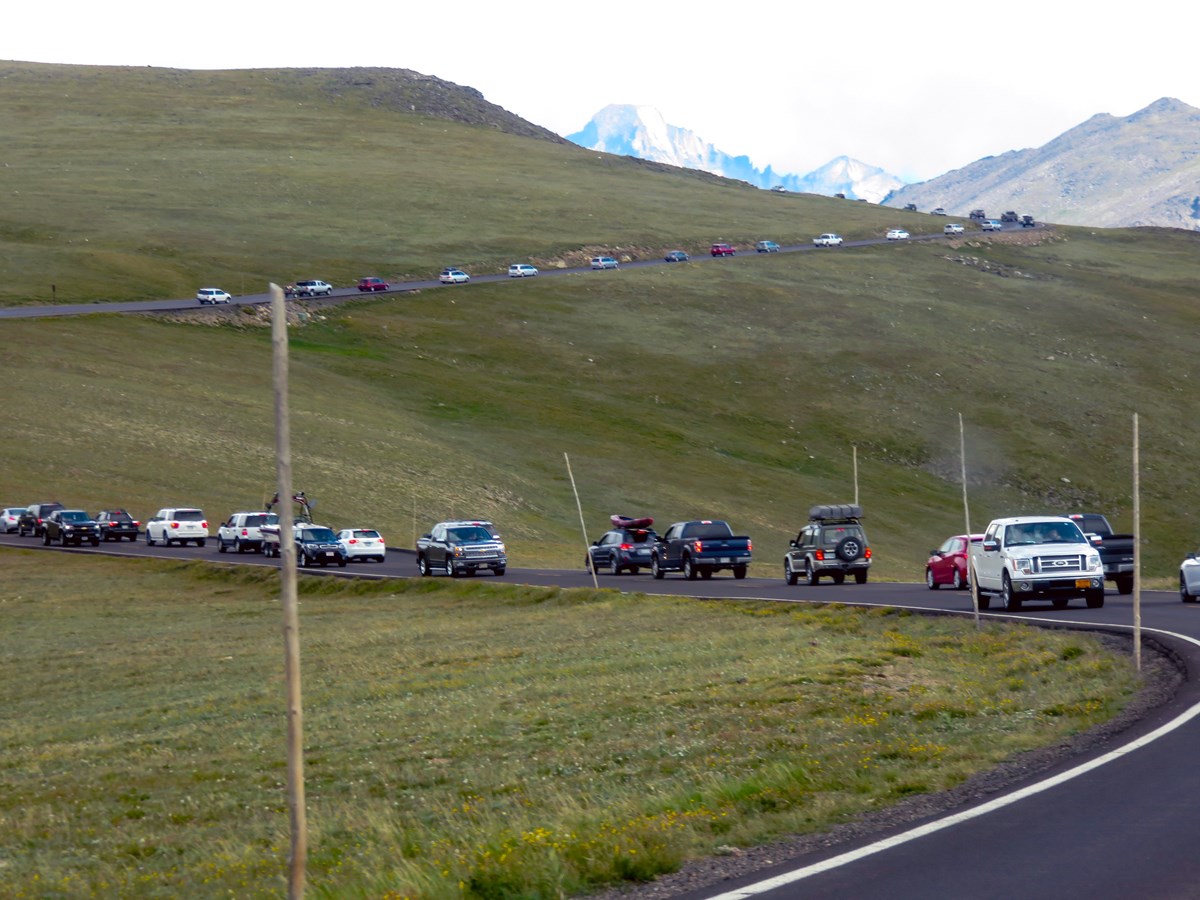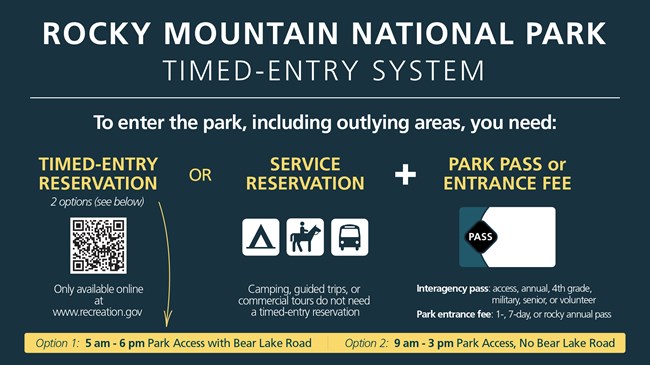 Planning Your Summer Trip? Remember that Timed Entry Permit Reservations are Required
Timed Entry Permit Reservations will be required to enter Rocky Mountain National Park between May 27 and October 10, 2022.
Two things will be required to enter any region of, or entrance to, the park:
A Timed Entry Permit or a reservation with a service, such as an in-park camping reservation, horseback riding reservation, or commercial tours (Service Reservation)
Plus a Park Pass or Entrance Fee for your vehicle.
Click
this link to learn more about Timed Entry Permit Reservations
Timed Entry Permits Reservations go on sale beginning on May 2, 2022. To purchase your Timed Entry Permit Reservations,
visit www.recreation.gov
Want to Learn More about Long-Range Day Use Visitor Access Planning?
Rapid growth in day use visitation and changing visitor use patterns in the park have degraded natural and cultural resources, diminished quality of the visitor experience, increased negative impacts to visitor and staff safety and created a heavy strain on the park's facilities and ability to perform daily operations.Day Use Visitor Access Strategy.
In response to these negative impacts, the park has piloted various visitor use management strategies over the last six years. Want to learn more? Visit our webpage on
Last updated: April 20, 2022