Day Use Visitor Access Strategy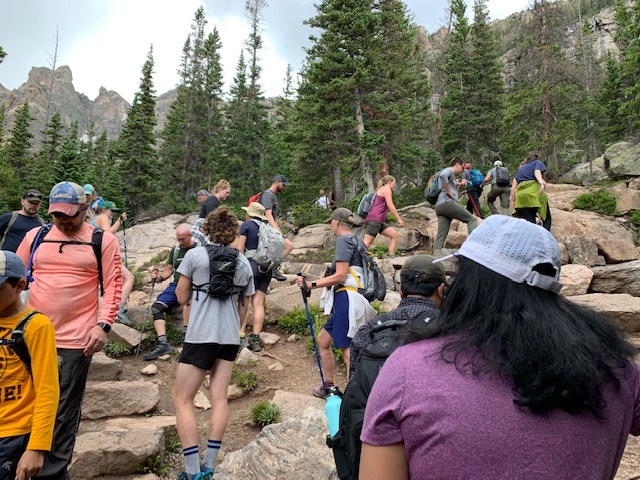 Long-Range Day Use Visitor Access Planning In Rocky Mountain National Park
For 107 years, Rocky Mountain National Park has been a place of inspiration, reflection, wonder, history, and wilderness adventure. Park visitors across the United States and the world continue to come to Rocky Mountain National Park to discover a wide variety of experiences found only in this incredible place.

Rocky Mountain National Park is also one of the busiest national parks in the National Park Service; third in the country in 2019, with over 4.6 million visitors. Rocky Mountain National Park has experienced a 44 percent increase in visitation since 2012. Rapid growth in day use visitation and changing use patterns in the park have degraded natural and cultural resources, diminished quality of the visitor experience, increased negative impacts to visitor and staff safety and created a heavy strain on the park's facilities and ability to perform daily operations.

In response to these negative impacts, the park has piloted various visitor use management strategies. From 2016-2019, this included managing vehicle access to first come, first served visitors in the highly congested areas of the Bear Lake Road corridor, the Alpine Visitor Center parking area and the Wild Basin area of the park. This strategy had some limited success initially, but over time began to lose effectiveness; the length of time they were necessary kept expanding and impacts were pushed elsewhere in the park.RMNP piloted park-wide timed entry permit reservation systems in 2020, 2021, and 2022.

Park staff continue to learn from these various pilots which are helping to inform long-range day use visitor access strategies. This includes developing desired conditions, defining zones, and identifying indicators, thresholds, strategies and capacities.

In summer 2021, we invited you to join us in envisioning the future of day-use visitor access at Rocky Mountain National Park. Your feedback was instrumental in helping National Park Service staff develop the preliminary management strategies represented below using a similar process to what has been used in other parks across the National Park Service. We have outlined ideas for different strategies to help the National Park Service protect park resources and values while providing for high-quality experiences for today's visitors and future generations.
Do You Have Ideas On How We Can Accomplish These Goals?
We want to hear from you! There will be multiple opportunities to learn about this project and to engage with National Park Service staff.

A virtual public meeting was held on December 15, 2022. If you were unable to join us, please check out the recording of the meeting below. Staff from the National Park Service project planning team shared information on Rocky Mountain National Park's day-use visitor access planning process and answered your questions.
Visit our keyboard shortcuts docs for details
Duration:

1 hour, 32 minutes, 29 seconds
A recording of Rocky Mountain National Park's Virtual Public Meeting, held on Thursday, December 15, 2022 from 6 - 7:30 p.m. MST. At this meeting, staff from the National Park Service project planning team shared information on Rocky Mountain National Park's day-use visitor access planning process and answered your questions.
Click below to explore our initial ideas and strategies:
How Can I Participate or Submit a Public Comment?
This winter, park staff are seeking the public's continued engagement and input on the park's long-range Day Use Visitor Access Strategy. We hope to hear from members of the public who have recently visited the park, as well as those who have told us they no longer visit Rocky Mountain National Park because of crowding and congestion.

During the comment period, we will be most interested in hearing from you about the following:
Based on your desired experiences and protection of the natural and cultural resources at Rocky Mountain National Park, which of the ideas (or combination of ideas) do you think best achieve the purpose of the plan?
Are there other ideas or changes to current ideas that should be considered and analyzed that are not already presented?
Please submit your comments via the park's Planning, Environment and Public Comment (PEPC) website at
https://parkplanning.nps.gov/ROMO_DUVAS. Click on "Open for Comment" on the left side of the page and click on the "Submit a Comment" button.
Rocky Mountain National Park will be Accepting Public Comments from December 12, 2022 to February 1, 2023.

Comments may also be sent to the following mailing address:

Superintendent
Rocky Mountain National Park
1000 US Highway 36
Estes Park, CO 80517

Before including your address, phone number, e-mail address, or other personal identifying information in your comment, you should be aware that your entire comment – including your personal identifying information – may be made publicly available at any time. Although you can ask in your comment to withhold your personal identifying information from public review, we cannot guarantee we will be able to do so.

There will be additional opportunities to comment formally on the project during the future NEPA process in 2023.

Thank you for your continued interest and support in this process!
Last updated: December 20, 2022