Scenic Drives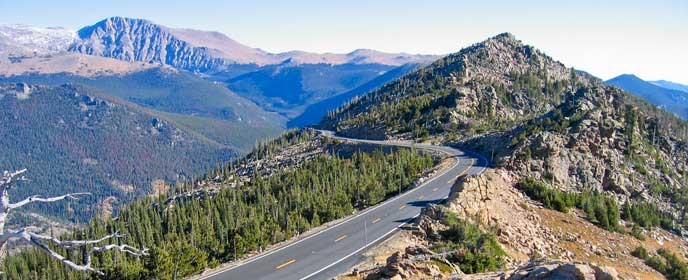 The road system of Rocky Mountain National Park offers visitors access to diverse ecosystems characterizing the higher regions of the central Rocky Mountains. The roads take visitors through lowland meadows and aspen groves, along swift-flowing rivers and up through subalpine forests to more than 12,000 feet in elevation. No other national park roads offer the dramatic experience of a long drive across alpine tundra region, and few offer such a wide variety of experiences.
The careful relationship of the park roads to the landscape results in a road system that generally harmonizes with the environment. Roadway alignments were chosen to highlight natural features, and scenic vistas and overlooks were provided to allow visitors to take in the magnificent terrain.
The stone parapet walls and road-related structures, constructed in the National Park Service's distinctive rustic style of architecture, relate well to their natural surroundings and help evoke a distinctive experience. Not surprisingly, the park roads are the principal attraction for most of the nearly three million visitors who flock to Rocky Mountain National Park each year.
Old Fall River Road gives today's visitor the opportunity to experience the park by automobile in much the same was as early visitors.
Trail Ridge Road is one of thirteen America's Byways in Colorado and a national designated All American Road.
Like to see as many byways as you can? On the outskirts of Rocky is the oldest Colorado Scenic Byway, Peak to Peak, and another America's Byway: The Colorado River Headwaters. Learn more about other Colorado Scenic Byways.


Last updated: December 17, 2021