Park Roads
Trail Ridge Road
Trail Ridge Road is OPEN for the season to vehicles for through travel.
Be prepared for winter driving conditions due to snow and ice on the road and the potential for freezing temperatures.
Trail Ridge Road Status Line: 970 586-1222
This recorded message has the most up-to-date information on whether Trail Ridge Road is open or closed and is available 24 hours per day.
Extreme weather can change the status of Trail Ridge Road at any time—be ready to adjust your travel plans if needed, and always check the weather before you start your drive.
There are no shoulders and few guardrails.
Trail Ridge Road is not plowed between 4 pm and 7 am.
Old Fall River Road
Old Fall River Road is OPEN for the season to vehicle traffic.
While safe to drive for most passenger vehicles, Old Fall River Road has a dirt surface and is winding and narrow.
The road is one-way only from Endovalley Picnic Area to above treeline at Fall River Pass.
Vehicles over 25 feet or pulling trailers are prohibited.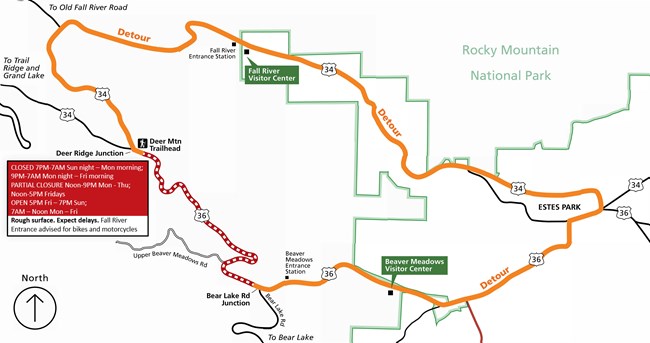 Construction Projects Affecting Roads
US Highway 36
Beginning May 16 through September, major road construction will occur again on US 36 inside of Rocky Mountain National Park. The work will take place on a 3-mile section of US 36, just west of Bear Lake Road junction to east of Deer Ridge Junction. Beginning in May, this section of road will be closed nightly from 7 pm to 7 am, Sunday nights through Friday mornings. There will be no nightly closures on Friday and Saturday nights.

When the road reopens each morning at 7 am to traffic, motorists should expect delays and a rough surface. Bicyclists and motorcyclists should avoid this section of road this summer and enter the park through the Fall River Entrance.
Sections of asphalt will be removed and a new surface will be installed. Many curves will be reconstructed to bring them into compliance with federal highway standards.

Upper Beaver Meadows Road will also be inaccessible during nightly closures.

For further information on Rocky Mountain National Park, please visit www.nps.gov/romo or call the park's Information Office at (970) 586-1206.
Last updated: July 22, 2021