Park Roads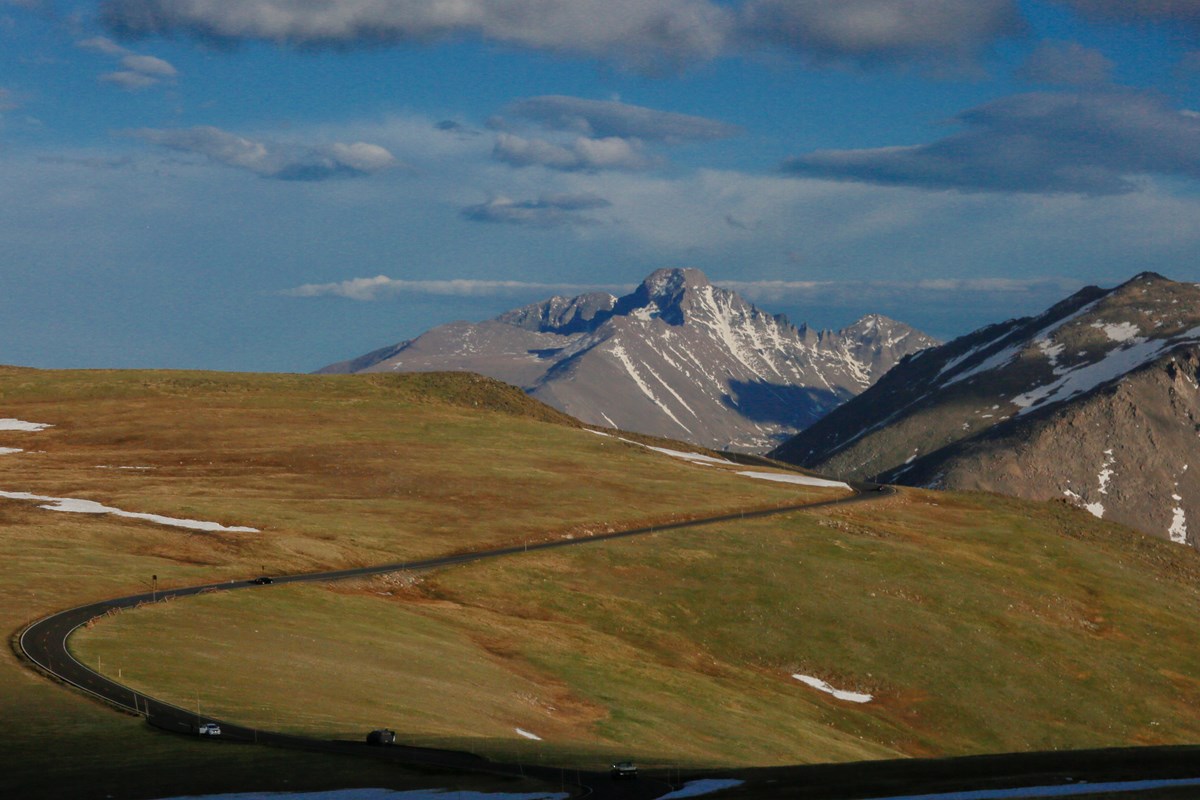 Learn About Trail Ridge Road
Trail Ridge Road is open to vehicles for the 2022 Season!
Remember - Timed Entry Permit Reservations + a valid Park Entrance Pass are Required to Drive Over Trail Ridge Road between 9 am and 3 pm.
Rocky Mountain National Park has the highest paved roads in any national park in the United States, with Trail Ridge Road (Hwy 34) cresting at 12,183 feet above sea level. This is the highest continuously paved road in North America.
Be prepared for varying conditions when driving on Trail Ridge Road. Conditions can change quickly and visitors should be prepared for wind, snow, ice, rain, and freezing temperatures to occur at any time. To learn about the weather in Rocky Mountain National Park, click this link to visit the park's weather page.
Road closures may occur at any time due to weather and road conditions. For the most current information on Trail Ridge Road, call the Trail Ridge Road recorded phoneline at 970-586-1222.
Rocky Mountain National Park has implemented a temporary timed entry permit reservation system which began on May 27. Rocky Mountain National Park is one of the busiest national parks in the country, with over 4.4 million visitors in 2021. Visitor crowding and congestion at RMNP have led to increased negative impacts to visitor and staff safety, resource protection, visitor experience and operational capacity. The park has piloted various visitor use management strategies since 2016, including first-come, first-served and different park wide Timed Entry Permit Reservation systems in 2020 and 2021 and will be piloting a system again in 2022.
There are two types of reservations available. One permit is for the Bear Lake Road Corridor, which includes the entire corridor and access to the rest of the park. This reservation period is from 5 a.m. to 6 p.m. The second permit is for the rest of Rocky Mountain National Park, excluding the Bear Lake Road corridor, and includes Trail Ridge Road. This reservation period is from 9 a.m. to 3 p.m. Permits issued using the reservation system will allow park visitors to enter the park within two-hour windows of availability. The reservation system will apply to all areas of the park.
To learn more visit https://www.nps.gov/romo/planyourvisit/timed-entry-permit-system.htm
Trail Ridge Road Recorded Status Line: 970 586-1222
This recorded message has the most up-to-date information on the status of Trail Ridge Road. This information is available 24 hours a day.
Extreme weather can change the status of Trail Ridge Road at any time—be ready to adjust your travel plans if needed, and always check the weather before you start your drive.
There are no shoulders and few guardrails.
Trail Ridge Road is not plowed between 4 pm and 7 am.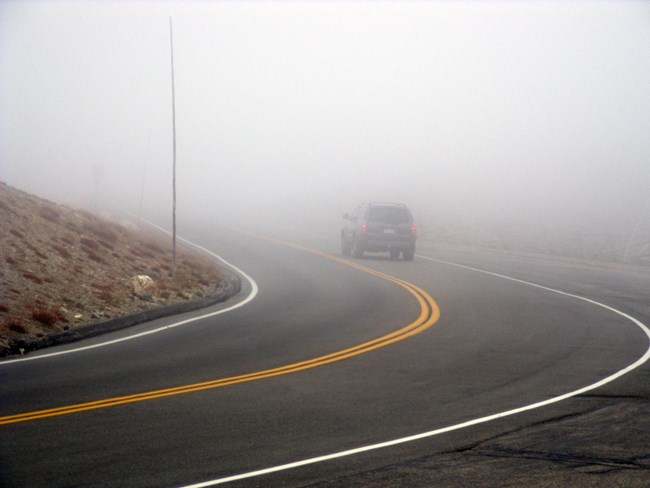 Where Can I Learn About the Current Status of Park Roads?
Road conditions in the Colorado rockies may change quickly due to blowing snow and incoming storms. Conditions at 5,000 feet are dramatically different from conditions above 8,000 feet.
Temporary road closures may be put in place at any time for motorist safety, based on weather and road conditions.
For the latest information on park road status, keep an eye out for variable message boards in the park and follow us on Twitter @RockyNPS.
Since conditions change quickly, road status updates are not posted on the park's website.
Where Can I Get More Information on Park Roads?
You can call Rocky Mountain National Park's Information Office at 970 586-1206.
The Information Office is open 8:00 am - 4:00 pm Mondays - Sundays during the summer. Weekend hours vary based on the season.
You can also call the Recorded Trail Ridge Road Status Line at (970) 586-1222.
How Can I Find Information on Roads Outside the Park?
Visit the Colorado Department of Transportation for road conditions outside the park.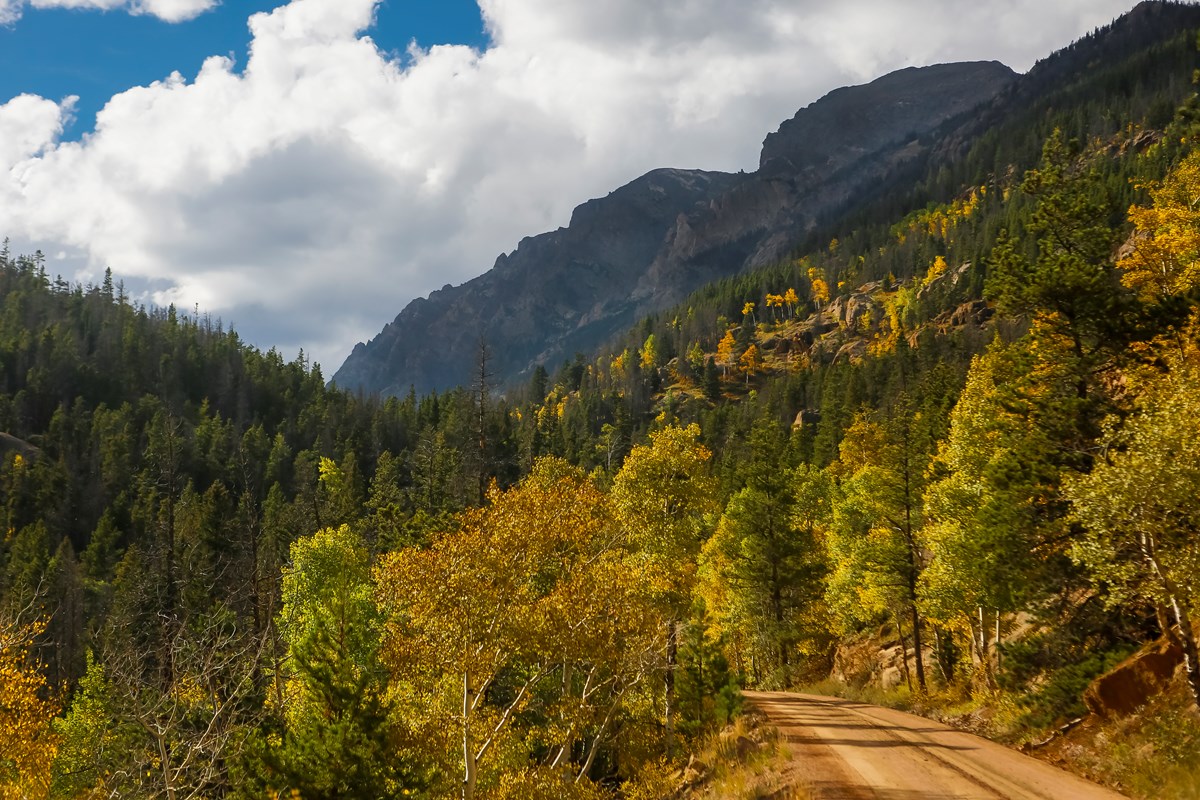 Take a Scenic Drive on Old Fall River Road
Important Dates:
Old Fall River Road will be closing for the season to vehicles on Monday, October 3. The road will be closed to all uses through Friday, October 7, for park staff to conduct road maintenance.

Old Fall River Road will reopen temporarily to bicycles, leashed pets and walkers for Saturday October 8, through Monday, October 10.

Starting Tuesday, October 11, Old Fall River Road will close again to all uses for continued road maintenance through Friday, October 14.

On Saturday, October 15, the road will reopen to bicycles, leashed pets and walkers through November 30. Leashed pets and bicycles are only allowed on the road, not on side trails. On December 1, the road will revert to trail status and bicycles and leashed pets will not be allowed on the road.
What is a drive on Old Fall River Road Like?

Experience an incredible 9-mile scenic drive on Old Fall River Road, beginning at the Endovalley Picnic Area and ending at the summit of Fall River Pass and the parking area for the Alpine Visitor Center at an elevation of 11,796 feet. This road is a narrow dirt road that is one-way uphill only with sharp switch backs.

Take in stunning views of Mount Chapin and Chasm Falls as you climb through the sub-alpine and into the alpine life zones. Old Fall River Road was built over 7 years, beginning in July 1913 and dedicated on September 14, 1920.
Be Prepared
While safe to drive for most passenger vehicles, Old Fall River Road has a dirt surface and is winding and narrow. AWD and 4WD vehicles are advised.
Beginning at the Endovalley Picnic Area, Old Fall River Road is a one-way road only. Use Trail Ridge Road to return.
This road is very narrow and steep, with sharp turns. Vehicles longer than 25 feet in length and vehicles with trailers are prohibited.
Use a lower gear. The speed limit is 15 mph.
Be prepared for cooler temperatures as you climb in elevation and keep an eye out for afternoon thunderstorms, especially as you climb above treeline.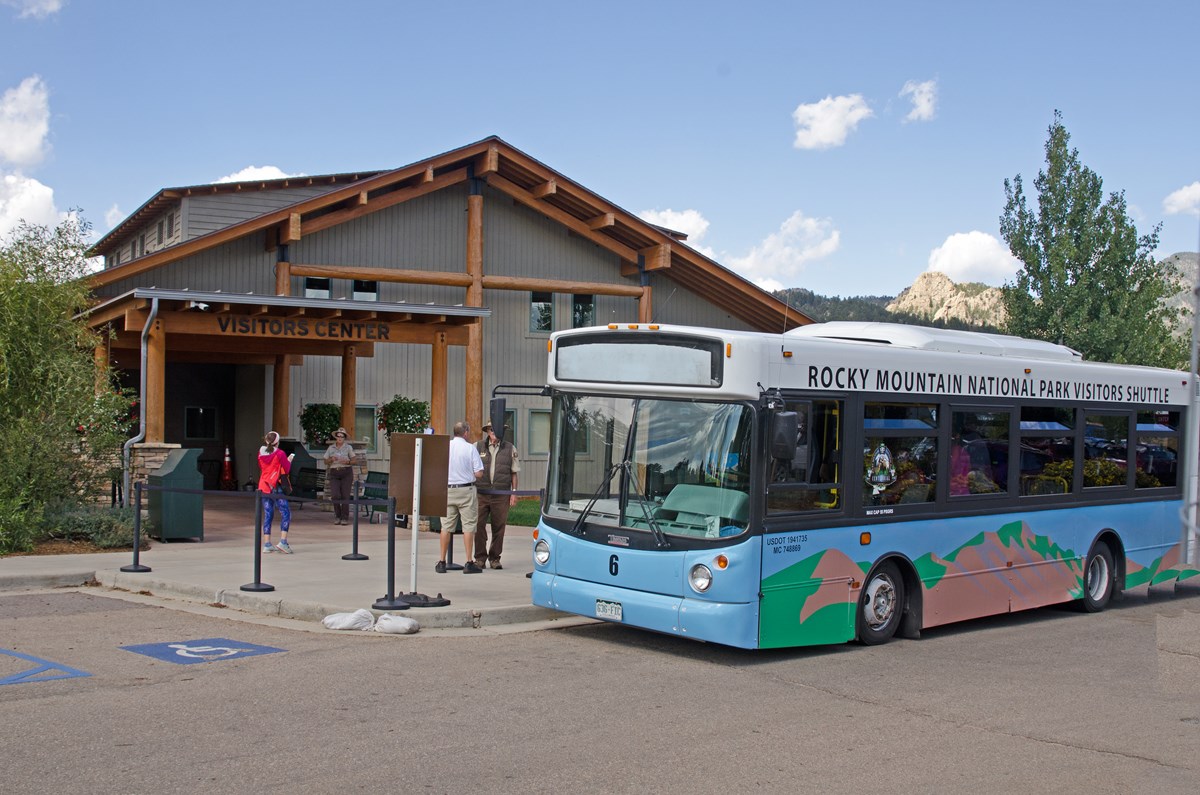 Interested in Learning About Rocky's In-Park Shuttles, the Hiker Shuttle, and Other Public Transportation Options?
Click here for information on Rocky's Shuttle System and Public Transportation
Last updated: September 30, 2022