Park Roads
Upper Bear Lake Road Closure
The upper portion of Bear Lake Road, past the Glacier Gorge parking area, will be closed the week of October 19 for road work. This work is being done to mitigate the effects of a weeping spring that has caused damage to this section of road. This closure will begin late Sunday night, October 18, and last through Friday, October 23.
Due to this road work, the Bear Lake parking area will be closed. The Glacier Gorge Trailhead parking area will be open and has limited parking that fills early in the day. Park visitors are encouraged to park at the Park & Ride lot to board a shuttle bus. The shuttle bus schedule has been extended for this project and will be from 8 a.m. to 5 p.m. Due to COVID-19 guidelines, shuttles will be limited to 20 percent of the bus capacity or about 20 riders per shuttle.
Visitors seeking to hike around Bear Lake and surrounding trails to Nymph, Dream and Emerald Lake or Flattop Mountain, will need to hike the approximate 3/4 mile trail from the Glacier Gorge Trailhead to Bear Lake.
Trail Ridge Road
Night closures are possible depending on weather. Be prepared to adjust travel plans.
Be prepared for icy conditions due to melting snow on the road and the potential for freezing temperatures.
A section of Trail Ridge Road from just west of Bear Lake Road junction to east of Deer Ridge Junction is closed nightly from 9 pm to 7 am, Sunday nights through Friday mornings. Learn more.
Trail Ridge Road Status Line: 970 586-1222
This recorded message has the most up-to-date information on whether Trail Ridge Road is open or closed and is available 24 hours per day.
Extreme weather can change the status of Trail Ridge Road at any time—be ready to adjust your travel plans if needed, and always check the weather before you start your drive.
There are no shoulders and few guardrails.
Trail Ridge Road is not plowed between 4 pm and 7 am.
Old Fall River Road
While safe to drive for most passenger vehicles, Old Fall River Road has a dirt surface and is winding and narrow.
The road is one-way only from Endovalley Picnic Area to above treeline at Fall River Pass.
Vehicles over 25 feet or pulling trailers are prohibited.
Construction Projects Affecting Roads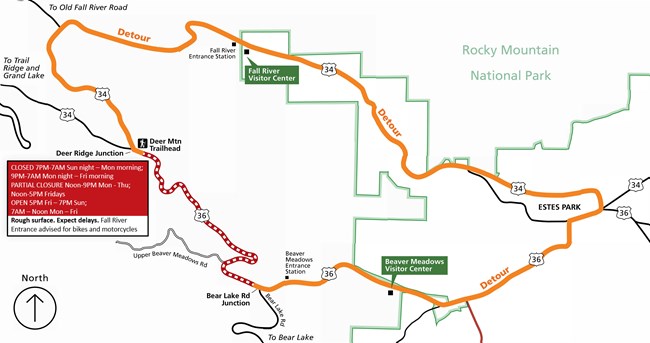 US Highway 36
This May through October, major road construction will occur on US 36 inside of Rocky Mountain National Park. The work will take place on a 3-mile section of US 36, just west of Bear Lake Road junction to east of Deer Ridge Junction. This section of road will be closed nightly from 9 pm to 7 am, Sunday nights through Friday mornings. There will be no nightly closures on Friday and Saturday nights.
The contractor has begun paving operations. There will be a partial road closure during the paving work. When the road reopens each morning at 7 am, two-way traffic will be allowed until noon through this section.

Beginning at noon, Mondays through Thursdays, only one lane of west bound traffic will be open. Eastbound traffic will not be allowed through this section of construction from noon to 9 pm. On Fridays, this closure will be in place from noon to 5 pm. During these time periods, visitors coming east on Trail Ridge Road from Hidden Valley will be diverted through the Fall River Entrance. Visitors travelling from the Fall River Entrance will be unable to travel through this section to exit through the Beaver Meadows Entrance.

Visitors entering at the Beaver Meadows Entrance will be permitted to travel westbound through the construction zone during the day with up to 15 minutes delays.

No detours or delays will take place on this section of road from Fridays at 5 pm through Sundays at 9 pm.
This road construction project has encompassed removing an entire depth of asphalt and installing a new surface. Many curves have been reconstructed to bring them into compliance with federal highway standards. Visitor pull offs are being formalized and curbing will be added where necessary to protect vegetation.
Upper Beaver Meadows Road will also be inaccessible during nightly closures.
Last updated: October 16, 2020