Ranger Guided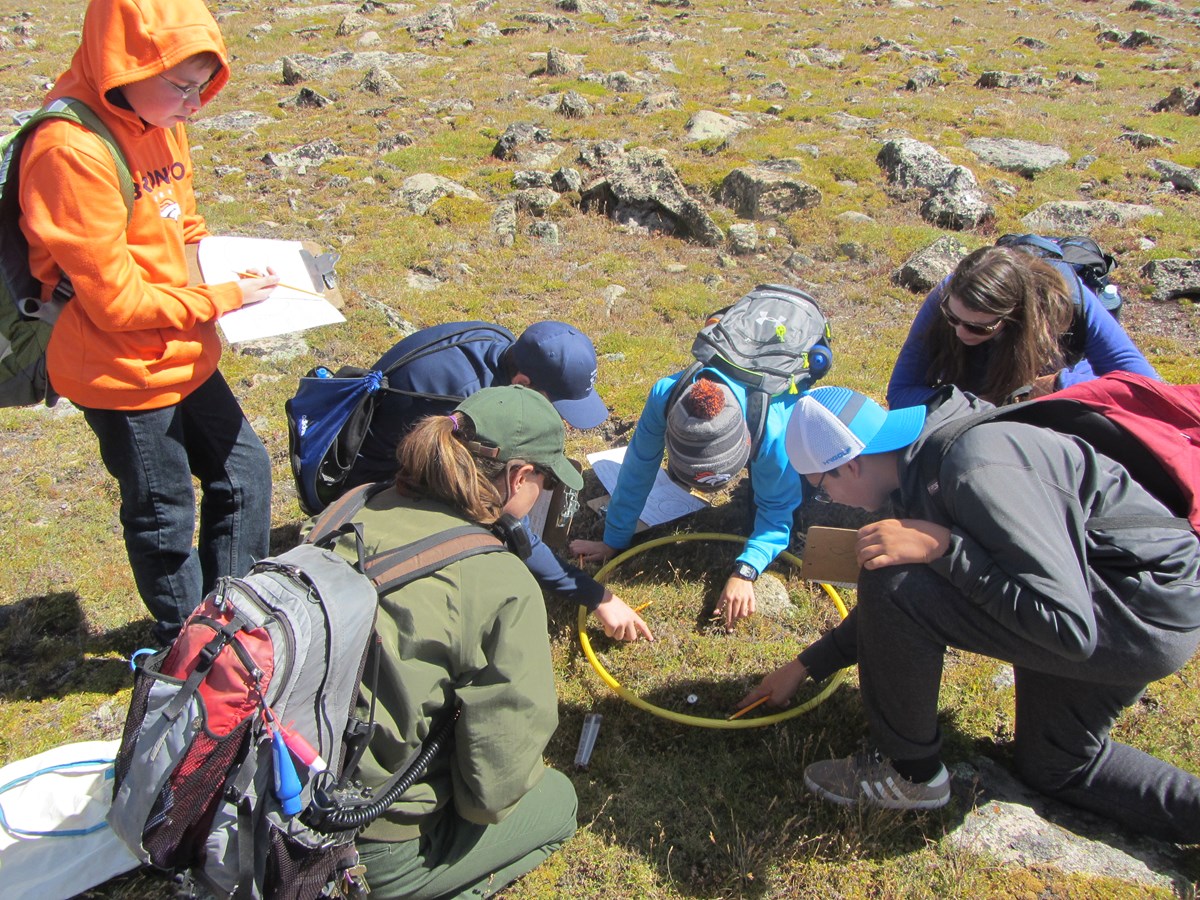 *Fall 2020 Update: Please note that Ranger-guided Field Trips and Classrooms Programs are not currently available in support of health guidance from local, state and CDC guidelines.
We invite you to schedule a live Ranger-led

Distance Learning

experience, explore Rocky in small groups with

Self-Guided Activities,

and explore nature near your homes with

Neighborhood Field Trips

.
---
Schedule a Field Trip or Classroom Program
Rocky Mountain National Park offers year round educational programming for grades K-12. Programs are scheduled on a first come first served basis.
Before Making Your Reservation
Please review the selection of field programs offered for your grade level. Select a program and have three preferred program dates in mind.
Elementary Programs
Secondary Programs
Winter Programs
Distance Learning Programs
Please Note:
Programs are offered mid January - early November.
Individualized programs can be created for your group.
Make a Reservation
Call 970-586-1338 to schedule a program reservation. Please keep in mind, reservations are made on a first-come, first-served basis. We recommend that you call at least three months in advance of your desired date for optimal availability.

Please have the following information when calling to schedule your trip:
1. Three or more preferred dates.
2. The age/grade and number of students.
Spring and fall programs are limited to

60 students.

Winter programs are limited to 30 students (Multiple days can be scheduled to accommodate larger schools). We request a minimum of 7 participants.
3. School phone number and address.
4. Your phone number (cellphone is preferred) and e-mail address.
5. Special needs or other pertinent information for your group.
6. The topic or program that you would like for your group.
Confirmation of Your Reservation
After making your reservation, you will receive an email containing a confirmation letter and pre-visit packet that includes directions, a fee waiver for free entrance into the park (if applicable), a list of field trip essentials, student expectations, and chaperone expectations.
Cancellations
To cancel a program, please call 970-586-1338 at least two weeks in advance of the date of your program.
Programs may be canceled due to inclement weather. In the case of a weather cancellation, we will contact you to discuss possible rescheduling options. If you are concerned about the weather conditions, please call us. Programs may be rescheduled to a later date, however, we cannot guarantee a reschedule date.
Programs may be canceled for groups who are more than 30 minutes late without prior contact with us.
Field Trip Information
Field Trip Duration: Most programs are designed for a 4 hour visit, including lunch.
Chaperone to Student Ratio: We require that you provide at least one chaperone for every 10 students. We recommend a ratio of four to one for grades K-2 and a ratio of six to one for grades 3-5.
Field Trip Cost: All education programs offered by Rocky Mountain National Park are free for school groups. Our program is funded by your tax dollars and donations to the Rocky Mountain Conservancy. If you would like to make a donation, please contact the Rocky Mountain Conservancy at 970-586-0108.
Accessibility: There are a few wheelchair accessible trails within the park and all of our visitor centers are ADA accessible. Most of our programs can be relocated or modified to provide accessibility. Please let us know if you have any participants that require an accessible site.
Location and Directions: Please click here for a park map and driving directions. For a school group specific look at your field trip site check out our Education Sites Video Tours.
Weather: Please click here to connect to NOAA's weather page for Estes Park.
Last updated: September 15, 2020