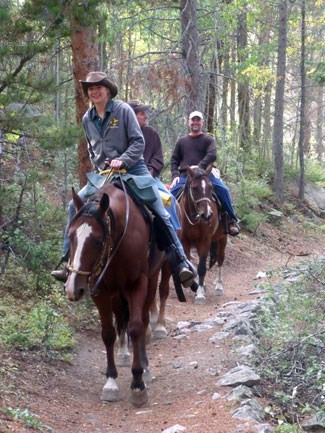 Horses have been part of Rocky Mountain Park's tradition since its designation in 1915. Recreational pack animal use is balanced with other recreational uses such as hiking. Packing is managed to maintain the natural resources and unique ecosystems in the park. Horses, mules, ponies, llamas, and burros are allowed on park trails. No goats are allowed on park trails.
For overnight camping, stock is permitted at established backcountry campsites designated for stock use.
There are two stables located within the park: Glacier Creek Stables and Moraine Park Stables. There are many stables outside the park. Find contact information for the various stables in the area.
There are two Estes Park stables open in the winter: Sombrero Stables and Aspen Lodge Stables.
Approximately 260 miles of trails are open to commercial and private horse use, which makes up about 80% of the total trail network in the park.
D

ownload a printable

Horses & Pack Animals Brochure

.
Closed Trails Due to Flood Damage
Some trails normally open to stock use are currently CLOSED due to flood damage.