Horseback Riding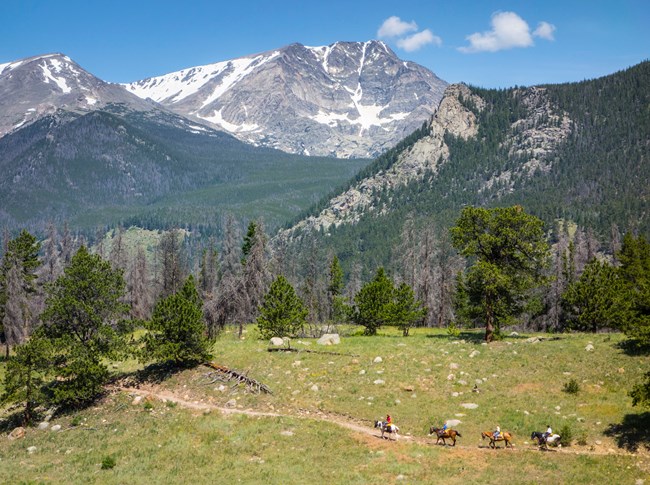 Horses have been part of Rocky Mountain Park's tradition since its designation in 1915. Recreational pack animal use is balanced with other recreational uses such as hiking. Horseback riding and packing are managed to maintain the natural resources and unique ecosystems in the park. Horses, mules, ponies, llamas, and burros are allowed on park trails. No goats are allowed on park trails.
For overnight camping, stock ARE permitted at established backcountry campsites designated for stock use.
One stable is located within the park: Glacier Creek Stables. There are many stables outside the park; click to find information for the various stables in the area.
All of the stables in the Estes Park and Grand Lake areas are seasonal. Most are open May through October; check with businesses for their dates and more information.
Approximately 260 miles of trails are open to commercial and private horse use, which makes up about 80% of the total trail network in the park.
Current Trail Closures to Stock Use Due to Damage
Closures are subject to change based on conditions.
| | | |
| --- | --- | --- |
| Trail | Status | Comments |
| Aspen Brook | Public Stock Closure | Trail has disintegrated in some areas and is extremely unstable in other areas from Lily Lake to Windcliff Housing Area |
| Dunraven Trailhead/North Fork | NPS trail OPEN to all users; US Forest Service trail CLOSED to stock use | NPS trail is OPEN to all users; US Forest Service section remains closed to stock use |
| North Longs Peak | Public Stock Closure | Trail OPEN to all users except public stock due to trail still being in poor shape |
| Twin Sisters | Public Stock Closure | Trail has disintegrated in some areas and is extremely unstable in other areas due to landslide |
| Timber Lake Trail | Public Stock Closure | Be advised a new landslide occurred in June 2023 approximately 1 mile up the trail. Another landslide occurred summer 2014 two miles beyond the Timber Lake trailhead and goes all the way to the top of Jackstraw Mountain. That landslide is still there and continues to worsen each year. Both landslides are active and unstable. |
| Colorado River Trail | Stock Use Not Recommended | The Colorado River Trail, which is the trail to Lulu City, is open to hikers. Several bridges in the area are in poor condition. Horses are not recommended to use the Colorado River Trail as access to the Little Yellowstone trail area. |

To prevent resource damage, as well as possible injuries to stock and riders/users, those portions of Flattop, Tonahutu Creek, and North Inlet trails which are above tree line are closed to all stock use annually from October 15 to July 31.

Area Closures from the East Troublesome and Cameron Peak Fires of 2020
Updated June 29, 2023
Current Fire Information & Regulations - Rocky Mountain National Park (U.S. National Park Service) (nps.gov)

West Side of Rocky Mountain National Park
The Upper Tonahutu Creek Trail from the junction of Onahu Trail at Tonahutu to Flattop Mountain is closed to all users.
The Green Mountain/Onahu Trail loop is open to hikers
The Green Mountain Trail is open to all hikers and stock users.
The Sun Valley and River Trails are closed to all users.
Lower Tonahutu Trail (between Big Meadows and the Kawuneeche Visitor Center Turkey Spur Trail) is closed to all users
East Side of Rocky Mountain National Park
In the Bear Lake Corridor area:
The Upper Tonahutu Trail is closed to all users from Flattop Mountain west to Big Meadow
Northwest Area of Rocky Mountain National Park
Mirror Lake Trail is open.
Upper Mummy Pass Trail is closed to all users.
Lower Mummy Pass Trail is open.
RULES OF THE TRAIL
All stock must remain on existing trails. Travel off trail and cross-country is not permitted.
Stock travel on park roads is not permitted with the following exceptions:

Bowen-Baker Road from paved parking area to park boundary
Fern Lake Road between the winter closure point at the shuttle bus stop and Fern Lake Trailhead – to reach Fern Lake Trail
McGraw Ranch Road
North Inlet Road to Summerland Park
Twin Sisters Trail Access Road
Upper Beaver Meadows Road. – to reach Beaver Mountain, Beaver Meadows, Moraine Park, and Deer Ridge Trails
Wild Basin Road.- to access trails open to horses in the Wild Basin area.

Stock are not permitted in picnic areas and drive-in campgrounds.
Rocky Mountain National Park cannot be used as a base camp for hunting. Hunting is prohibited in the park.
Riding of stock at a speed greater than a trot is not permitted.
Conducting commercial activities requires a concession contract.
Stock must be under physical control at all times. Loose herding is not permitted.
Pack out all trash.
Environmental conditions (snowpack, erosion, flooding) can close certain trails to stock use. Flattop Mountain, Tonahutu Creek, North Inlet, Bear Lake/Fern Lake above treeline are closed to stock use from about mid-October to the first of August.
Contact the Wilderness Office, 970-586-1242, or Information Office, 970-586-1206, for current conditions.
Llama users must yield to let horses and other stock pass.
Only certified weed free forage (hay, straw, mulch) can be used in the park. No forage can be taken beyond a trailhead into the backcountry. Pelletized feed, hay cubes and grain products can be used in the backcountry. Grazing of stock is not permitted. Call the Colorado Department of Agriculture (303-239-4149), for sources of certified weed free hay.
For day use, the maximum number of stock allowed in a group or string is 16.
Stock-drawn equipment is not permitted.
Closure of any portion of the park to stock use can occur at the direction of the park Superintendent. Closures will be posted.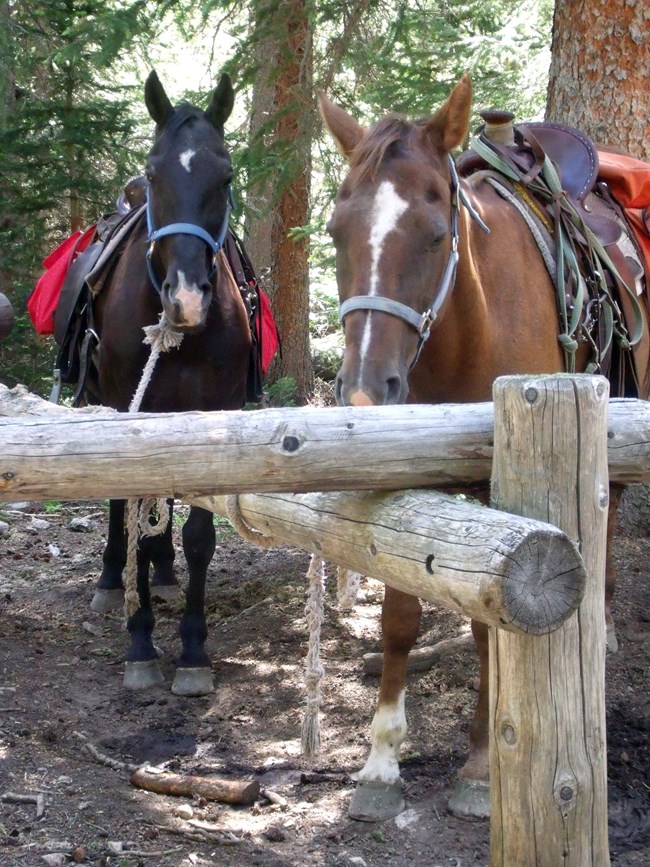 HORSE TRAILERS AT TRAILHEADS

These trailheads have room for horse trailers; some have hitchracks and ramps
EAST SIDE
Dunraven Trailhead
near Glen Haven
Finch Lake Trailhead
in Wild Basin
Lumpy Ridge Trailhead
along Devils Gulch Road
Park & Ride
half way up Bear Lake Road
Lawn Lake Trailhead
on Endovalley Road
McGraw Ranch/Cow Creek Trailhead Parking Lot
off of Devils Gulch Road
WEST SIDE
Colorado River Trailhead
on Trail Ridge Road. Note: The Colorado River Trail, which is the trail to Lulu City, is open to hikers. Several bridges in the area are in poor condition. Horses are not recommended to use the Colorado River Trail as access to the Little Yellowstone trail area.
East Inlet Trailhead
east of the town of Grand Lake on West Portal Road.
Green Mountain Trailhead
on Trail Ridge Road.
Safety
Approximately 95% of Rocky Mountain National Park is designated Wilderness. It is a rare opportunity to experience the wonders and challenges of being in the wilderness. Wilderness does, however, have numerous hazards. Following is an outline of the most likely hazards one might encounter.
Bridges and other water crossings.

Low branches.

Other people and stock on the trail.

Packs and other gear used by hikers and backpackers.

Wildlife
Be prepared for sudden changes in the weather. Dismount immediately if lightning and thunderstorms seem imminent. Try to stay below treeline and avoid high rocky areas.
Carry first aid supplies for yourself and the stock.
Carry, boil or filter water obtained from park waters before drinking. All park waters may contain Giardia, an organism that can cause serious flu-like symptoms in humans.
Resource Protection & Ethics
Where no hitchracks exist, tie a "highline," (a rope between two trees) away from the trail and hitch the stock to it. The rope should be padded. This avoids damage to trees and their root system.
Tie up at least 200 ft. (70 adult steps) from lakes and streams.
Maintain a distance of 1/4 mile (or 20 minutes) between pack groups.
Use only well-broken, properly shod, gentle stock in good physical condition.
When approaching others, make your presence known, alerting them to clear the trail.
Areas Closed to Stock Use
East Side
Alluvial Fan trails.
Andrews Glacier Trail.
Bear Lake Area: Bear Lake Nature Trail; trail to Emerald Lake; trails to Lake Haiyaha; trail between Loch/Mills Junction to and beyond The Loch; trail between Mills and Black Lakes.
Bierstadt Lake Trail to Park & Ride Shuttle Bus Parking Lot.
Estes Cone Trail.
Fern Lake Area: Spruce Lake Trail.
Forest Canyon Overlook Trail.
Horsetooth Peak Trail.
Lily Lake Trail.
Longs Peak Area: Chasm Lake beyond hitchrack on Mills Moraine; beyond The Boulder Field, from hitchrack.
Mummy Range Area: Trail beyond Lawn Lake hitchrack at east end of lake; trail beyond Ypsilon Lake hitchrack at south end of lake.
North Fork Area: trail beyond Lost Lake hitchrack at east end of lake; area between Stormy Peaks Pass and Mummy Pass.
North St. Vrain Fire Trail (open to llamas to Aspen Knoll llama campsite).
Sky Pond Trail.
Sprague Lake Area: Boulder Brook unimproved trail; Sprague Lake Nature Trail.
Ute Trail: Upper Beaver Meadows to Milner Pass, except Llamas can be used between Upper Beaver Meadows and Ute Meadows backcountry site.
Wild Basin: Beyond hitchrack at Bluebird Lake; Lion Lakes Trail from Thunder Lake Trail; Lookout Mountain trails.
West Side
East Inlet Trail: Beyond west end of Lake Verna.
East Shore Trail: One mile north and south of Shadow Mountain Dam (use Ranger Meadows cutoff to avoid this section).
All trails above Grand Ditch, except Thunder Pass Trail.
Haynach Lakes Trail: Beyond Tonahutu Creek Trail (open to llama use from Tonahutu Creek Trail to Haynack Lakes llama campsite).
Long Meadows Area: Between Onahu Creek and Timber Creek trails.
Paradise Park.
Poudre River Trail: Between Hague Creek and Milner Pass.
Specimen Mountain Trail.
Willow Creek Area: Between Willow Creek drainage to Long Draw Reservoir (trail is not maintained).
Last updated: September 1, 2023