Renelle's Rocky

Like most National Park Service employees, Renelle has worked in many National Parks. Rocky was one of many stops on her life's journey. We wish her the best and congratulate Grand Tetons National Park on a bright new addition to its staff.
Since many of Renelle's blog entries are timeless and are still relevant, they will be archived and will always have a place on the Rocky Mountain National Park website.
New to Renelle's Rocky? Jump down to my Introduction.
Thursday, September 3, 2009
A Dog Blog
I am a cat person. I am definitely not a dog person. But when I pulled into a Missouri gas station recently in search of caffeine and found an abandoned puppy instead, I couldn't just drive away and leave him there.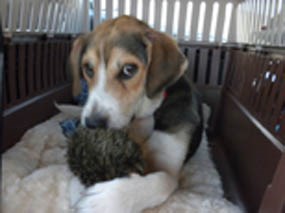 I asked around and learned that the town animal shelter, which euthanizes animals it can't keep, was at capacity. I thought about this for a nanosecond, then drove to a store down the street and purchased a travel kennel. A couple of hours and one vet visit later, I hoisted the dog kennel up into the front seat of my pickup and took off for home.
And now, suddenly and unexpectedly, I have a dog. I've learned a lot. Formerly mysterious items like doggie daycare, dog parks, and those little plastic bags that dog people carry around with them (yuck!) now have new meaning.
One reason I spend a lot of time at the dog park is because I live in a national park. Rocky, like so many other national parks, prohibits pets on trails. This is something to keep in mind as you plan your trip, and you might decide that leaving your dog at home with a trusted pet-sitter is your best option.
If your dog does come along on the road trip, remember that your parked car can be deadly for your pet. The following is from the American Society for the Prevention of Cruelty to Animals (ASPCA)'s website:
Never leave your animals alone in a parked vehicle. "On a hot day, a parked car can become a furnace in no time—even with the windows open—which could lead to fatal heat stroke," says Dr. Louise Murray, Director of Medicine at ASPCA Bergh Memorial Animal Hospital. Also, leaving pets unattended in cars in extreme weather is illegal in several states.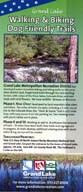 Rocky Mountain National Park
Leashed pets are allowed to hang out with you along established roads, in parking areas, and within established campgrounds and picnic areas. For more information, see this link on our website: https://www.nps.gov/romo/planyourvisit/pets.htm
Area Trails
There are some wonderful Forest Service trails on both sides of the park where pets are allowed. Check out Rocky's pet bulletin for some great hiking alternatives outside the park: https://www.nps.gov/romo/planyourvisit/upload/Pets%208x11%209-08.pdf.
Dog Park
Estes Park, the town adjacent to Rocky Mountain National Park's east side, has a nice dog park. Your dog must have current vaccinations and you need to follow the rules posted at the entrance, but you can let your dog off the leash to run and play. The dog park is located at the intersection of Community Drive and Hwy 36.
Boarding
If you're planning to hike within Rocky, a boarding facility or "doggie daycare" might be your best option for the day. For some lodging options for your pet, click here.
Always bring your dog's vaccination records when you travel, as you never know when you might have to board your pet unexpectedly. Also, be sure to check ahead with your boarding facility (if you plan to stay in a hotel) to make sure it allows pets.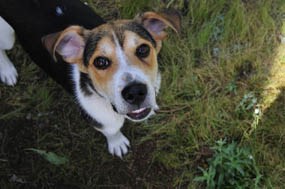 I hope this information will help you and your dog have a happy visit to Rocky and the surrounding area.
Remembering to pack the dog treats won't hurt, either!
Your comments are welcome and may be posted on this website. To submit your comment by email, please click here.
---
Friday, April 10, 2009
The Hobbit Hike
Hiking to Gem Lake always makes me feel like I've been transported to J.R.R. Tolkien's fictional land of Middle Earth. Perhaps it's because I'm reminded of one of Tolkien's illustrations in my copy of The Hobbit, or perhaps it's due to the quirky rock formations that my over-active imagination sees as creatures from Tolkien's books . . . whatever the reasons, I really like this 3.6 mile round-trip trail that alternates between a dirt path and stone steps as it twists up around giant boulders and rocky spires.

It's one of the few hikes in Rocky that you can usually do year-round without running into much snow, and it's also the perfect hike for that summer day when the mountains are socked-in with clouds and there's a hint of rain in the air. In fact, I like this trail better on a misty day than a sunny day. On a clear day, the overlooks show off the valley below, but when it's foggy, the mist swirls around the boulders and everything looks spooky and mysterious.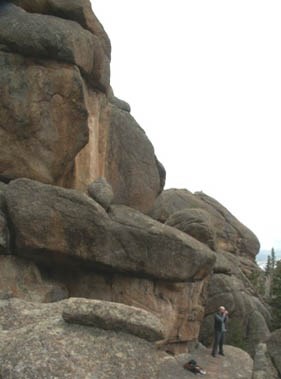 On soggy days, the rock portions of this trail are nice to hike on because it's less sloppy than trudging through mud, but be aware that wet rock can be very slippery. Also, watch and listen for lightning and thunder. If you are caught in one of Rocky's numerous summer storms, make your way down the trail immediately. Don't give in to the temptation to hunker down under a rock overhang, because lightning can travel through rock and zap you (click here to watch a podcast about lightning safety).
At the end of the trail, 910 feet above the trailhead, is Gem Lake. It's a small, still body of water with no inlet or outlet (I think it should be called "Gem Puddle"), but it is a peaceful little place located at the bottom of an impressive rock bowl, and there are some nice puddleside areas where you can stretch out and relax after the hike.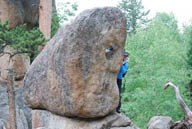 If you don't have the time or ambition to make it to the top, don't worry − there are plenty of other little gems along the way. Look for a quirky rock called Paul Bunyan's Boot (from the side, some think it resembles an enormous shoe) or search out a comfy rock chair and hang out with a book for awhile.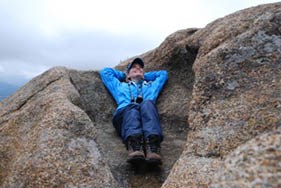 Keep this little hike in mind if you're looking for a jaunt through some amazing boulders, and if you see someone curled up in a rock chair reading
The Hobbit
be sure to stop and say hi to me.
Getting there: From US 36 in downtown Estes Park, drive north on MacGregor Avenue. Shortly after crossing US Highway 34, MacGregor Avenue turns into Devils Gulch Road. Veer right at the entrance to MacGregor Ranch and continue approx. ½ mile to NPS sign for Lumpy Ridge Trailhead. Turn left (north) onto Lumpy Ridge Road, which dead ends at the trailhead. Click here for a trail map of the Gem Lake area or click here for a detailed map of Rocky Mountain National Park.
Your comments are welcome and may be posted on this website. To submit your comment by email, please click here.
---
Monday, February 23, 2009
Those Wacky Rabbit-Squirrels
"Uh, Renelle? I just saw a rabbit climb a tree outside your house."
"A rabbit?"
"Well, it looks like a squirrel, but it has rabbit ears. What is it?"
I had no idea. I had just moved here and was not familiar with all the local wildlife, but I was secretly wondering if my brother's 20/20 vision was fading a bit. It was several weeks before I finally spotted one for myself, and I realized my brother was right. It looked like a rabbit-squirrel.
When I asked about it at work, I was told, "They're called Abert's squirrels, and they're actually squirrels with unusual ear tufts."
These quirky little creatures fascinated me. I learned that the ear tassels are more prominent in the winter, and that the animals remain active year-round because they do not store food for the winter.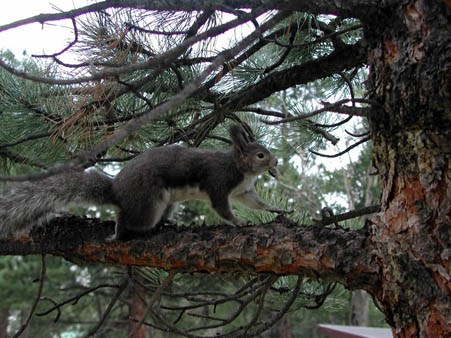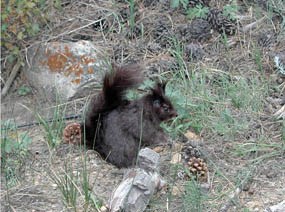 Their nests consist of small twigs and pine needles nestled in the uppermost branches of ponderosa pine trees. During the coldest times of winter, the squirrels can be seen venturing out of their cozy homes to munch away at the bark of the pine trees, seeking the nutrients that exist under the bark.
In the summer, they survive primarily by eating ponderosa needles, seeds, buds, and cones.
An interesting tidbit about Abert's squirrels is that they do not seem to be particularly adept in crossing the street. While other squirrels will usually attempt to scurry to safety, Abert's squirrels don't quite understand that cars are big, scary monsters that can squash them. As you might imagine, this does not always turn out well for the squirrels, so remember to slow down if you see one near the road.
Abert's squirrels have become one of my favorite animal species at Rocky. I've come to look for them when hiking or camping, and I love to catch sight of one bouncing across my yard or clattering around in a tree. When I see one heading for the street, however, I'm always tempted to shout, "Stop! Look both ways!"
To learn more about Abert's squirrels, check out these links from Rocky's website:
https://www.nps.gov/romo/naturescience/squirrel_chipmunk.htm
https://www.nps.gov/romo/aberts_squirrels.htm
Bandelier National Monument in New Mexico also has interesting information (and great photos) about Abert's squirrels on its website:
https://www.nps.gov/band/naturescience/aberts-squirrel.htm
Your comments are welcome and may be posted on this website. To submit your comment by email, please click here.
---
Wednesday, December 3, 2008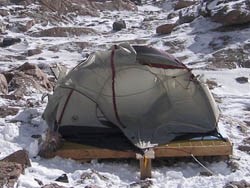 Turbulent Tents
Winter has officially arrived in Rocky Mountain National Park. I can state this with confidence, not because of the dusting of snow on the ground and the cooler temperatures, but because I was blown across a parking lot the other day.
I've lived in some windy places, but I've never experienced anything like the wind of Estes Park in the winter months. It carries off anything that isn't secured: roofing materials . . . downed trees . . . small children. I've learned to keep a tight hold on items while outdoors and I've discovered that grocery carts, if not closely restrained, tend to make runaway leaps into parked cars.
Winds are consistently at their strongest here during the winter, but summer is not immune to hurricane-force gusts. During a study conducted in 1980-81, gusts of 74 mph or higher were frequently recorded at the Alpine Visitor Center in both winter and summer. The researchers, who recorded wind speeds of 155 mph on Trail Ridge Road and 201 mph on the summit of Longs Peak, concluded that "the winds in Rocky Mountain National Park are exceptionally turbulent and among the world's most severe."
It's one thing if the wind picks up when you're in the town of Estes Park, trying to control a shopping cart in a parking lot; it's another thing all together when you're on the side of a mountain in a tent.
Last June, four Park Service maintenance employees were working at Chasm Meadow (about half-way up the Longs Peak trail) when their tents began to come down around them in the middle of the night during a snowstorm. Click below for a video of Tate, one of those employees, relating the story of that evening and the power of wind in Rocky Mountain National Park.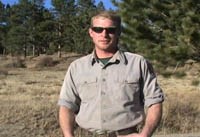 To view video click here or on picture of Tate.

Your comments are welcome and may be posted on this website. To submit your comment by email, please click here.
Comments:
I enjoyed reading your blog about RMNP. We spent summer vacation there twice in the last 4 years.
The park is absolutely spectacular and my family and I look forward to returning again soon. The American West is truly a treasure. We went to Yellowstone and Grand Teton this past summer and enjoyed these parks as well.
-Jim
Kingwood, Texas
It is great to see updates from the park. I really missed the weekly tidbits from the past. I will look forward to your blog.
-Unsigned
---
Thursday, November 13, 2008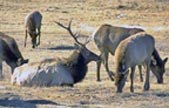 The Price of Living in Paradise
It is 4:00 a.m. as I write this, and I've given up attempting to sleep for the rest of the night. Chalk another one up for the elk. The official count so far is: elk - 56; Renelle - 4.
I lived in Glacier National Park in Montana for 10 years before I moved to Rocky, and I've always appreciated the sounds of wildlife outside my window. All were welcome: the call of a mountain lion to her kitten, the soft hoot of an owl, even the banging of deer antlers against my house as the last pathetic flower in my yard got its head chomped off. I grew up on a farm in North Dakota, and the low mooing of cattle often mixed with the yipping of fox and coyotes to drift across the prairie at night. I've always balanced the loss of sleep against the realization and appreciation of how fortunate I was to live in areas where hoots and howls were the only breaks in the silence.
Then I moved in next to an elk herd. "The rut," the elk mating season, usually starts in late August or early September and lasts for 6-8 weeks. Sleep as I knew it is long gone, replaced by the continuous screeching of bull elk calling to cows. It's difficult to explain what these bulls sound like, except that it's nothing like the majestic bugling in movies – in my sleep-deprived state, they sound more like demented train whistles. I suspect there's not a cow elk within 40 miles that isn't experiencing hearing loss.
I know there are plenty of you who would gladly trade the blaring sounds of city nightlife for an elk serenade. But sleep is sleep, and even your favorite band playing outside your window might get a little tiring after 60 nights in a row. Someone suggested ear plugs, but the paranoid side of me whispers that I might sleep through some emergency I'd rather not miss.
So I guess I'll just shut off my computer, crack open the window, and listen to the elk symphony for the rest of the night. It's worth it for the privilege to live here. However, tomorrow I might start planning a long vacation for next fall . . . somewhere nice and quiet, like NY or Chicago.
Your comments are welcome and may be posted on this website. To submit your comment by email, please click here.
Comments:
Renelle - THANK YOU. I've spent several vacations in Rocky Mountain National Park. Only one day during Elk rutting season and was in awe! Just this past summer had the privilege of hiking up to Chasm Falls and going right past the small building the rangers were forced to hike to. I had no idea about the wind or the "noise" problem :) You've brought the Rockies into my kitchen and I hope to see more blogging from you. You live in God's country and you can continue to bring that to Iowa.
-Tracy
Davenport, Iowa
---
Introduction
Hi! My name is Renelle, and I'm an Information Technology (IT) Specialist here at Rocky Mountain National Park.
When I tell people I work for the National Park Service, the first question I usually hear is, "Are you a ranger?" This is followed by a hopeful look, as if they want me to reply, "Yes, I dangle from helicopters, ski vertical mountainsides, and scale cliff faces. In fact I just may be the closest thing to a superhero you'll ever meet."
The truth is, I've never been in a helicopter and I haven't tried downhill skiing since flailing end-over-end down a slope in eighth grade. Fortunately, national parks also employ mere mortals like me who work in the background to help keep parks running smoothly.
Rangers often do have exciting jobs, and while they enjoy the satisfaction of a successful rescue, they don't seem to show the same enthusiasm when challenged with a difficult computer glitch. Part of my job is to offer technical assistance so they can head back outdoors as quickly as possible. Sound boring? Actually, it's fun and interesting since I work in every office in the park and have a unique opportunity to view a wide variety of jobs from behind the scenes. I'll be passing some of these glimpses on to you, along with any other stories I deem worthy as I live and work here.
Maybe I'll see some of you on down the trail, and for those of you who aren't able to travel here physically, hopefully visiting this blog space will make you feel a little more connected to Rocky Mountain National Park.
Your comments are welcome and may be posted on this website. To submit your comment by email, please click here.
September 7, 2009
A Dog Blog
I am a cat person. I am definitely not a dog person. But when I pulled into a Missouri gas station recently in search of caffeine and found an abandoned puppy instead, I couldn't just drive away and leave him there.
Last updated: February 24, 2015