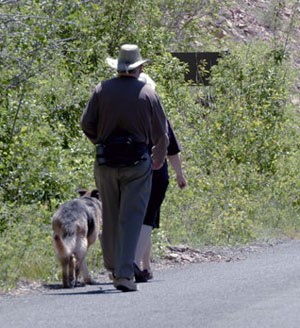 Pets are prohibited on ALL Rocky Mountain National Park trails, tundra, and meadows.
Pets and owners have a special bond. But a national park is not always the best place for pets. Rocky Mountain National Park is a designated natural area, and its purpose is to preserve and protect the park's natural conditions, scenic beauty, and wildlife.
Where Pets Can Go
Leashed pets may accompany you only in the following areas:
Along established roads or in parking areas
In established campgrounds and picnic areas
Pets must be kept on leashes no longer than six feet. Pets may not make noise that impacts visitors or wildlife. Pet owners must pick up and dispose of pet excrement in trash receptacles.
Why Can't I Have My Dog on Trails?
Rocky is a wilderness. Your pet could become prey for wildlife like coyotes, mountain lions, bobcats, and Great Horned Owls.
Dogs are predators that can chase, scare, and transmit diseases. Dogs leave behind a 'predator' scent. This scent can linger, disrupting the native animals this park protects.
Dogs can bite humans, and some people are uncomfortable around dogs. Park visitors should be able to enjoy native wildlife in their natural environment without disruption from other visitors' pets.
Pets may dig or trample fragile vegetation.
When Your Pet is Here, You Must Follow Park Rules
You may not leave your pet unattended in vehicles if it creates a danger to the animal or if the animal becomes a public nuisance. Pets may not be left tied to vehicles, trees, or other objects.
Pets, more than humans, are susceptible to overheating. Even in the mountains on mile days, temperatures inside vehicles rise quickly, and pets left in vehicles can overheat and die. Cracked windows provide little relief.
Pets are not allowed in any park visitor centers.
Doggy daycare, boarding facilities, and veterinary clinics are available in nearby communities.
Service Animals and Emotional Support Animals
Service animals that have been individually trained to perform specific tasks for the benefit of persons with disabilities are allowed in the park.
Emotional support/therapy animals are not service animals under the Americans with Disabilities Act and may not access visitor centers, trails, or other non-motorized areas.
Pet owners violating park regulations may be cited, fined, and/or issued a mandatory appearance before the United States Magistrate Court in Denver.