Warm Dry Weather Impacts Fern Lake Fire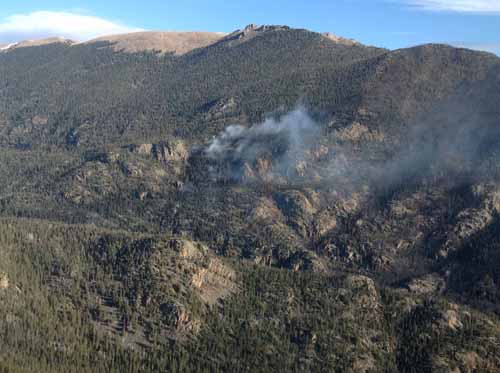 News Release Date:
October 20, 2012
Contact: Julie Johndreau, 970-586-1363
Estes Park, CO - As expected, the warm and dry weather caused increased activity on the Fern Lake Fire today. Firefighters have been monitoring the weather and fire behavior as part of their suppression efforts and they were not surprised when activity picked up this afternoon. Firefighters observed torching on the west side of the fire, into Forest Canyon, which resulted in a visible smoke plume.
Today's total fire growth is estimated at about 35 acres. Growth is on the west flank and is not threatening any structures or developed areas. Weather predictions call for poor smoke dispersal through tonight and Sunday.
The Moraine Park Campground is open. A reduced area closure (200 KB PDF) is still in effect. This closure will be in effect for the duration of the Fern Lake Fire. Please obey all closure notices. Violating the terms of these fire restrictions is subject to criminal prosecution. Cub Lake Trail, Fern Lake Trail, and Fern Lake access road (beyond the winter parking) are closed. All access to the Ute Trail is closed, including from Upper Beaver Meadows. Lower Odessa Gorge (north of Odessa Lake) is closed to all use. You will not be able to hike north of Odessa Lake. Other trails leading into the fire area are closed and are posted.
Last updated: February 24, 2015