Rocky Mountain National Park's Trail Ridge Road to Close for Heavy Equipment Caravan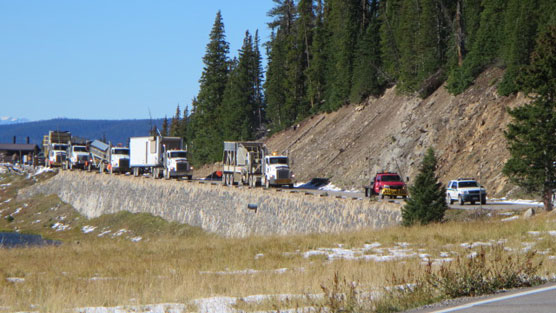 News Release Date:
September 25, 2013
Contact: Larry Frederick, 970-586-1443
On Wednesday and Thursday, September 25 and 26, essential heavy equipment for infrastructure repairs due to recent flooding will traverse Trail Ridge Road through Rocky Mountain National Park from Grand Lake to Estes Park.  The equipment, including a large rock crusher, will be used to make road base around the Town of Estes Park. The caravan consists of five trucks and heavy equipment with a combined length of 880 feet.
In order to safely move this wide and large critical cargo, the closure on Trail Ridge Road has expanded to Deer Ridge Junction on the east and the Colorado River Trailhead on the west. 

The caravan will start over Trail Ridge Road Wednesday morning, if weather permits. Large and difficult to move, the caravan will travel at 10 miles per hour. Once the caravan reaches the junction of highways 34 and 36 at Deer Ridge Junction on the east side of the park Wednesday afternoon, Trail Ridge Road may reopen to public. On either side of the closure, in the morning and the afternoon from Grand Lake Entrance Station to the Colorado River Trailhead and from Fall River Entrance Station to Deer Ridge Junction, there will be traffic delays as the wide load makes its way east. 

If weather permits and Trail Ridge Road opens Wednesday afternoon, it will close again at 8:00 p.m. Wednesday evening to prepare for a second caravan to pass along the same route and direction Thursday morning. 

While scheduled for Wednesday and Thursday, road and weather conditions may cause the operation to shift to Friday or even Monday.  

This is a cooperative venture between Grand County, the Town of Estes Park and the National Park Service. 

For the most up-to-date information on the status of Trail Ridge Road and park information, please call the park's Information Office at 970-586-1206.  
Last updated: February 24, 2015