The Hidden Art Treasures of the National Park Service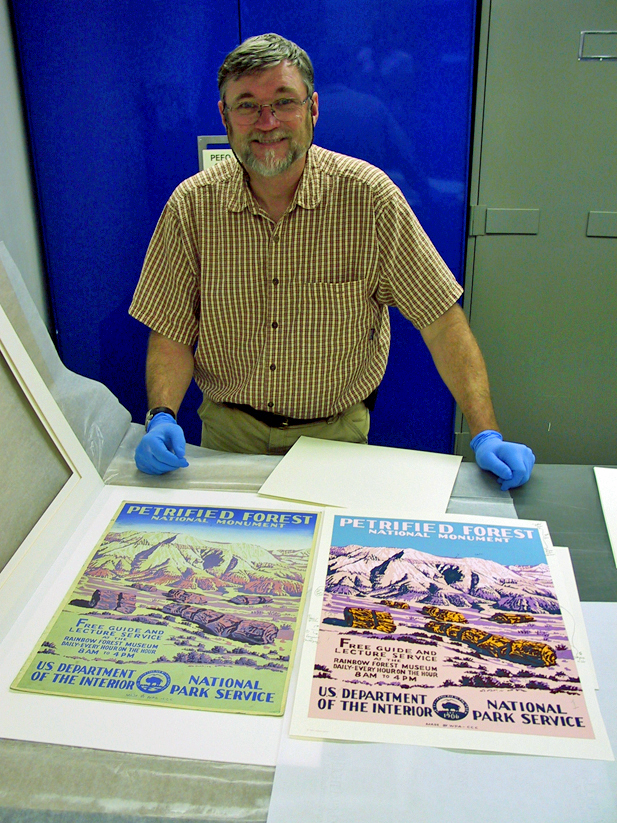 News Release Date:
August 30, 2016
Contact: Kyle Patterson, (970) 586-1363
On Tuesday, September 6, join Rocky Mountain National Park for a special program at 7:30 p.m. in the Beaver Meadows Visitor Center to welcome Doug Leen, also known as Ranger Doug "Ranger of the Lost Art."
Doug, a dentist who lives in Alaska, is currently on a 15 month National Park Service Centennial road trip/speaking series. He was a seasonal park ranger in Grand Teton National Park for seven years in the 1970s where he rescued an old poster bound for the park dump. He was only able to find black and white negatives of poor quality.  The posters were long gone. With the onset of World War II, poster production stopped with only 14 park designs completed and after the war they disappeared into history.  
Doug has exhibited this art in many galleries and museums around the country including a recent 14 month exhibit at the Department of the Interior Museum in Washington DC.  He has been featured in a number of national news outlets and a recent cover article in the Saturday Evening Post.   
On Tuesday, September 6, Doug will share the story of how these posters were made, lost, rediscovered and how he continued with modern designs in the style of the WPA.  
Programs are free and open to the public.  For more information about Rocky Mountain National Park please visit www.nps.gov/romo or call (970) 586-1206.
Last updated: August 30, 2016