Bruce Rosenlund Recognized for His Leadership In Protecting Park Resources
Date:
September 20, 2011
Contact:
Kyle Patterson, (970) 586-1363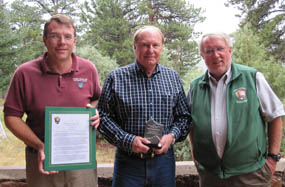 Rocky Mountain National Park Superintendent Vaughn Baker announced that Bruce Rosenlund, Fish and Wildlife Biologist, with the U.S. Fish and Wildlife Service, (USFWS) is the recipient of the 2010 Rocky Mountain National Park Stewardship Award. The National Park Service proudly presents the Stewardship Award to outstanding individuals and organizations that contribute significantly to the stewardship of the park and the surrounding environment. Bruce Rosenlund was selected for this award in recognition of his cooperative efforts advancing the long term protection of Rocky Mountain National Park.      
The National Park Service and the U.S. Fish and Wildlife Service have worked collaboratively over the years to address a variety of issues facing the park; however, Bruce's dedication to fisheries management and particularly the restoration of greenback cutthroat trout, sets him apart from the pack.       
In 1937, greenback cutthroat trout were thought to be extinct. But in the 1960s recovery began after the discovery of a remnant population, found just south of Rocky Mountain National Park. Shortly thereafter, Bruce began his efforts to reestablish populations of the greenback cutthroat trout for nearly three decades. Bruce's long-term successful collaboration has produced numerous benefits for park fisheries restoration as he has worked closely with many state and federal partners as well as the public, including volunteers, to restore depleted fish populations. He has been a leader in the development of fisheries management techniques and reintroduction strategies as it relates to fish and wildlife management and species recovery. He has advanced numerous methodologies to improve restoration of fish.       
Restoration of a species takes years of dedication, hard work, and as Bruce has so aptly demonstrated - an ability to build and maintain long-term relationships. All of his efforts are rewarded periodically and can be captured in this quote by Bruce, "The thrill of being there and releasing greenbacks into their new home, as I did at Dream Lake in the park, is indescribable."
We are fortunate that the 'stage' in which Bruce has performed such exemplary work has been Rocky Mountain National Park. He has become an icon to the greenback cutthroat trout's recovery and an inspiration to those who are passionate about species recovery.    
Bruce Rosenlund has demonstrated his commitment to assist with protecting park resources and values, and provide for their enjoyment by current and future generations. A strong sense of stewardship and strong technical and scientific support are increasingly important. With changing demographics and landscapes, and the need to build awareness of parks and conservation values, Bruce Rosenlund is commended for his commitment to advancing the long-term protection of Rocky Mountain National Park for the benefit and enjoyment of all Coloradoans and all Americans.
Past recipients of the park's stewardship award include:        
* Colorado Division of Wildlife in recognition of the collaborative relationship to address a variety of issues facing the park. This successful collaboration has produced numerous benefits for park wildlife and habitat. The issues include elk and vegetation management, management of chronic wasting disease (CWD) in deer and elk populations, boreal toad reintroduction, and education of school children about wildlife and the outdoors.         
* Karl Cordova, Karen Battle-Sanborn and Jim Freeman in recognition of their leadership in the settlement claim of the Grand River Ditch breach, the largest natural resource damage payment in the history of the Park System Resource Protection Act (19jj).
* The Colorado Air Quality Control Commission, the Colorado Department of Public Health and Environment Air Pollution Control Division, the Environmental Protection Agency - Region 8, and the National Park Service - Air Resources Division, in recognition of their collaborative support in advancing the long-term protection of the park by assisting in preparing the Rocky Mountain National Park - Nitrogen Deposition Reduction Plan. 
* The Towns of Estes Park and Grand Lake, for support in advancing the long-term protection of Rocky Mountain National Park. 
* Bureau of Land Management - Kremmling Field Office, for coordinating a complicated land exchange that enabled the park to preserve and protect a particular tract of land in its undisturbed state for wildlife habitat.
* The National Trust for Historic Preservation, for the protection of The McGraw Ranch Historic District and other historic resources in Rocky Mountain National Park.
* The Rocky Mountain Nature Association, for preserving natural and cultural resources and contributing greatly to the education of millions of people who visit the park and for its lasting and outstanding contributions to the mission of the park.
* The Estes Valley Land Trust, for preserving open space in the Estes Valley and for adding to the park through protecting adjacent lands.
* The Estes Park Chapter, League of Women Voters, for its critical role in achieving a ban on commercial tour overflights above Rocky Mountain National Park.
* James Disney, former Larimer County Commissioner, for his advocacy of protecting and preserving Colorado's public lands, particularly Rocky Mountain National Park.
* John Fielder, in recognition of his two-year long project of photographically recording all of Rocky Mountain National Park's lakes, and for his many years of advocacy for America's wild places.
* The Shining Mountain Group of the Colorado Mountain Club for its years of volunteer work including removing trash from the park, trimming back vegetation along park roads and trails, assisting with a parkwide visitor use survey and removing barbed wire fencing that posed danger to park wildlife and visitors.
* Two co-recipients - (1) Pieter Hondius, Estes Park businessman and developer, for his efforts in establishing the Estes Valley Land Trust, an organization that encourages land donations by private citizens to help preserve open spaces in the area; and (2) Lurline Curran, Kremmling resident and Grand County (CO) planner, for her work in promoting development on private lands adjacent to the park that is compatible with the national park's scenic grandeur.
* Stephen W. Gillette, Estes Park businessman and recycling proponent, for his efforts as the principle mover behind the Larimer County project SOAR (Save Our Area Resources).
* Jean Weaver, Estes Park resident, for her work over the years in establishing a viable recycling program in the Estes Park area.
Last updated: February 24, 2015