Rocky Mountain National Park Superintendent Vaughn Baker Retires After Impressive Career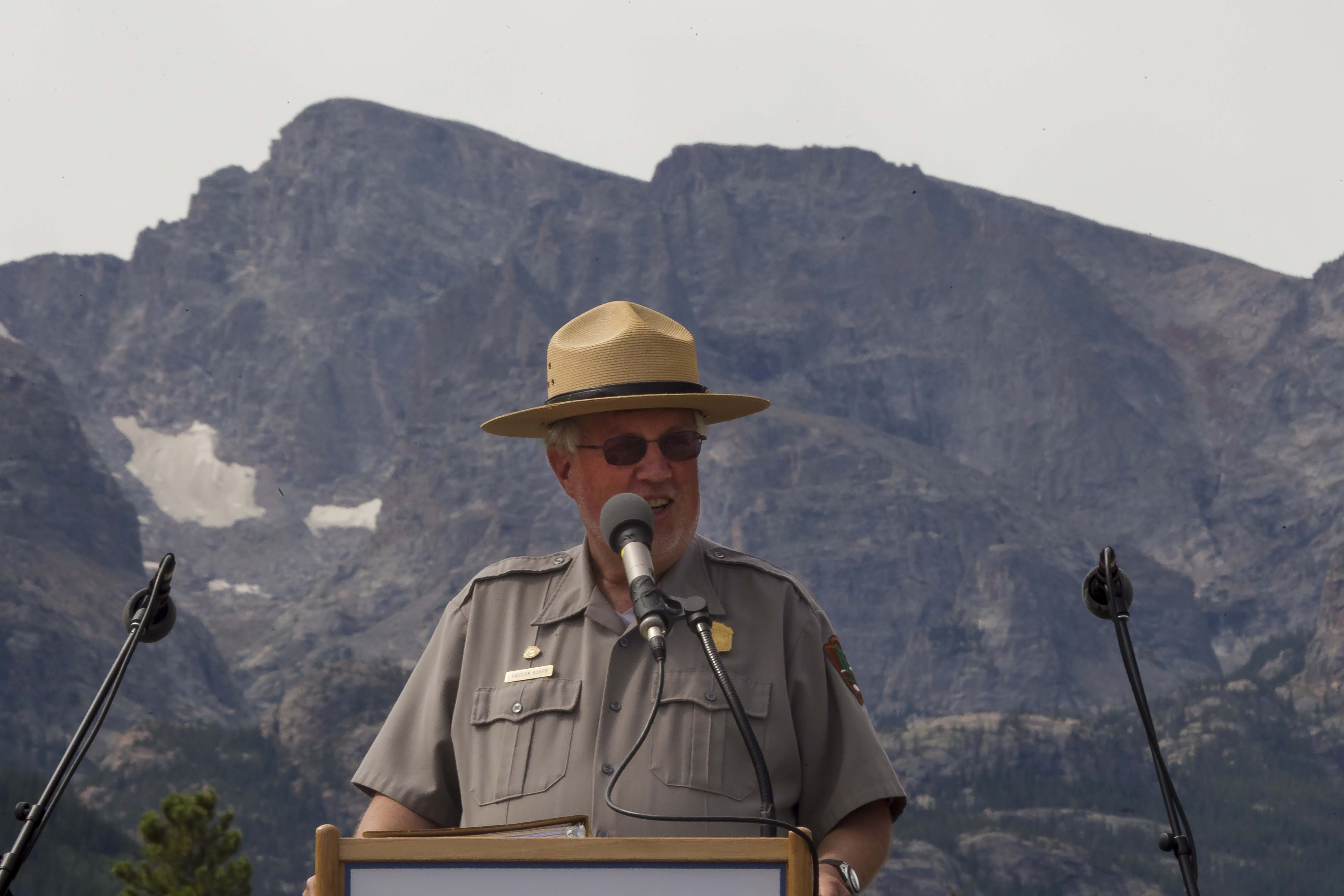 News Release Date:
October 2, 2015
Contact: Kyle Patterson, (970) 586-1363
After forty-two years of public service, Rocky Mountain National Park Superintendent Vaughn Baker quietly retired earlier this week and rode off into the proverbial sunset.  Baker had been Rocky's Superintendent for thirteen years. He plans to retire in Estes Park.
During Baker's thirteen years at Rocky Mountain National Park, he led park staff through numerous high profile fires, dealt with a massive beetle outbreak and the ramifications of hazardous trees in campgrounds, trailhead parking areas and along roadways, and lead Rocky through the response and recovery of the devastating flood event in 2013.  Following the tragic death of park ranger Jeff Christensen during a backcountry patrol in 2005, he took a proactive role in revising backcountry travel protocols for the park, especially with regard to communications. 
Baker was also involved in the completion of the new facilities at Hidden Valley and the construction of the Lumpy Ridge Trailhead. During his time at Rocky, the park received over $60 million from the Federal Lands Highway Program for major reconstruction on Bear Lake Road and Trail Ridge Road.  Also under Baker's watch, after more than 30 years as recommended wilderness, Rocky Mountain National Park became official designated wilderness in 2009. 
Baker exemplified conservation leadership in the National Park Service which resulted in several significant contributions including the unprecedented development of a Nitrogen Deposition Reduction Plan to protect air quality related values in the park in cooperation with the State of Colorado Public Health and Environment and the Environmental Protection Agency, and completion and implementation of the Elk and Vegetation Management Plan. 
Baker grew numerous partnerships and worked closely with the towns of Estes Park and Grand Lake, other neighboring communities as well as with officials in surrounding counties where Rocky Mountain National Park resides.  He also had a strong relationship with the Rocky Mountain Conservancy, the park's non-profit friend's group. 
Baker's icing on the cake was to develop a vision for celebrating Rocky Mountain National Park's 100th Anniversary Centennial celebrations. This year-long celebration recently culminated with a rededication ceremony on September 4. 
Baker has been superintendent of Rocky Mountain National Park since August 11, 2002.  A native of Billings, Montana, he began his career with the National Park Service in 1984 and held a number of positions including superintendent at Lake Roosevelt National Recreation Area (1996-2002); assistant superintendent at Shenandoah National Park, Virginia (1994-1996); legislative affairs specialist/Bevinetto Congressional Fellow, Washington, D.C. (1992-1994); assistant superintendent, Mammoth Cave National Park, Kentucky (1989-1992); management assistant, Wrangell-St. Elias National Park, Alaska (1986-1989); and park planner, Alaska Regional Office (1984-1986). Prior to the National Park Service, he worked for the Bureau of Land Management. 
Ben Bobowski, Chief of Resource Stewardship at Rocky Mountain National Park for the past eight years, will be acting superintendent until a new park superintendent is selected.  "Rocky Mountain National Park is a special park enjoying wonderful support by many.  It is a privilege to serve as superintendent during this period of transition.  I look forward to working with park staff and our surrounding communities in the months ahead," said Bobowski. 
Last updated: October 2, 2015