Rocky Mountain National Park Centennial Commissioned Items Released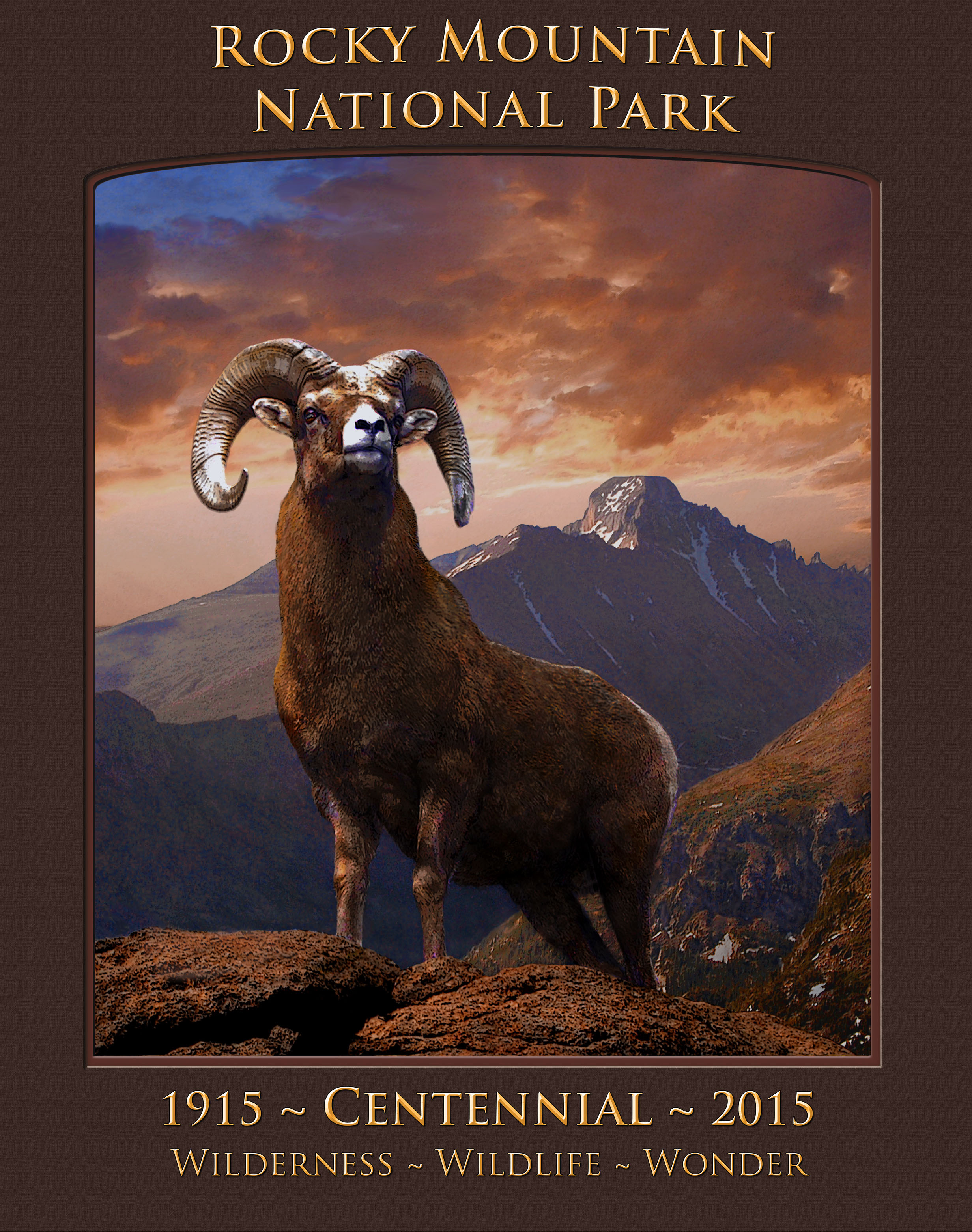 News Release Date:
September 2, 2014
Contact: Kyle Patterson, (970) 586-1363
Rocky Mountain National Park's 100th Anniversary ceremonies begin this week, kicking off a year's worth of celebrations! The Rocky Mountain Conservancy, in conjunction with Rocky Mountain National Park, has commissioned several products for the celebration of Rocky Mountain National Park's 100th Anniversary.
Jim Disney, a professional artist since 1963, was commissioned to create the official Centennial poster. Disney has focused his work on the mountains and landscapes of the Western United States, primarily the Colorado Rockies, Rocky Mountain National Park and the Indian Peaks Wilderness. Jim has twice served as an Artist in Residence in Rocky Mountain National Park, and has summited Longs Peak nearly 100 times. The love he feels for the Rocky Mountain National Park landscape shows clearly through the vibrant poster he has created for the park's Centennial celebration. Jim will be signing a limited number of prints at the 100th Anniversary kick-off events on September 3 and 4.
Specializing in original folk music, classic cowboy tunes and the songs of John Denver, "Cowboy" Brad Fitch was commissioned to create the official song of the RMNP Centennial. A current Rocky Mountain National Park Ranger, Brad was raised in Estes Park and has been playing professionally since he was 15 years old. "Since my childhood I have enjoyed hiking, skiing, backpacking, climbing, horseback riding and relaxing in this special place," says Brad. "I am proud to be part of the park's 100th anniversary celebration." Brad will perform his song, Rocky's the Park For All, at the 100th Anniversary kick-off events this week. This catchy, upbeat anthem will be sure to get RMNP's 100th Anniversary celebration off to a joyful start.
Fall River Productions co-owners, Alexander Ho and Brian Biggs, are hard at work creating the official film of the Centennial celebration. Built around the Centennial themes, "Wilderness, Wildlife, Wonder," this 25-minute film will be premiered in January 2015 and will continue to be shown throughout the Centennial celebration year and beyond. Currently, Brian and Alex are looking for vintage pictures and video from 1970 or before to help capture the visitor experience of RMNP. If you have vintage photos or video to share, please call Fall River Productions at 970-480-7877 or email info@fallriverproductions.com 
Many Centennial products, including the poster and song, are available for purchase at all Rocky Mountain Conservancy outlets in Rocky Mountain National Park. The Centennial film, along with additional footage and interviews collecting during filming, will be available for purchase after its release in January.
Check the park website regularly to find out more and get involved, at www.nps.gov/romo or follow us on social media @Rockynps for updates on 100th Anniversary events and planning. For more information about Rocky Mountain National Park please contact the park's Information Office at (970) 586-1206. Centennial celebrations only come around every one hundred years, don't let this one pass you by!
Last updated: February 24, 2015