Date:
June 13, 2011
Contact:
Kyle Patterson, 970-586-1363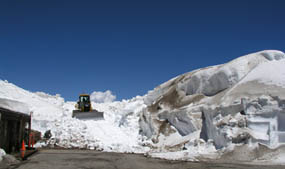 Due to significant snow accumulation, Old Fall River Road in Rocky Mountain National Park is not expected to open by the Fourth of July weekend as it traditionally does. Since mid-April, park snowplow operators have focused their efforts on clearing Trail Ridge Road. Due to the heaviest late spring snow seen in decades, Trail Ridge Road opened on June 6, the latest the road has opened in over 20 years. 
Old Fall River Road presents additional challenges for park snowplow operators. Currently sections of the top of the road are under an estimated 15 feet of snow, obscuring the snow poles that guide snowplow operators on the location of the road. Avalanche activity is typically encountered along several slide paths that cross the road and this year, these events are anticipated to be larger with the potential for significant deposition and debris that will have to be cleared from the road corridor.
According to park superintendent Vaughn Baker, "We understand this is a very popular road for park visitors and will do our best to safely open the road and not jeopardize our snowplow operators."