Due To Heavy Snowpack Old Fall River Road Not Expected To Open By Fourth of July Weekend
Date:
June 13, 2011
Contact:
Kyle Patterson, 970-586-1363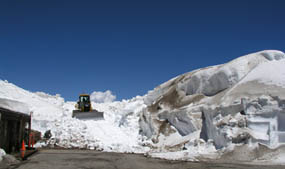 Due to significant snow accumulation, Old Fall River Road in Rocky Mountain National Park is not expected to open by the Fourth of July weekend as it traditionally does. Since mid-April, park snowplow operators have focused their efforts on clearing Trail Ridge Road. Due to the heaviest late spring snow seen in decades, Trail Ridge Road opened on June 6, the latest the road has opened in over 20 years. 
Old Fall River Road presents additional challenges for park snowplow operators. Currently sections of the top of the road are under an estimated 15 feet of snow, obscuring the snow poles that guide snowplow operators on the location of the road. Avalanche activity is typically encountered along several slide paths that cross the road and this year, these events are anticipated to be larger with the potential for significant deposition and debris that will have to be cleared from the road corridor.
According to park superintendent Vaughn Baker, "We understand this is a very popular road for park visitors and will do our best to safely open the road and not jeopardize our snowplow operators."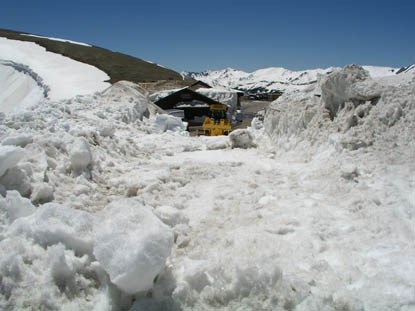 Old Fall River Road was built between 1913 and 1920. It is an unpaved road which travels from Endovalley Picnic Area to above treeline at Fall River Pass, following the steep slope of Mount Chapin's south face. Due to the winding, narrow nature of the road, the scenic 9.4-mile route leading to Trail Ridge Road is one-way only.
As with travel in many areas in the park this year, please be mindful of lingering hazards due to the abnormally heavy snowpack. As some of the avalanche paths that cross the Old Fall River Road still have the potential to slide, users should be aware of their location along the road and valley corridor and conditions that might increase exposure and risks. For those who are accustomed to hiking or cycling the road before it opens to motor vehicle traffic, please pay close attention to road status as avalanche potential and possible road damage may influence temporary or long-term closures not normally in effect. Currently the snow is only melted on approximately the lowest 2.5 miles of Old Fall River Road, about a mile above Chasm Falls.
For more information about road and trail conditions at Rocky Mountain National Park, please call the park's Information Office at (970) 586-1206.
Last updated: February 24, 2015