Last Two Lyceum Programs of the Season at Rocky Mountain National Park
Date:
May 3, 2011
Contact:
Kyle Patterson, 970-586-1363
 2011 Lyceum Series "Trying To See The Forest For The Trees: Forest Health In The Rocky Mountains"
Saturday, May 7, 7:00 p.m.
The Impacts of Mountain Pine Beetles on Forests in Grand County, Colorado
No larger than a grain of cooked rice, mountain pine beetles (MPB) are bark beetles with the power to greatly impact the forests and communities in the Rocky Mountain West in both an environmental and economic manner. To measure the impact, many factors would have to be considered, including:  tree mortality, opportunities lost for carbon sequestration, forest land treatment costs by federal agencies, lost timber value, stand rehabilitation costs, impacts to both watersheds and wildlife, tourism revenue effects, private property value losses, and threats to public safety, including potential wildfire costs. Dr. Kurt Mackes, Assistant Professor/Research Scientist II at Colorado State University was part of just such a study, and will present the surprisingly far-reaching findings of the repercussions of the life of this tiny beetle.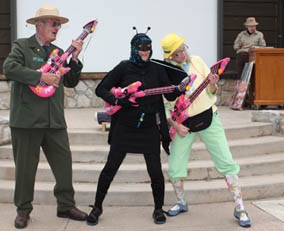 Saturday, May 14, 7:00 p.m.
It's Beetlemania!
Come find out what crazy Isabeetle, a wicked mountain pine beetle, is up to at Rocky Mountain National Park at our last Lyceum program, "Beetlemania." This program will be a play featuring "Isabeetle," who reveals her strategies to take over the forest, Ranger Pat who discusses how to manage this, and Jane Q. Public as she grapples with the pain of change and how the beetles will affect plant and animal communities and her national park experience. Just as the Beatles Band rocked the world and revolutionized the music industry, mountain pine beetles are revolutionizing the western landscape - from our national parks to our communities. In this program, we will explore the destruction, change and rejuvenation brought about by mountain pine beetles. Come prepared to sing snippets of Beatle songs along with Isabeetle and our stage performers in this entertaining program.
The theme of the 2011 Lyceum Series is "Trying To See The Forest For The Trees: Forest Health In The Rocky Mountains." The forests in and around Rocky Mountain National Park provide wonderful benefits such as water, recreation, wildlife habitat, timber, and other forest products. They are, however, vulnerable to a wide variety of stressors. RMNP will invite regional experts to answer visitor questions on insects, diseases, exotics, invasives, wildfire, prescribed burns, ozone/pollutants, wildlife/biodiversity, watersheds, soils, and forests as indicators of climate change.
The Lyceum schedule runs through May 14. Financial support for the lyceum series is provided by the park's nonprofit partner, the Rocky Mountain Nature Association. Programs are free and open to the public. They are held at 7:00 p.m. at the Beaver Meadows Visitor Center auditorium in Rocky Mountain National Park. For more information about the park please call (970) 586-1206.
Last updated: February 24, 2015