Doc Wild's World – A Special Evening Program For The Whole Family
Date:
September 20, 2011
Contact:
Kyle Patterson, (970) 586-1363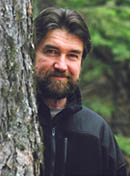 A special evening program will take place at the Beaver Meadows Visitor Center in Rocky Mountain National Park at 7:00 p.m. on Friday, September 23. Doc Wild (formerly the "Critterman") is just one of the alter-egos of Denny Olson, who for more than 30 years has been a student and teacher of the natural world.  Well-known nationwide for his theatrical performances and speeches, Denny strongly believes in encouraging children and adults to think about how nature and people are connected.  Denny has written books on cougars, deer, "place-based" education and Native American stories. His characters include Doc Wild, Professor Avian Guano, Dr. Death, The Lost Voyageur, and Doctor Loonacy.  As one unsuspecting victim of Denny's performances put it, "I didn't realize I learned so much until it was too late!"      
Denny Olson's formal training as a biologist and geologist, as well as teaching nature for over 20 years in the north woods and mountain west, has given him expertise in many disciplines. He has done research on beavers, hares and loons, and received a M.S. Degree (magna cum laude) from the University of Minnesota.  From those scientific beginnings he forged an unlikely union between science, humor, and drama, and established a national reputation as an innovative performer and educator.      
Denny has trained thousands of naturalists, teachers and students in acting and storytelling techniques, designed practical instructional evaluations, lectured on Native American storytelling as a teaching tool, and conducted workshops nation-wide. He has performed his humorous alter-egos over 3000 times in 49 states for over 2 million people. Included in these are over 80 conference keynotes and 50 plus national park presentations.      
His books, Way of the Whitetail, Shared Spirits: Native Americans and Wildlife, and Cougars--Solitary Spirits are critically acclaimed.      
This program is free and open to the public. For more information about Rocky Mountain National Park please call the park's Information Office at (970) 586-1206.
Last updated: February 24, 2015