Life Saved at Rocky Mountain National Park
Date:
August 10, 2009
Contact:
Kyle Patterson, 970-586-1363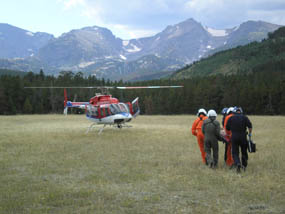 At 11:15 a.m. today, park dispatch received a call from a family member of a seventy-three year old man who was suffering from a possible heart attack on the Flattop Mountain Trail in the Bear Lake area of Rocky Mountain National Park. He had briefly lost consciousness. Although he had no known previous heart conditions, he was exhibiting signs of a heart attack.
The patient was roughly 2 miles, at an elevation gain of 1,400 feet (10,875 feet), from the trailhead. A hasty team of two rangers reached the trailhead at 11:44 a.m. and were on scene with the patient in less than thirty minutes, at 12:13 p.m. The two rangers brought an Automated External Defibrillator (AED) and provided immediate care, including providing additional oxygen. A nine-person park litter team reached the patient at 1:06 p.m. At 1:13 p.m. the patient went into cardiac arrest. CPR was initiated and when the patient displayed a shockable rhythm, the AED was activated and the patient's pulse was restored. The patient soon regained consciousness. A paramedic from Estes Park Medical Center arrived on scene shortly after.
The patient was packaged in a wheeled litter and the team began bringing him down the trail at 1:26 p.m. He reached the trailhead at 2:00 p.m. and was placed in an Estes Park Medical Center ambulance which transported him to a landing zone at Glacier Basin Campground. At 2:26 p.m. North Colorado Med Evac flew the patient to Medical Center of the Rockies.
According to Rocky Mountain National Park Chief Ranger, Mark Magnuson, "I'm proud of the incredible response and teamwork from our staff and our partners from Estes Park Medical Center and the North Colorado Med Evac flight crew. This was truly a lifesaving rescue, and particularly impressive, considering it occurred 2 miles from the nearest trailhead parking lot. Most of the AEDs in Rocky Mountain National Park have been donated by the park's friends' group, Rocky Mountain Nature Association. We extend our best wishes to the patient for a full recovery."
The patient is from Longmont, Colorado. His name will not be released until other family members are notified.
Last updated: February 24, 2015