Small Mountain Owls of Rocky
Date:
January 19, 2010
Contact:
Kyle Patterson, 970-586-1363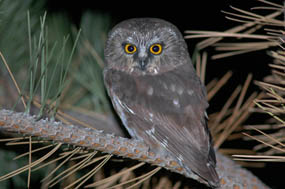 Saturday, January 23, 7:00 p.m.
Small Mountain Owls of Rocky
When we picture an owl we often conjure up an image of a large majestic bird like the Great Horned Owl. Did you know that Rocky is home to owls so small they could easily use a pencil as a perch? Four species of small owls are found in Rocky Mountain National Park: the Flammulated Owl, Northern Pygmy-Owl, Northern Saw-whet Owl, and Boreal Owl. Spend the evening with Scott Rashid, author of Small Mountain Owls, and learn about the lives of these tiny predators that are at home in Rocky's forests. The program is held at Beaver Meadows Visitor Center and is free and open to the public.
Last updated: February 24, 2015