Big Meadows Fire Medical Incident on June 16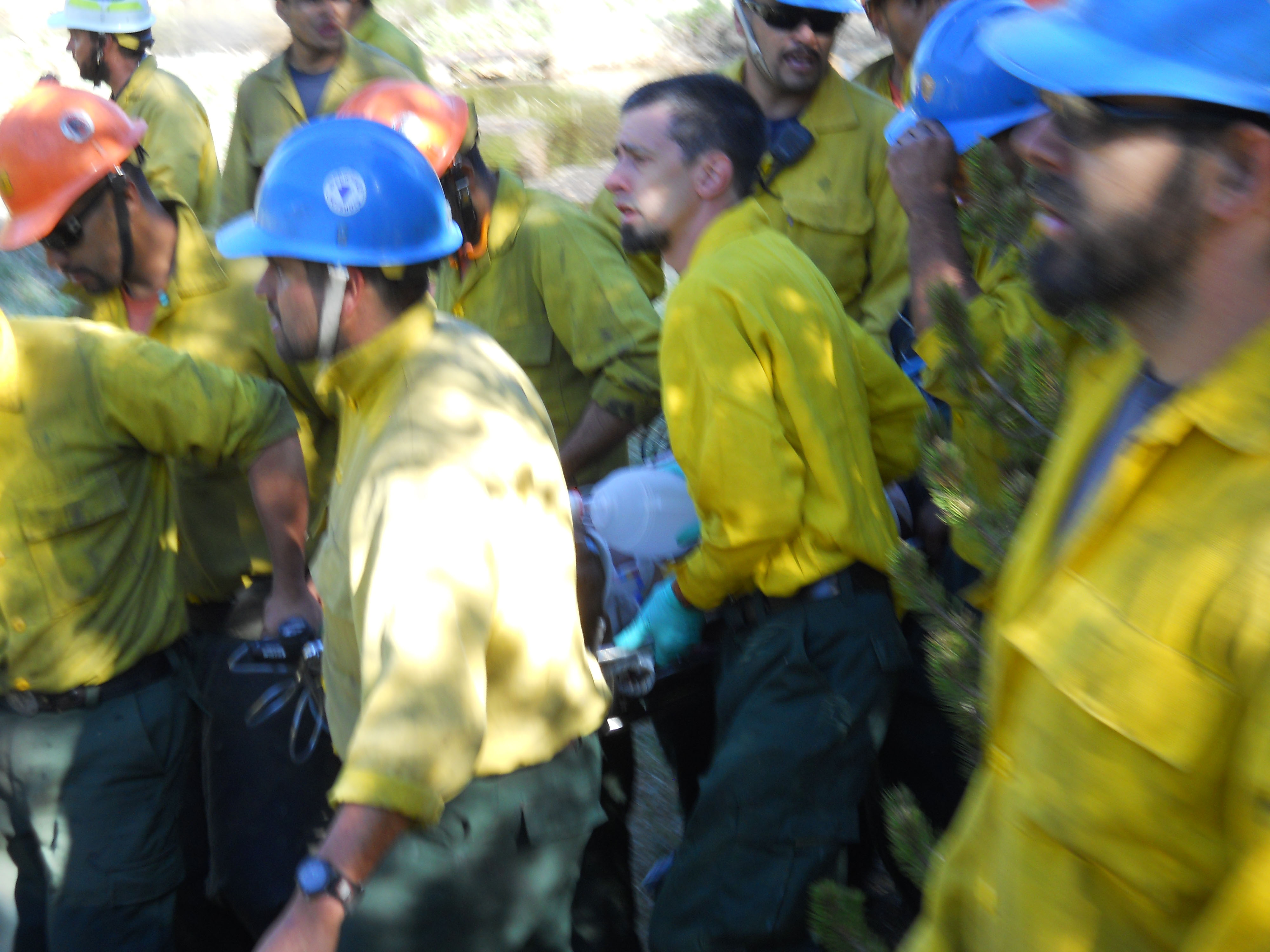 News Release Date:
June 19, 2013
Contact: Bill Kight, Fire Information Officer , (720) 219-4482
Contact: Clark McCreedy, Fire Information Officer, (720) 219-4467
Contact: Kyle Patterson, RMNP Information Officer, (970) 586-1363
Early Father's Day morning, Sunday, June 16, a firefighter walking with his crew from field spike camp to the fireline collapsed due to sudden cardiac arrest during the Big Meadows Fire.  Prompt action by the firefighter's crew in administering CPR, and the rapid response of fire-line Paramedics that arrived minutes later, contributed to the successful resuscitation of the patient, Luther E. Larkin, Sr. Larkin, 51, is a senior crew member of the Horseshoe Meadow Type I Interagency Hotshots based out of Sequoia National Forest in California.
An Automated External Defibrillator (AED) was used on site to resuscitate him. The presence of an AED, and the availability of advanced medical care, on the fireline was critical to reviving him and obtaining a pulse.
Fellow crewmembers then transported Luther to the nearest helispot just as the requested medevac helicopter arrived on scene.  He was then transferred to the medical flight crew and taken to a cardiac care hospital in Denver, Colorado.
Prompt ordering of the emergency medical helicopter by Rocky Mountain National Park dispatch, and placing it in aerial standby, was critical to the successful outcome of this life-threatening event. It helped facilitate a faster transport to a cardiac care facility.
Early in response to the Big Meadows Fire, Rocky Mountain Incident Management Team A, in coordination with Rocky Mountain National Park officials, began extensive preparation for any emergency response. Protocols established since the death of Andrew Palmer were instrumental in the success of this outcome.
In 2008, eighteen year old firefighter Andrew "Andy" Palmer was struck by a falling tree while on the Iron Complex Fire in northern California.  He died during a medevac flight while in route to a local hospital. After his death, protocols were put in place to prevent similar loss of life in the already dangerous environment in which wildland firefighters work. These protocols were implemented during the team's assignment to the Big Meadows Fire.
The Larkin family granted permission for the information above to be released and requests their privacy be respected at this time.  
Last updated: February 24, 2015