Big Meadows Fire Update - Morning June 15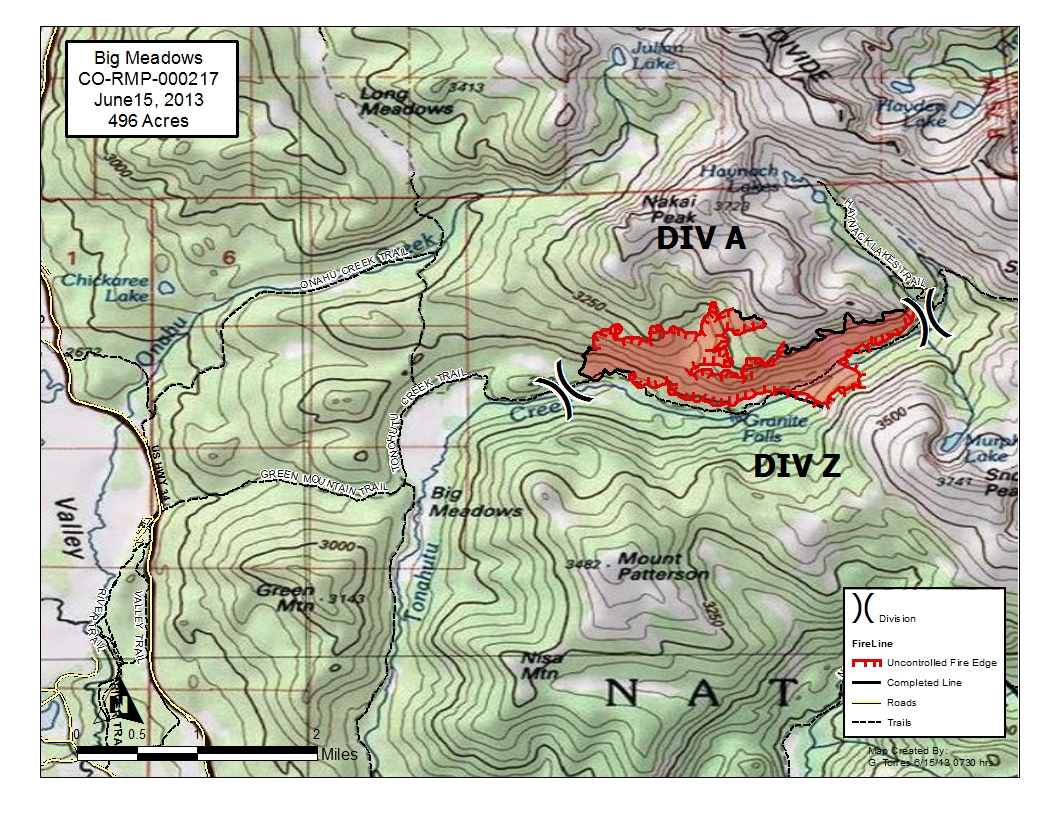 News Release Date:
June 15, 2013
Contact: Bill Kight, Fire Information Officer, 720.219.4482
Contact: Clark McCreedy, Fire Information Officer, 720.219.4467
Contact: Kyle Patterson. RMNP Information Officer, (970) 586-1363
Yesterday afternoon fire crews conducted a burnout operation to strengthen fire lines and reduce fuels along the southern flank of the fire in the Tonahutu Creek drainage. Fire staff consider the firing operation to have successfully strengthened the southern flank of the fire, effectively minimizing the probability of movement of the Big Meadows Fire to the south. This operation increased the fire to 479 acres. 
Yesterday, air operations from the Big Meadows Fire provided a helicopter to assist a search and rescue operation to transport an injured climber in Rocky Mountain National Park. To date, there have been no accidents or injuries associated with the Big Meadows Fire. With increased recreational activity over the weekend, the incident command staff urges visitors to the west side of Rocky Mountain National Park to remain alert for increased traffic and on-going air operations associated with the fire. 
Fire-fighting resources on the fire today, June 15, will include two initial attack modules of eight fire-fighters each, four interagency 20-person Type I hotshot crews, and two fire engines. Available air resources include two 'air attack' small planes used for fire reconnaissance, two light helicopters, a medium helicopter, and one large heavy helicopter. A National Guard Blackhawk helicopter remains on standby to assist fire operations in the event of a medical emergency. 
There remains no imminent threat to any communities or structures; Rocky Mountain National Park remains open.  
At 8:00 AM this morning, closures were lifted for five of the seven previously closed trailheads within the vicinity of the Big Meadows Fire. Trails that will open include: the two Tonahutu Spur Trails (one beginning at the Kawuneeche Visitor Center, the other near the North Inlet trailhead), the Grand Lake Lodge Spur Trail, the Timber Lake Trail, and the trail which branches toward Mount Ida from Milner Pass.  The Timber Lake Trail will be open for day use only. Closures remain in effect for the Onahu Trail, the Green Mountain Trail, and the lower Tonahutu Trail. Trail closures do affect a section of the Continental Divide Trail that passes through the park. Know before you go, check with a park visitor center or park Information Office at 970-586-1206. 
All major roads and facilities in Rocky Mountain National Park are open as are our neighboring communities of Grand Lake and Estes Park. Visitors are strongly cautioned to be aware of increased traffic and aircraft associated with the fire. Keep alert, don't get hurt.
Additional information: On the web:  www.inciweb.org. Twitter feed: @RM_InciTeamA NPS Fire Information Line: 970.586.1381
Last updated: February 24, 2015