Big Meadows Fire Morning Update June 17
Date:
June 17, 2013
Contact:
Bill Kight, Fire Information Officer, (720) 219-4482
Contact:
Clark McCreedy, Fire Information Officer, (720) 219-4467
Contact:
Kyle Patterson, RMNP Information Officer, (970) 586-1363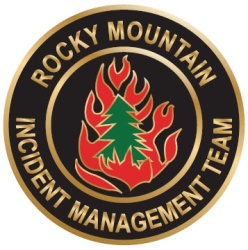 The Big Meadows Fire remains at an estimated 604 acres. With the continued reinforcement of containment lines by crews working the Big Meadows Fire, the fire is considered to be 75% contained.    
Operations for today will continue to emphasize the reinforcement of containment lines and line rehabilitation. Crews will begin to remove equipment staged on fire lines. 
Fire-fighting resources on the fire today, June 17, will include two wildland fire modules of eight fire-fighters each, two interagency 20-person Type I hotshot crews, and two fire engines. Available air resources will include one 'air attack' light plane used for fire reconnaissance, two light helicopters, and one medium helicopter. 
High temperatures today will approach the mid 70s, relative humidity will be moderate, winds will be generally 10-15 mph by 10:00 AM, with gusts in the afternoon that may exceed 30 mph. Fire-fighters will experience erratic winds throughout the afternoon associated with approaching thunderstorms.   
The Timber Lake Trail will be open for day use only. Closures will continue in effect for the Onahu Trail, the Green Mountain Trail, and the lower Tonahutu Trail. Trail closures do affect a section of the Continental Divide Trail that passes through the park. Visitors to the park should check the Rocky Mountain National Park website for the latest information regarding trail closures and alerts: www.nps.gov/romo 
All major roads and facilities in Rocky Mountain National Park are open as are our neighboring communities of Grand Lake and Estes Park. Visitors are strongly cautioned to be aware of increased traffic and aircraft associated with the fire. Keep alert, don't get hurt.                                                                                                                                                                        
Additional information: On the web:  www.inciweb.org. Twitter feed: @RM_InciTeamA NPS
Fire Information Line: 970-586-1381
Last updated: February 24, 2015