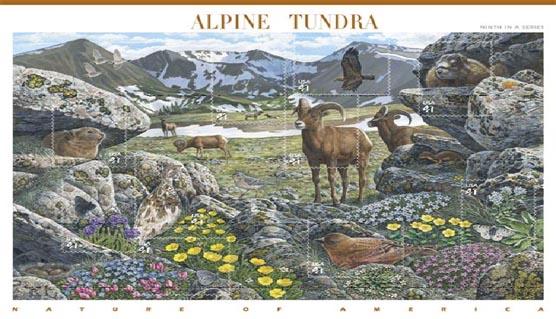 News Release Date:
August 3, 2007
Contact: Al DeSarro, USPS, 303-313-5182
Contact: Kyle Patterson, Public Information Officer, Rocky Mountain National Park, 970-586-1363
Contact: Becky Glowacki, Postmaster, Estes Park, 970-586-0166
DENVER, CO (Aug. 2, 2007) – It's a Rocky Mountain high! Ten of the most beautiful wildlife and scenic U.S. postage stamps this year will be unveiled in their natural, majestic home setting of Rocky Mountain National Park and Estes Park, CO on August 28.
U.S. Postal Service and National Park Service officials will be unveiling the new 41-cent Alpine Tundra stamps. The public and press are cordially invited to the free public event.
The national Alpine Tundra stamp ceremony will be held at 11:00 AM, Tuesday, August 28, at the Beaver Meadows Visitor Center in Rocky Mountain National Park, located at the Main East Entrance to the Park on Highway 36.
On hand for the ceremony will be local girl scouts and cub scouts from Estes Park as well as area residents, park staff and park visitors, nature and wildlife enthusiasts. Many stamp collectors are also expected to attend and obtain the first-day-of-issue souvenir stamp program and Estes Park, CO postmark.
Estes Park Postmaster Becky Glowacki will host the ceremony. Dedicating the stamps will be Rocky Mountain National Park Superintendent Vaughn Baker and David Failor, national manager of the Postal Service's Commemorative Stamp Program.
Also on hand will be stamp artist and designer, John Dawson, from Hilo, Hawaii. Dawson worked closely with Rocky Mountain National Park staff and officials in his depiction of the colorful Alpine Tundra.
The Alpine Tundra stamps will be available at all Post Offices Aug. 28. The stamp pane (pictured) depicts a summer tundra scene at about 12,000 feet in Rocky Mountain National Park. More than 24 animal and plant species native to the Alpine Tundra and Rocky Mountain National Park are pictured. They include elk, bighorn sheep, a golden eagle, the white-tailed ptarmigan, the yellow-bellied marmot, other smaller mammals and a variety of wildflowers set against a snow-capped background of the Rocky Mountains.
Says Estes Park Postmaster Becky Glowacki: "The Estes Park Post Office, our great state of Colorado and the wonderful staff of Rocky Mountain National Park are proud to host this national event and to introduce these magnificent stamps to America on Aug. 28. We invite everyone to join us."