Alpine Hotshots Plan For 30 Year Anniversary
Date:
October 27, 2011
Contact:
Kyle Patterson, (970) 586-1363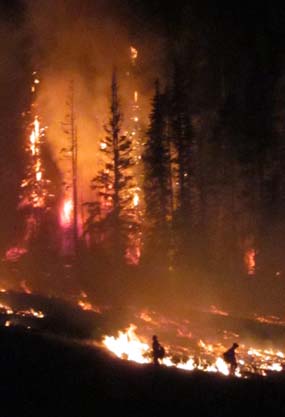 The Alpine Interagency Hotshot Crew (IHC), based in Rocky Mountain NationalPark, is celebrating its 30-year anniversary.  A reunion will be held November 11 through November 12. The event will be comprised of an informal gathering, a National Park Service IHC history review, a dinner, and a question-and-answer/lessons learned segment.      
The two-day event begins on Friday, November 11, at a local Estes Park restaurant, to raise funds for the Wildland Firefighter Foundation, whose main focus is to help families of firefighters killed in the line of duty and to assist injured firefighters and their families. On Saturday, November 12, the event will be held at the YMCA of the Rockies.   
The primary intent of the 30-year reunion is to reunite with current and former colleagues,to interview a panel of past and present Alpine IHC Superintendents, to create an open forum for operational leadership discourse and information exchange, and to capture historically significant events and lessons learned throughout the past 30 years of interagency fire suppression and incident management.     
Reunion organizers have designed the event as a workshop where crew membersand crew leaders, past and present, not only interact face to face, but where lessons learned can be recorded by a videographer and utilized, indefinitely, as invaluable tools intrinsic to fireline leadership and fire management, as well as to IHC crew training development, recruitment, and retention.   
The official Alpine IHC 30-year reunion website is: www.wix.com/alpineihc/30yearreunion   
For specific questions about the reunion please contact Mike Perryman, Lead/SeniorCrewmember, Alpine Interagency Hotshots, by email: alpine30year@gmail.com, or by phone 913-709-6215.
Last updated: February 24, 2015